Marion police chief's resignation is not the end of First Amendment fights in Kansas towns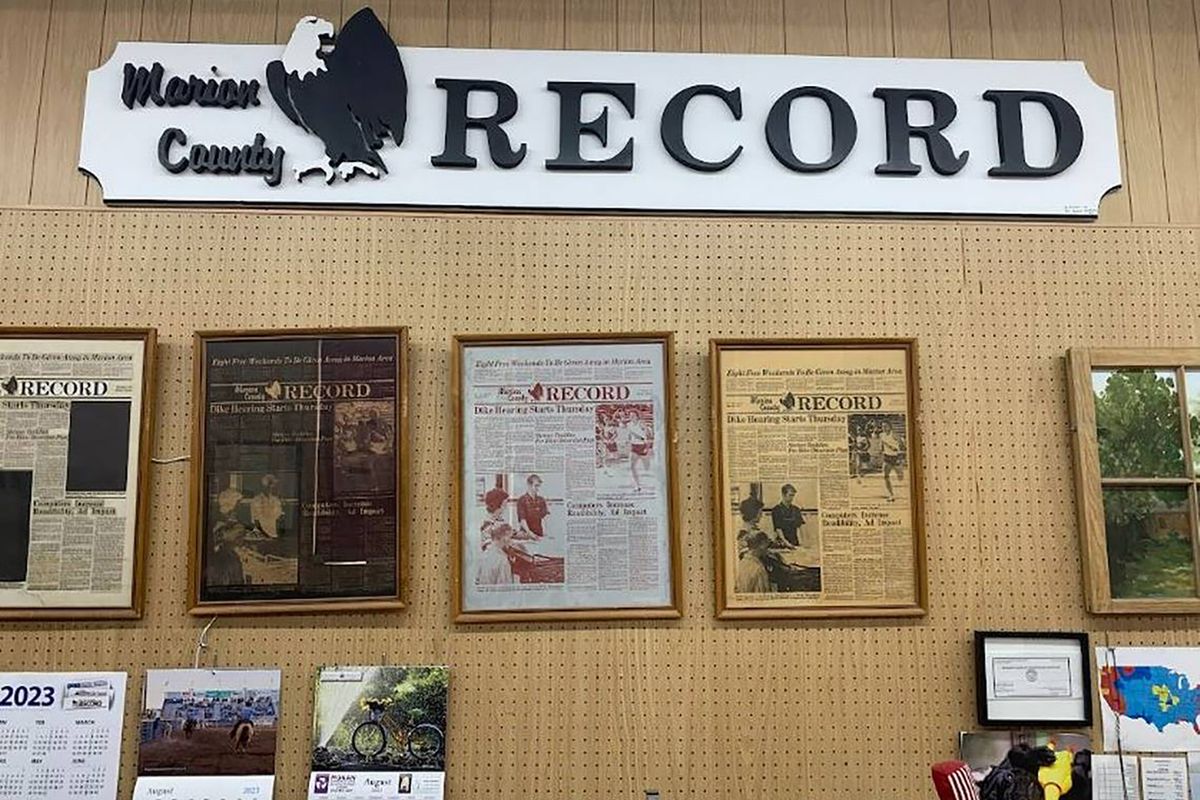 Marion Police Chief Gideon Cody's Monday night resignation was a victory for the Marion County Record.
It marked the first measurable consequences against anyone involved in the August raid of the small town newspaper.
But the victory is likely to be relatively short-lived as The Record continues to fight for a better understanding of the circumstances surrounding the raid, and accountability for more of the people involved.
"Obviously, this wasn't just a rogue cop acting alone," Eric Meyer, editor and publisher of The Record said in a phone interview. "Whether Cody was encouraged by or people just latched on to his efforts to do their own dirty work, whatever it might be, I don't know."
"But I assume this is going to begin coming out as we start getting more and more copies of messages and other things going on," Meyer said. "So that's what we're going to be looking for."
The resignation also comes as Meyer is preparing for a new fight that could place small town papers in Kansas — especially those that hold antagonistic relationships with the governments they cover — in an even more precarious position.
A deterrent to other police chiefs
While Cody's resignation was a win, Bernie Rhodes, an attorney representing the Marion County Record, said Marion city officials have given him no indication they have learned anything from the raid.
"The whole idea that the mayor would bury at the end of the meeting, 'oh by the way the chief has resigned,' indicates that he was hoping nobody had been around at that point," Rhodes, who is also an attorney for The Kansas City Star, said.
He said The Record is still waiting on public records it has requested that the city has already provided to national outlets.
And it took nearly two months, Rhodes noted, for Cody to step down. Cody's replacement, he argued, is an officer who should have been fired alongside Cody for his behavior caught on body camera video during the raid.
The Record reported earlier this week that body camera footage from the incident shows Interim Police Chief Zack Hudlin sifting through reporter Deb Gruver's files before beckoning Cody over to look at a file she had compiled of her investigation into Cody's background at KCPD.
Hudlin extended an olive branch to Meyer on Monday, approaching the publisher after the council meeting to find out where he should send crime blotter information, something the local paper had featured for more than 50 years before Cody abruptly stopped providing the information when he became chief. The Star was unable to reach Hudlin for comment Tuesday.
For Meyer, Cody's resignation does nothing to absolve Marion County Attorney Joel Ensey and Magistrate Judge Laura Viar for approving the warrant that allowed him to raid The Record's newsroom, Meyer's house and Vice Mayor Ruth Herbel's residence.
Nor does it bring back his 98-year-old mother, Joan Meyer, who died the day after the raids under extreme stress.
But he's hoping it will serve as a deterrent to other police chiefs and prosecutors who might want to attack local newspapers – rather than a roadmap for how to intimidate them.
"I do think that people are a little less likely to screw around with newspapers," Meyer said. "But I don't know. It could be that someone got a wonderful idea out of looking at this, too."
'Still a lot of questions'
Emily Bradbury, the executive director of the Kansas Press Association, called Cody's departure a good first step.
"I think that there are still a lot of questions that we all have," she said.
"We need to answer all those questions and we can't let it go without getting those answers because part of my job is to make sure this doesn't happen again."
Some of those questions may be answered in the coming weeks.
As of Tuesday, the Kansas Bureau of Investigation said it was still investigating in Marion. It's unclear whether its investigation remains focused on potential lawbreaking by newspaper employees or if it has moved on to investigate Cody himself.
Magistrate Judge Laura Viar, who signed off on the search warrants, is scheduled to go before the Kansas Commission on Judicial Conduct next month for a complaint filed against her following the raid.
And municipal elections in Marion will soon change city leadership, including the mayor, as the community prepares to hire a new police chief.
State Rep. Stephen Owens, a Hesston Republican who represents part of Marion County, said it seemed like Cody's departure was the right choice for Marion. But he said many things would need to be resolved before the town could truly move forward.
A completed KBI report, he said, would be critical.
"We just need more information and I think as that information comes out the appropriate people can be held accountable, if that is ultimately deemed necessary, and that's when that healing process can move forward," he said.
New threat to small papers
The short-lived victory of Cody's resignation comes as Meyer fights another potentially devastating development that could allow local governments to threaten budgets of small papers while reducing overall transparency.
State law says Kansas cities must publish legal notices, such as notices of changes to city ordinances, in the official city newspaper — a measure that ensures the public has an independent, permanent record of city actions that can't be tampered with or altered by government agencies.
The notices can also provide a source of revenue to small local papers.
But Kansas Attorney General Kris Kobach, a Republican, in late July issued a legal opinion that empowered cities throughout the state to designate their city websites as the "official city newspaper," clearing the way for cities to stop publishing legal notices — or threaten to stop publishing legal notices — in local newspapers.
Many cities have already voted to opt out of the state law in anticipation that the Legislature or Kobach would allow them to cut ties with local newspapers, including Andover, Bel Aire, McPherson and Hillsboro.
The change has been driven largely by municipal bond counsel, who are often involved in helping local governments get approval for bond issues. J.T. Klaus of the law firm Triplett Woolf Garretson, LLC, led the charge to change the rules for Hillsboro.
Owens requested an opinion on the topic at the request of the city of Hillsboro. Though former Attorney General Derek Schmidt refused to offer an opinion, Kobach proactively reached out to Klaus asking for a request so he could issue an opinion on the topic.
Owens, who in previous years has introduced legislation to allow towns to use their websites for public notices, said he sees the move as a response to the modern age where newspapers are shrinking but most people can access the internet.
"It's just a different world that we're in and I think we have got to be constantly looking at what makes the most sense to meet the demand of what that legal publication is supposed to accomplish," Owens said.
A potential First Amendment fight
Kobach's opinion has set up potential First Amendment issues in small towns where local governments are seeking to punish newspapers financially for unflattering coverage.
Bradbury, with the Kansas Press Association, said she believes Kobach's interpretation of the law is correct, but that it creates conditions for possible government overreach.
"We don't agree with the fox watching the hen house," Bradbury said. "The place for public notices and to allow the public to know how their tax dollars are being spent and the things that are happening in their community are in a third party website.
"We provide accountability, we provide verification on these."
She said her organization is willing to take legal action if cities stopped publishing notices in newspapers as retaliation for coverage. The KPA prepared a toolkit for local papers to push back against efforts to move notices elsewhere.
Local newspaper publishers, such as Meyer, have essentially three ways to fight back: persuasion, protest petitions and lawsuits.
Manhattan Mercury publisher Ned Seaton successfully convinced the Westmoreland City Council to vote against publishing on the city website instead of in the local newspaper.
Ark Valley News, owned by Chris Strunk, is launching a protest petition challenge to Bel Aire's charter ordinance. If successful, it would force the city to hold a special election and put the question to voters.
"We believe it promotes transparency and trust in government," Strunk said. "A third-party is overseeing the process and making sure it's getting done. It's not to say we don't trust the government of Bel Aire. But I think there is a sense of distrust among the public for any level of government. So it helps the public, and I think it helps the city as well."
Meyer is in a different position. The city of Hillsboro, a small town 10 miles west of Marion that publishes notices in the Record's sister paper, The Hillsboro Star Journal, which he also owns, chartered out of the state law in 2021.
But it did not immediately designate the city's website as the official newspaper and continued publishing legal notices in Meyer's newspaper.
Then last month, after Kobach's legal opinion, the Hillsboro City Council brought the issue back to the bench, threatening to pull its legal notices from The Record, which has published notices for Hillsboro for the past 17 years.
Hillsboro paid about $9,000 to the Record last year for legal notices.
The Hillsboro city council voted Tuesday evening to designate its city website as the official paper of the city. Mayor Lou Thurston said after the vote they'd have to let Meyer "do what he's gonna do."
Meyer said Tuesday after the vote that he plans to mount a legal challenge to the Hillsboro decision and Kobach's interpretation of state law.
For Meyer and other proponents of cities publishing legal notices in newspapers, it's about more than money, he said. They argue that the independent publication of laws and proposed government action serves as the ultimate check on power, leaving a paper-trail that stops bad actors from altering laws without informing the public.
"I think we've got a good case," Meyer said. "And I invite any other newspaper going through this to join us."
---