Skewers transitions from food truck to restaurant: 'I think as long as we're serving the same good food, things will be great'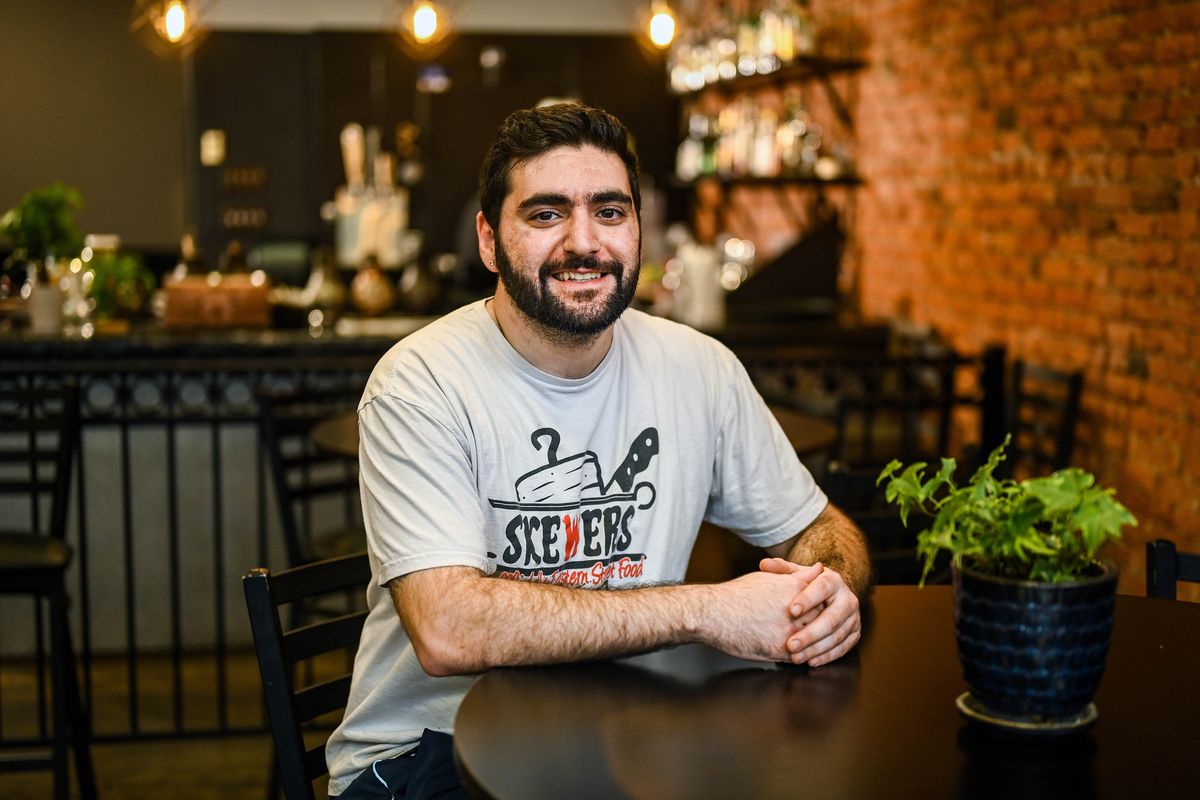 Many factors can draw a crowd of customers to a restaurant. Skewers has figured them out.
The Skewers food truck has been one of Spokane's most beloved food destinations since it opened in 2016.
Owner Mirak Kazanjian has introduced a flavor to Spokane : shawarma and other authentic Lebanese-Armenian foods and beverages.
"The big thing we're bringing that no one else does in Spokane is shawarma," Kazanjian said. "Our falafel is often the 'best falafel' most customers claim to have ever eaten. Everything that I make, I pride myself in; I'm trying to represent my culture, so I'm trying to do everything right."
The next chapter of his journey is expanding the food truck into a year-round restaurant in a brick-and-mortar space downtown, across from the Martin Woldson Theater at the Fox.
Kazanjian's parents are Armenian, and he grew up among the Armenia community of Los Angeles. He attended an Armenian school and was "heavily engulfed in L.A.'s Armenian culture."
He moved to Spokane for college in 2010 and immediately felt a lack of Armenian or Middle Eastern community.
He also missed the food.
He started cooking for friends, who encouraged him to open a restaurant. He decided to open a food truck, which he says is much harder to manage than it seemed at the time.
"I didn't really know what I was getting myself into when I started a food truck, but I learned a lot throughout that process," he said. "I think the most important thing the food truck gave me was finding my confidence in my food and in sharing my culture. It has been a wild seven years, and having the support and encouragement of the community gave me the confidence to take on a bigger project."
He has won a best food truck award in each of the last four years, indicating that he is "obviously doing something right."
Kazanjian valued the seven years he spent improving his food truck . He is now ready to make the next step in his mission to represent Armenia and the Middle East.
"Opening a restaurant was never a part of the plan, but it was always a consideration in the back of my mind," Kazanjian said. "I think the nice thing about a restaurant is having a set time and location where customers can know when and where to find me. It will also allow me to expand the menu a little bit more and provide quality and consistency."
Now that the restaurant is opening, Kazanjian said, he will finally be able to switch from pita bread to an Armenian flatbread called lavash. That may seem like a minor change, but it is crucial to Kazanjian that he represents the bold flavors of Armenian cuisine in every way he can.
Kazanjian recognized soon after moving to Spokane his potential to represent Armenia through his passion for cooking. He says he loves nothing more than experiencing all of the positive reactions customers have when trying unfamiliar foods.
"There has been a lot of positive feedback surrounding the food, and it has been cool to introduce unique foods and gain the trust of the community," he said. "One of the things I was committed to from the beginning was bringing unique flavors to Spokane and finding people willing to try something new."
Kazanjian says there are a lot of customers who have never had Middle Eastern or Armenian cuisine before and are nervous to try it. Some customers are overwhelmed by the spices.
Kazanjian was just settling into his role at Skewers in 2020 when the COVID-19 pandemic shattered the food scene. The pandemic was a time when many small businesses, particularly restaurants, failed and shut down.
Owning a food truck during a pandemic had both pros and cons compared to restaurants. Kazanjian says, "Owning a food truck made surviving the pandemic a little easier because food trucks don't have as much overhead."
The primary problem with owning a food truck during a pandemic is the absence of large-crowd events.
"The way that we make money in the food truck industry is based on crowd-gathering events, and those were outlawed for over a year, which was definitely scary," Kazanjian said. "It would've been easy to give up, but I pivoted and focused on DoorDash and takeout orders."
He said when he committed more time to DoorDash and takeout orders, the community responded by buying his food.
This June, Michael Wiley, the owner of Wiley's Downtown Bistro and Prohibition Gastropub, decided to close his third restaurant, Scratch and Rain Lounge, and focus on his other spaces.
As a result, Kazanjian was offered the perfect opportunity to expand Skewers. In three months, he turned the Scratch and Rain Lounge into Skewers .
"It was an opportunity I couldn't say no to," he said.
Kazanjian says initially, the restaurant will start with five or six full-time staff members and a similar menu to the food truck, but he plans to expand over time. The restaurant will initially be open Wednesdays, Thursdays and Sundays from 4-9 p.m. and Fridays and Saturdays from 4 p.m.-midnight.
The food truck has been parked for the season but will continue to cater throughout the winter. Kazanjian is holding on to the truck for now, and will evaluate whether to continue using it next summer.
Kazanjian is exceptionally passionate about Armenia and shares the struggles of his country with customers. He often uses his Skewers Facebook account to shed light on several subjects involving Armenia.
He was initially apprehensive about using social media to educate people about Armenia's hardships. "It's how I carry on my ancestors' legacy. Both of my grandparents were the only survivors of the 1915 Armenian genocide in their families," Kazanjian said. "It's an honor to keep their memory alive. It was not my intention when I started the food truck, but I'm so glad I realized I had this ability, and I will continue to do it.
"I get to educate a lot of the Spokane community about Armenia and represent my culture well, and hopefully share our traditions with respect to my ancestors who worked so hard to preserve our culture, despite genocidal attempts and other difficult things my people have gone through," Kazanjian said. "It means something to me that a lot of the people of Spokane are hopeful for the Armenian future."
An earlier version of this story misspelled Skewers owner Mirak Kazanjian's name.
---