Terrain ups the ante with more art at its 14th annual event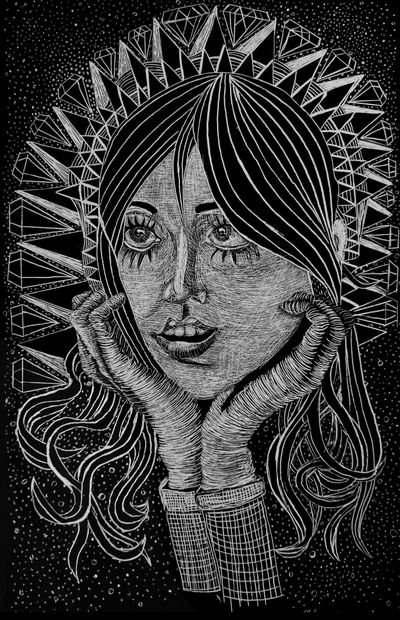 Much has changed for Terrain since it debuted in 2007. The region's largest multimedia art and music event started small 16 years ago.
"We only had about 30 pieces of art at the first event," Terrain Operations Director Jackie Caro said. "It didn't take long to experience everything at that show."
Fast forward to the first Friday of October and it's a completely different event. Terrain 14, which is slated for Friday at an empty building on Riverside Avenue, features 810 pieces of art created by 394 artists. According to Caro, 98% of the art is from the Spokane region.
"That says something about the growth of our city and the creative scene we have here in Spokane," Caro said. "We're all about giving our artists a platform to showcase their work."
The 14th annual event, which was on ice for 2020 and 2021 due to the COVID-19 pandemic, is an experience for the insatiable art lover. There will be art, poetry readings, music, film and interactive art exhibits.
"There's something for everyone at our event," Caro said. "Every year there is a different art and new, cool installations."
There are three floors of art; musicians such as Estimate, Aspen Kye and Betsy Rogue, will play in the parking lot. There will be readings on the second floor, visual art on each floor and film shorts and music videos on the mezzanine.
The event is juried. Terrain was inundated with entries for Terrain 14. "Our event just keeps growing and growing," Caro said. "It's incredibly eclectic and the interest is just amazing."
Caro has noticed a massive increase with entrants since the last pre-pandemic event in 2019. "I think that has something to do with the amount of people who have moved to Spokane since 2020, which is a lot," Caro said. "When we had our event last year with so many entrants I heard people who recently moved here say, 'So this is Spokane.' Well, it is now and this event just makes me so proud to be part of the Spokane scene. Art is flourishing here and we here at Terrain are doing all that we can to support our tremendously talented local artists."
Some artwork and prints will be for sale. "The prints are great since they make art accessible for everyone," Caro said.
Melissa Narrance will have two works at the event. A large acrylic piece based on a tiger skin rug, which stands out due to its bold colors. Narrance will also present a scratchboard of actress Shelley Duvall. Both are for sale and there will be prints of the Duvall.
The self-taught Narrance, 39, is pleased to be part of the Terrain event to showcase her left of center work. "I like a lot of the pop culture figures that are pre-80s but I also work on some contemporary entertainers," Narrance said. "I'm excited to be part of such an event."
Terrain breathes life into an empty building each October. "It's such a cool space," Caro said "I love the tin ceilings and the little cubbies. There is such amazing detail but then again it's a building that was built around the turn of the (20th) century.
Terrain is more than an annual event. There's a Terrain gallery on Monroe street and From Here, a gift shop inside River Park Square featuring works by local artisans.
An array of items are available at From Here, such as pottery, clothing and beauty products. "You can see the artists making their art in the store," Caro said.
Terrain also sponsors a development program for artists. "It goes for 14 weeks so artists can turn their side hustle into their main hustle," Caro said. "The creative economy is a huge deal for our society. We back our artists in Spokane with everything we do."
---