Quarterback Austin Ewing regained love of football after transferring to Whitworth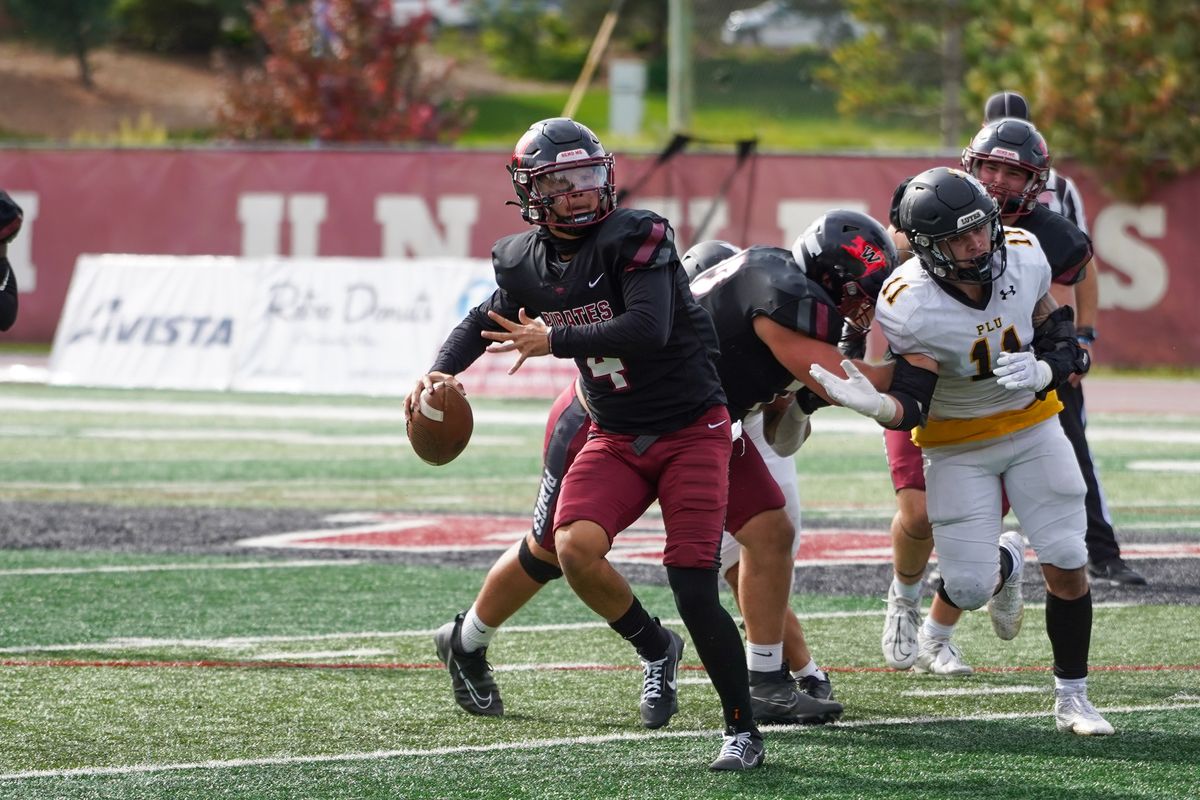 Austin Ewing had lost his love for football.
That's what three ACL injuries on the same knee will do to a player. Throw in a stop-and-start – mostly stop – five-year career, and Ewing admittedly was going through the motions during his final season at Southern Utah University last fall.
Ewing, a Hawaii native, and the Southern Utah coaching staff had decided that Ewing's fifth season would be his last even though he had a COVID year he could use.
"I was more playing football because I was getting school paid for at that point," Ewing said. "My heart wasn't into it. My focus wasn't there. I tried to hide it from my coaches. I think I did a good job of not letting it show on the field. A few of my teammates told me they didn't notice that I was just going through the motions."
When spring ball came around, Ewing was finishing up his degree in criminal justice while his buddies were getting a jump on this season.
Ewing wasn't happy.
"I knew something was missing and it was football," he said. "I still wanted to play somewhere."
So he decided to put his name in the transfer portal.
Whitworth's offensive coordinator, Ian Kolste, was a quality control coach for the offense at SUU in 2021, so he was familiar with Ewing.
Ewing reached out. He was invited for a visit in late April.
"I didn't tell the coaches on the spot, but I told my parents this was the spot for me," Ewing said. "I knew they had a competitive quarterback room here and they wanted to give me a shot to compete. That's all I wanted. I just wanted to go to a place where I felt welcomed and where I could compete again."
"He wanted to find a place to play finish the way he wanted to," Kolste said.
Five months later, Ewing is blossoming into the quarterback his coaches had an idea he could be.
Whitworth is off to a 4-0 start, 2-0 in the Northwest Conference. The Pirates celebrate homecoming on Saturday when Puget Sound (2-2, 1-1) visits. It's the first of two straight games at home.
Whitworth head coach Rod Sandberg appreciates how fast Ewing has picked up Whitworth's offense.
"He's really starting to get into our offense, knowing when to check down and take easier throws," Sandberg said. "We want to see him continuing to play within the offense, taking what the defense gives us."
Ewing had his best game last Saturday in the Pirates' 59-7 win at Willamette. He completed 15 of 19 attempts for 298 yards and three touchdowns.
He's completed 68.8% of his passes (62 of 90) for 826 yards, eight touchdowns and one interception.
"I'm a guy who loves football right now," Ewing said.
The starting job wasn't given to Ewing. He jumped right into a competition with Mead graduate Ryan Blair, a junior who started the first six games last year before an injury ended his season.
Ewing is grateful Blair accepted him when he arrived.
"He took me under his wings, which is amazing," Ewing said. "He was one of the first people I met when I moved up here in June. He was always texting me and getting extra study time with me during this summer and always inviting me to lifting and throwing. I feel like we have a great relationship. On game days, he's my biggest fan and I'm his biggest fan on the sideline cheering him on."
By design, Blair gets playing time in each game. He's completed 20 of 35 passes (57%) for 289 yards, three touchdowns and one interception.
Whitworth learned last year a difficult lesson about injuries to its quarterbacks. The Pirates finished the year with a fourth-string quarterback.
"It wasn't anything Ryan Blair didn't do," Sandberg said of settling on a starter. "Austin has more mobility and athleticism. He makes some crazy play every day in practice, makes something happen out of nothing. That's probably the one thing that separates him."
Whitworth will continue using both, although most snaps will go to Ewing.
"We're fully aware of Austin's injury history," Kolste said. "At the same time, Ryan isn't a normal backup. We can win with Ryan. Playing both keeps hits off Austin and keeps Ryan sharp. Whichever guy we have on the field, we're in good hands."
During Ewing's true freshman season at Southern Utah, he started two games. Then the first of a string of injuries hit.
Whitworth's retooled offensive line has done a solid job protecting him.
"I love the guys to death," Ewing said. "They go to battle for me every day."
Ewing went five years between touchdown passes when he threw for a score in Whitworth's season opener.
"It was a windy road but with a lot of experiences I got to learn," Ewing said of his injury-interrupted career. "I wouldn't trade it for the world."
---