Inslee cautions during Spokane visit that fire recovery efforts may be slow Gov. Jay Inslee warned the disaster relief process could be slow during a visit to the Red Cross in Spokane Thursday amid ongoing efforts to pick up the pieces after August fires devastated the communities of Medical Lake and Elk. He also praised the emergency responders who protected the communities from even worse disaster.
"We had loss of life, which is so tragic to suffer that, but the response was good and really efficient," Inslee told those gathered in a Red Cross conference room Thursday morning. "I am thrilled that we kept our state hospital – that could have been a titanic humanitarian disaster, and that happened because frankly some of the people who worked with the state made some really good decisions."
Inslee was referencing the Gray fire's proximity to Eastern State Hospital in Medical Lake after it broke out Aug. 18.
The state has contributed more than $4 million to disaster relief efforts and exhausted the emergency fund available to the governor's office, Inslee said. While he noted the state was working to secure additional federal funding, he cautioned that it would be an uphill battle. Inslee argued that federal law disadvantages relief requests from communities that have suffered wildfires as opposed to hurricanes, floods and other natural disasters.
"We've urged Congress to change that law for some period of time, but we're going to do the best we can," he added.
Updates are needed, Inslee continued, as climate change makes wildfires increasingly common and likely to overwhelm rural communities in the West.
Robert Ezelle, Director of the Washington Military Department's Emergency Management Division, said that several of the state's requests for support for Medical Lake and Elk, where the Oregon fire broke out the same day, were "longshots."
"When we look at what happened here, as devastating as it was for these communities, when you look at what happened in California, the Camp fire where so many lives were lost, or Lahaina, we're kind of on the outside edge of what is possible," Ezelle said.
"We've done the best job we can to make our case to FEMA, and now it's in their hands," he added.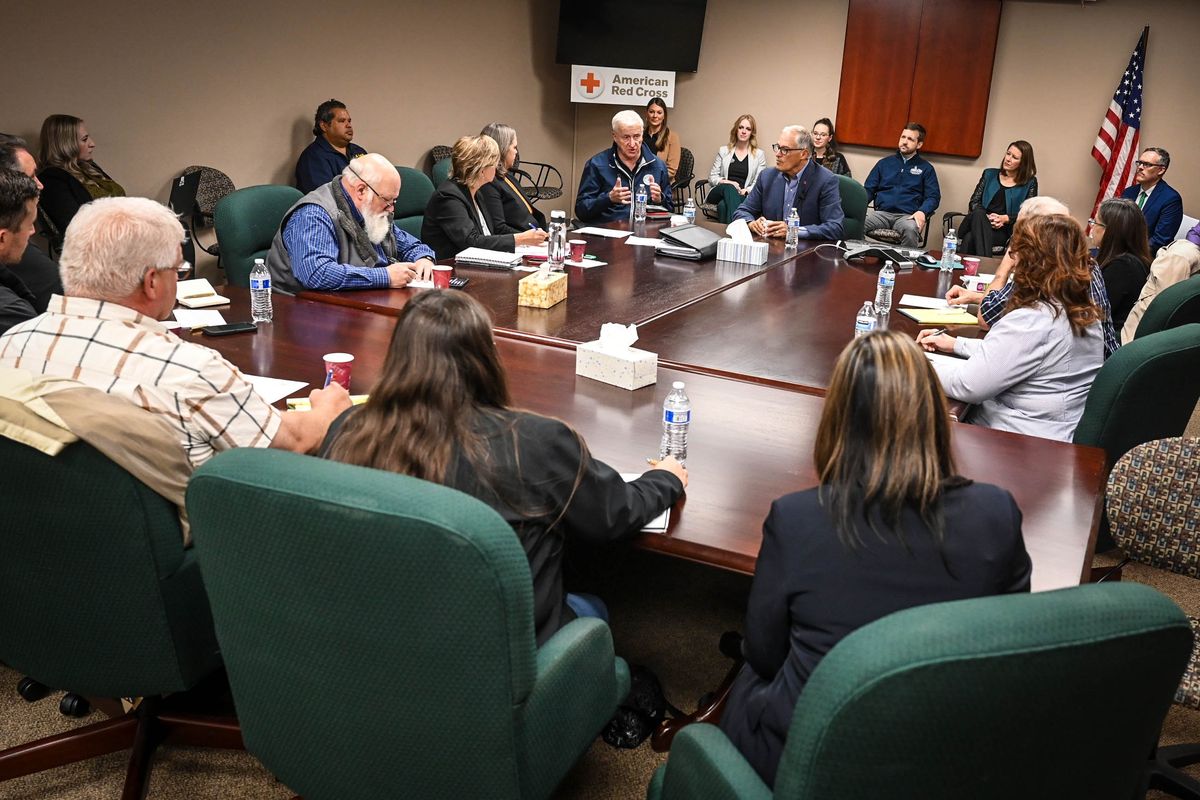 Ezelle added that, even if the state can secure individual assistance, an aid package from the federal government would only scratch the surface of the need for families. The maximum amount a household could get would be approximately $40,000, while the average recipient receives around $8,000, he said.
"Individual assistance is never designed to make people whole again," he continued. "All it does is provide limited funds to help the neediest of disaster survivors work their way through the immediate needs of finding shelter."
The state has also requested assistance from the Army Corps of Engineers to help with debris removal, though Ezelle added that it was very unlikely the request would be fulfilled.
"It's an extreme long shot, but if we don't ask, the answer is no," he said.
If further federal relief is coming, it will be on an as-yet undetermined timeline, Inslee noted.
"It'll take longer than you and I would like," he said. "It's just the nature of these matters."
Inslee acknowledged the frustration felt by many survivors of the wildfires still waiting to rebuild, a significant number of whom were un- or underinsured.
"If you've lost your home, and your clothing and your future, at least your near future, you're going to be frustrated, I understand that," he said. "What I can tell you is the state's doing everything I can under the law."
---