Whitworth erases early deficit to beat Puget Sound comfortably 63-21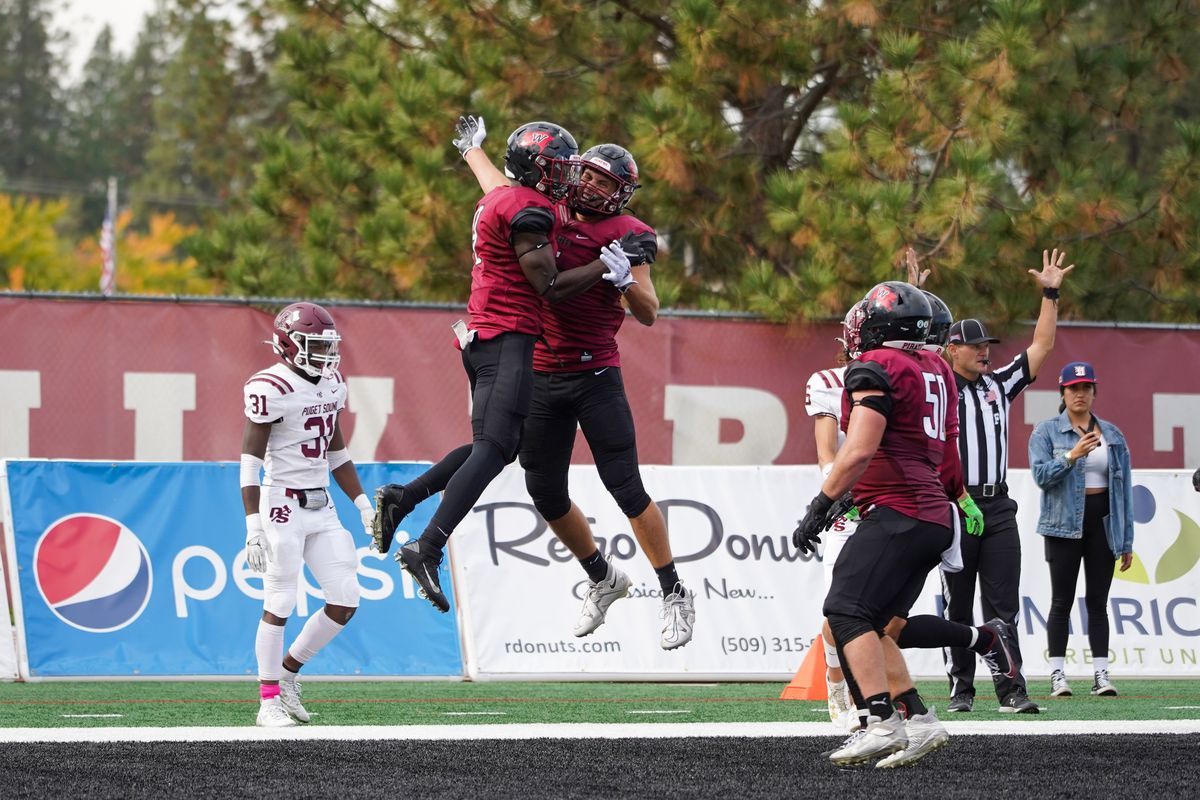 Puget Sound's early lead, thanks to a 13-play opening drive and touchdown on fourth-and-goal, lasted all of 54 seconds before Whitworth responded with a score and never looked back.
The Pirates continued to find the end zone on every drive in the first half, scoring 42 points in the second quarter alone en route to a commanding 63-21 Northwest Conference victory in Saturday's homecoming.
The running back tandem of sophomore Luis Salgado and senior Solo Hines set the tone for the offense in the first 30 minutes. Salgado had 119 rushing yards and three touchdowns on five carries, and Hines totaled 43 yards on six carries.
"They feed off each other, they compete with each other, they push each other," Whitworth coach Rod Sandberg said of the duo. "It's a really, really great situation for us to have – two really talented, hungry tailbacks."
Salgado got the rushing attack going with a 15-yard touchdown during the three-play drive that tied the game at 7. Hines scored seconds into the second quarter to give the Pirates the lead, and Salgado went untouched for a 71-yard touchdown on the next drive.
"Preplay, I noticed that nobody was covering the D-gap," Salgado said. "So, honestly, I knew I was going to break one right then and there."
Salgado and Hines each added another touchdown in the second quarter. Mead graduate and backup quarterback Ryan Blair scored on a 9-yard run to extend the lead early in the third quarter. The Pirates' Nathan Owens spelled the lead backs in the second half, adding another 60 rushing yards and a score . The Pirates finished with 299 rushing yards .
"We knew we could come out and run the ball against these guys, and that's what we did," Salgado said.
Despite Puget Sound's strong opening drive, carried by quarterback Mason Binning, the Loggers didn't score again until late in the third quarter – well after Whitworth's backups had replaced the starters.
"Our word for the whole week was 'elevate,' " Pirates senior defensive end JT Munoz said. "So we just wanted to come out and set the tempo early. As a D-lineman, we take that personally – obviously it starts with us."
The Loggers had a strong second drive, but Hines blocked a 27-yard field-goal attempt.
Binning, who was coming off a huge game in the Loggers' win over George Fox last weekend, threw for 274 yards and two touchdowns but only completed 23 of 44 attempts. Izaiah Jerenz led the Loggers with 160 receiving yards and a touchdown.
Sandberg said the Pirates started with a four-man defensive front to apply pressure to Binning. Dylan Owen led the team with three sacks.
Pirates quarterback Austin Ewing, who finished with 166 passing yards and three touchdowns, found Dillon Kuk for two scores to close out the first half for a 49-7 lead. Kuk's 78 receiving yards led the team.
The win marks the third straight blowout for Whitworth (5-0), which has been vocal about its goals of competing for a conference championship this season.
Sandberg said he credits the senior leadership for keeping the team focused on taking it a week at a time.
"You set these big goals and that needs to motivate you in the here and now," Sandberg said. "So, there is this big mountain we want to climb. If you just stare at the top, you're not going to get there. You have to just take it one step at a time and look right in front of you.
"We just got to take this next step and this next step. Today was another step."
---