Rewind: Local music lovers are hitting play for the cassette tape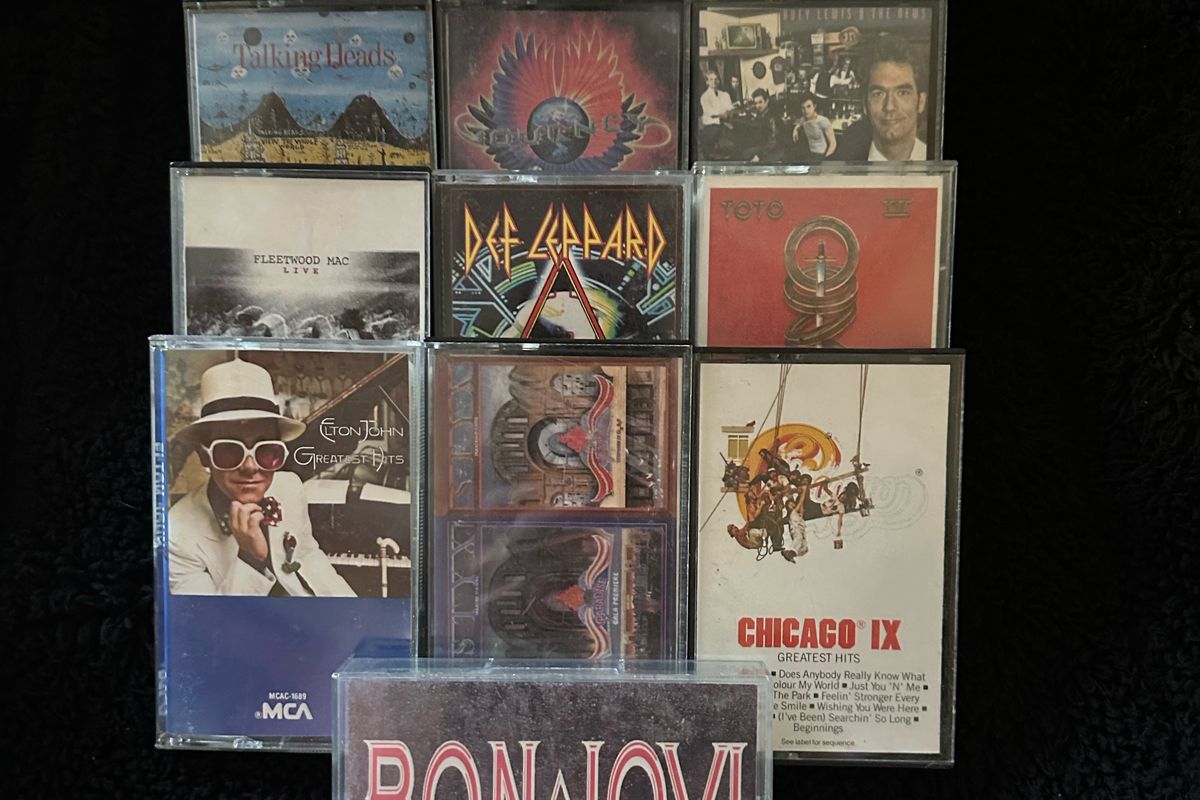 Move aside vinyl, another retro music format has spun back into the local spotlight. As emblematic to 1980s culture as the boom boxes and Sony Walkmans that played them, cassette tapes are back in vogue.
With modern recording artists such as Taylor Swift embracing the trend, a younger generation of music fans has jumped on board this old-school bandwagon and some local music stores are now seeing a surge in requests for cassette tapes and their vintage playback devices.
"I think the demand for cassettes is starting to really kick in. We're going to start buying more and more of them," said Mike Messinger, who owns Big Foot Records in Spokane. "It's like vinyl right now. The demand is so heavy that a lot of stuff is coming out from the Czech Republic, France, Germany, Canada, United States, it's all over the world right now," said Messinger, who has been selling cassette tapes faster than he can unbox them.
"A young couple, probably in their early 20s, ended up walking out with 14 cassettes. They bought everything from rock, country, punk … they came in on skateboards," added Messinger.
A revolutionary technology that opened doors to the widespread sharing of music, cassette tapes once filled a vital role for up-and-coming Spokane recording artists.
"Back in the day (recordings) were inexpensive to make over vinyl so you would see a lot of local groups use cassettes over vinyl," said Messinger, who recalled his own days in front of a radio poised and ready to strike play-record buttons on the tape recorder when he heard a special song. "You would have your 60-minute tape with all of your favorite songs that you waited weeks and weeks for on the radio," he said.
Along with a nostalgia factor and high vinyl prices, Messinger attributes increased young adult interest in cassette tapes to the vehicles many of these customers own.
"The cars they are driving right now are older cars that have actual cassette players in them. The phones won't pair up to the car. Now they are out looking for cassettes so they can play music in their cars," Messinger said.
A lover of the old-fashioned relics himself, Messinger has amassed over 200 cassette tapes with his 16-year-old son Lucas, who assists in the store and inspired him to open shop in the Garland location. Their massive cassette collection includes the classic AC/DC album, "Dirty Deeds Done Dirt Cheap," which Lucas also owns on CD, vinyl, 8-track and even a rare reel-to-reel version he picked up at a yard sale.
While vintage cassette tapes often mimic their record and CD counterparts with mirror image artwork and foldout booklets containing song lyrics, the format is far from perfect. No track skipping. Pesky flips and rewinds. Finicky playing devices … and those laborious attempts to salvage precious music from piles of tangled tape with a pencil are often futile at best. Plus, especially when compared to CD or vinyl, the sound was never that great.
Despite these drawbacks, a number of contemporary recording artists are releasing new albums or reissuing older ones on cassette. The portrayal of iconic characters sporting stylish Sony Walkmans in popular TV shows and films such as "Stranger Things" and "Guardians of the Galaxy" has further fueled a new generation of cassette enthusiasts, increasing local demand for vintage playback equipment.
Indeed, as PBS Newshour reported earlier this, year, cassette tapes are "having a moment. According to Luminate, an entertainment industry data collector, U.S. tape sales increased by more than 440% between 2015 and 2022," with artists such as Swift, Billie Eilish and Harry Styles releasing music on cassette.
"People want those little Sony Walkmans again and they used to be everywhere and now they're like impossible to get," said Go! Records owner Aaron Rison, who praised the superior quality of older cassette players. "Everybody wants that stuff now," added Rison, who is selling more cassettes than CDs these days. His clientele ranges from adolescents to mature old-school rockers who have a cassette player on their motorcycle or in a muscle car.
While he admits to being surprised by their comeback, Rison applauded the analog sound, portable nature and especially the archaic appearance of cassettes – a factor he credits for their appeal with younger crowds.
"Kids come in, they know what CDs are and they hold a record and they're like, 'These are big CDs,' then the parents have to say, 'Well, not quite,' but then cassette tapes are like totally foreign altogether," Rison said.
While limited edition cassettes and those from legendary groups such as the Beatles and Pink Floyd can command premiums, Rison feels the true value of these beloved musical treasures lies in something less tangible than money.
"It's more like the form of the physical media," said Rison. "Cassette tapes are portable. CDs are portable, but CDs just aren't as cool as cassette tapes," he said. "It's not really a value thing when it comes to cassettes. I suppose there are some that are valuable, but it's about the music. It's about the inherent value. I really want to have this on cassette tape, even if it's only worth $10."
---