'One day at a time': Fran Rogers celebrates her 100th birthday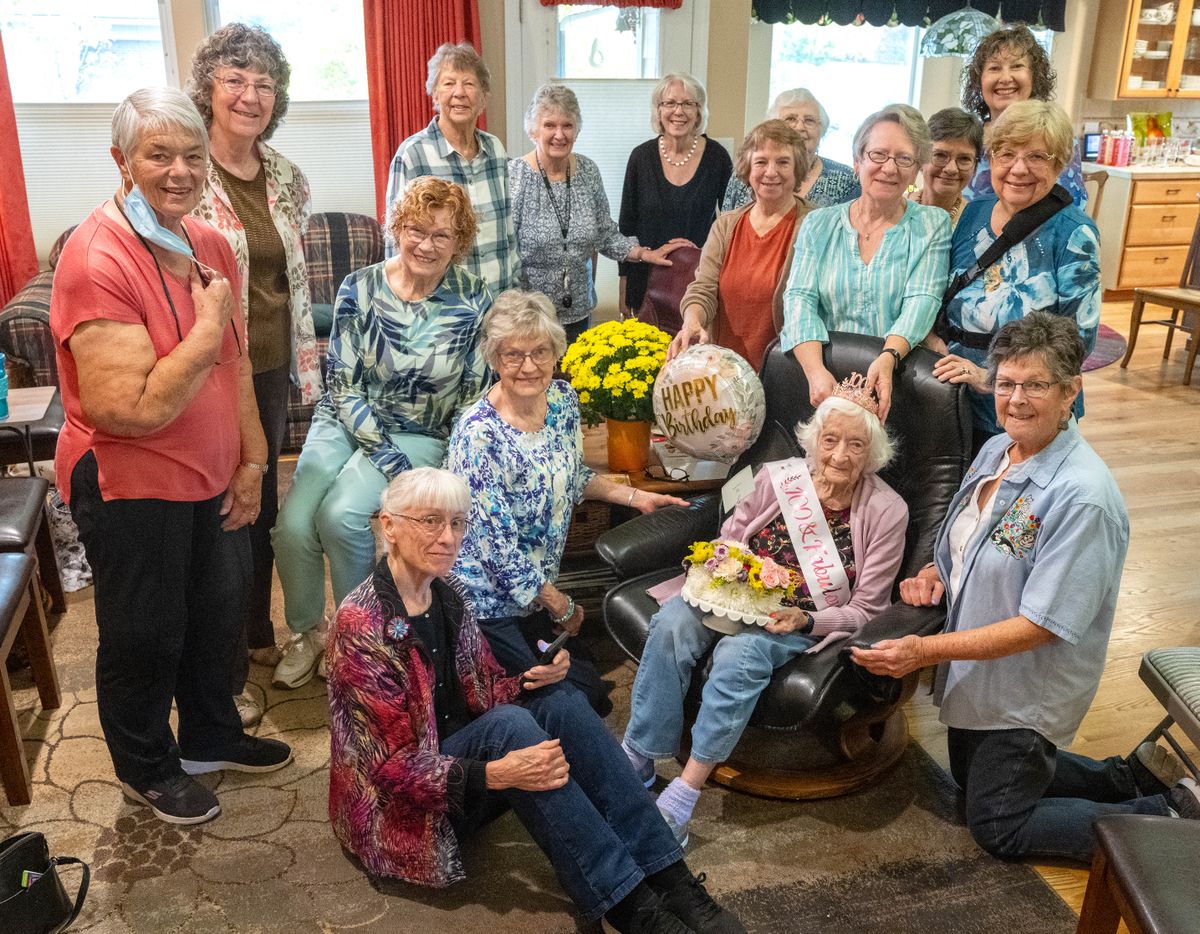 Wearing a sparkly pink crown and a sash that said "100 & Fabulous," Fran Rogers chatted with friends from her Creative Connections craft group.
Last week, instead of crafting, the group gathered to celebrate Rogers' birthday – one of three parties held to honor her milestone birthday.
Born Frances Henrietta McKenney in Southern California on Oct. 8, 1923, she's always gone by Fran.
Her earliest memories are of the Mojave Desert.
"The desert never ended," she said.
When asked what she was doing in that harsh locale, she grinned.
"Living," she replied.
Her father was an electrician and worked to wire the area. Later, they moved to the hills above Los Angeles.
"It was the Depression," Rogers said. "We lived off the land. We had chickens, orange trees and a big garden."
Her mother taught her to sew.
"I made my own clothes," she said. "Mother had one of the first sewing machines."
After graduating from high school, she moved with her family to Seattle, where her dad had taken a job. World War II was raging, and Rogers found work as well.
"I worked at the Lake Washington Shipyards," she said.
At the peak of production during World War II, the shipyards employed about 8,000 workers, repaired 477 war-damaged ships – ranging in size from tugboats to large transports – and built 29 warships for the U.S. Navy.
"I kept track of materials used to repair the ships," Rogers said.
It was an exciting time.
"Seattle was a crowning jewel," she said. "It was a fun place to be. There were lots and lots of sailors!"
When asked if she dated any, she didn't hesitate.
"I sure did!"
But it wasn't a sailor who caught her eye in 1946 – it was an Army soldier, newly returned from the Pacific theater.
She was at a friend's home, sitting on the floor in front of the fireplace when a tanned and handsome Jack Rogers entered the room.
"I looked up when he walked in, and it was like, 'Wow!' From that moment I had to see more of him."
He was immediately smitten, as well. That night, they went roller skating with friends. He skated well. She, not so much.
"I had to hang on to Jack," she said.
A month later, he proposed, and two months later on April 26, 1946, they married.
"We had kids right away," Rogers said. "We should have known better."
In 1952, they moved to Spokane with their two young sons. A local advertising company had recruited Jack, a commercial artist.
The birth of a daughter in 1953 made life even busier for her. Jack had expanded his artistic horizons. In 1963, he was asked to help start the art department at Spokane Falls Community College, where he taught for 26 years.
With her sons grown and her daughter 17, Rogers was enjoying her job as a department manager for JCPenney when she received some startling news. At 46, she was expecting another child. Daughter Heather arrived in 1970.
"It was kind of terrifying, starting all over again," Rogers said.
But she traces her friendships with many of those gathered to celebrate her birthday back to the time when she was raising her youngest child.
"These friendships have almost been like magic."
Her sewing skills are legendary in the group. They dubbed her "The Polar Fleece Queen" because she made so many fleece ski jackets. She's also known for creating elaborate Halloween costumes, like a spider with movable arms.
"I was a spool of thread one year," she said. "That one got borrowed a lot."
While looking forward to her favorite treat, "vanilla ice cream with everything on it," Rogers pondered her centennial birthday.
"I never planned to live to 100," she said. "The best thing is I don't hurt anywhere. My body is a gift God gave me, and I didn't break it up."
Her diet and lifestyle likely contributed to her health. She's a longtime vegetarian and has always been active. She was skiing in her late 60s and was an avid hiker and backpacker. While her husband climbed mountains, she walked around them, including a trek around Mount Rainier.
Jack was also Bloomsday perennial – he never missed a race. She did Bloomsday, too.
"But never with him – he was a runner," she said.
They did do one race together. She'd recently had knee replacement surgery, and Jack decided to walk with her. He held her hand the entire way.
Losing him in 2017 was difficult. They'd been married 71 years. But her faith, family and friends sustained her.
She attributes her long life to two things: She's never smoked a cigarette and she's spent a lot of time laughing with friends.
When one of them asked how she got to be 100, Rogers answered succinctly.
"One day at a time."
---