Once known as the 'last Democrat in Kootenai County,' CdA councilman says he strives for nonpartisanship as he faces challengers criticizing his development votes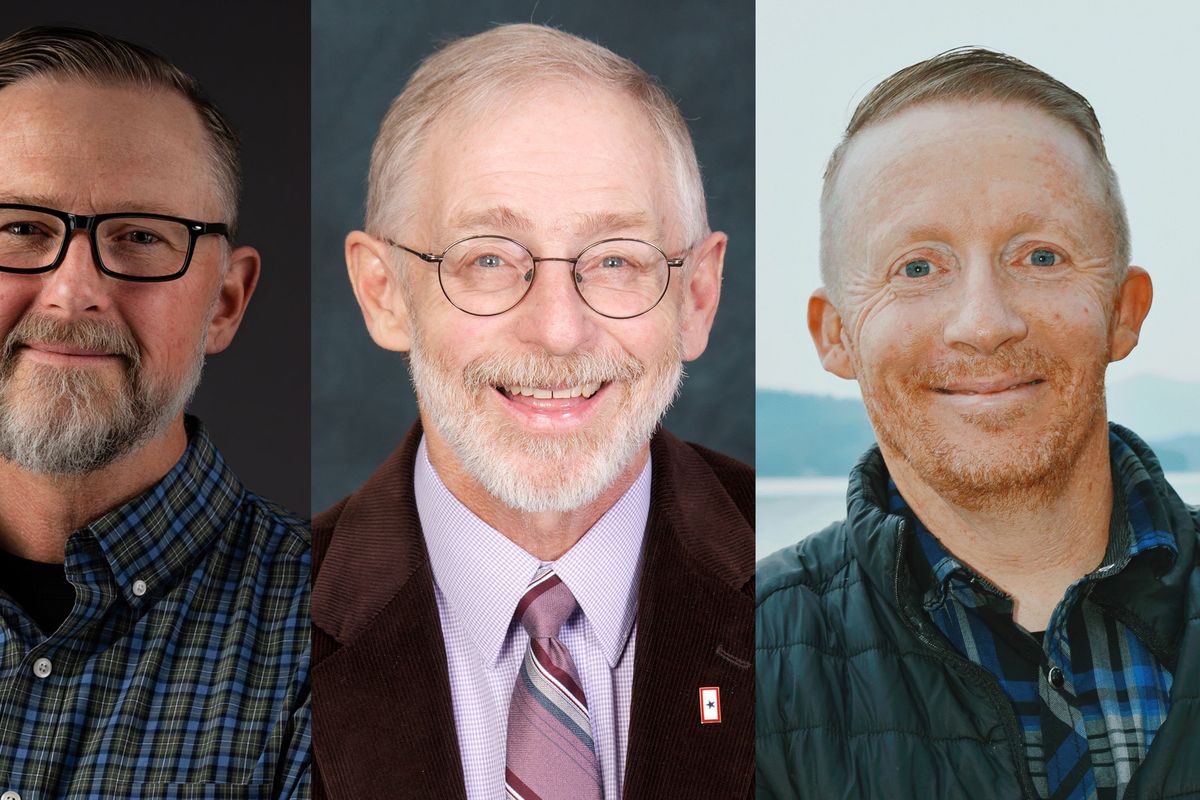 Coeur d'Alene City Councilman Dan English is facing two challengers for his seat in the November election: self-described unaffiliated voter Rob Knutson and Republican Roger Garlock.
Though the position is officially nonpartisan, English's Democratic roots are well-known. When he was serving as the Kootenai County Clerk from 1995 to 2010 he would often refer to himself as the "last Democrat in Kootenai County."
Despite those roots, English said he is dedicated to being as nonpartisan as possible in his role, despite the increasing political divide that is sweeping the country.
"It's very contentious," English said. "It's never been this bad, and I've been at this for a long time. It's more divided than I've seen and it seems to be extreme."
Locally, that division has been fostered by the Kootenai County Republican Central Committee, English said, which often endorses far-right candidates.
"That's one of the more visible examples," he said.
The central committee has endorsed one of English's opponents, Roger Garlock, in this election.
English points to his years of experience as an elected official, including his eight years on the council, as his qualification to keep the job, but said those qualifications don't seem to mean as much as they used to.
"People are wary of people who have experience and qualifications," he said. "Somehow that has turned into something negative."
English said he's disheartened by the lack of civility in political discourse and instead likens it to an "adversarial contact sport."
"It's almost like compromise is a dirty word now," he said. "That's how you get things done."
Despite the increasing rancor, English said he'd like to keep serving the Coeur d'Alene community. "I do enjoy it," he said. "I get feedback that I do a good job."
Knutson said city issues are not partisan and he doesn't think they should be treated as such.
"I like the idea of not being affiliated with a political party for a nonpartisan position," he said.
Council members have to consider issues as they come and make a decision based on the facts of each issue rather than making blanket statements such as never approving any tax increase for any reason, Knutson said.
"People have to take those one at a time as they come," he said.
Knutson, a natural resource and environmental science consultant who has lived in Coeur d'Alene for seven years, said he's been attending council meetings for the last year and has learned how the city works.
"I thought, who better to represent people like me than me," he said.
Garlock, who works for a local HVAC company, ran previously for city council in 2021 against incumbent Amy Evans and said the closeness of the race encouraged him to try again.
"I came so close last time," he said. "Incumbents are always tough to beat."
The city is still dealing with the same issues it had then, mainly growth and infrastructure, Garlock said.
"They've been the issues for about two election cycles," he said. "Either nothing is changing or nothing can change. We just need to keep fighting for that change."
While Coeur d'Alene has grown, the city's budget has increased more rapidly. Garlock said he doesn't think it should have increased so much.
"The budget has practically doubled in the last 10 years," he said. "We have a spending problem."
Opinions have been split recently about the Coeur Terre development, a proposal to develop a subdivision of up to 2,800 of living units on 440 acres that was just annexed into the Coeur d'Alene city limits. The land was also rezoned from county agriculture suburban to city residential and commercial. The Kootenai County Land Company has announced plans to develop the project over the next 20 to 30 years, though a final development plan still has to be approved by the City Council.
Residents have been outspoken about the high density of the project and the plan to connect it to Atlas Road via quiet residential streets that currently dead-end in the adjacent Indian Meadows neighborhood.
Knutson lives in Indian Meadows on Appaloosa Road, one of the dead-end streets that would be turned into a Coeur Terre access point, drastically increasing the amount of traffic. The project is the reason that he began attending council meetings, as he sought to dissuade the council from allowing the use of his neighborhood as a connector to a large development.
English was one of four council members to approve the annexation request and said he's impressed that the developers have set aside land for schools and a fire station.
"I understand some of the local neighbors' concerns," he said.
English said he lives in Coeur d'Alene Place, a similar development that was also built slowly over decades.
"It was really well-designed, planned, lots of green space," he said.
Garlock said he takes issue with English's vote.
"Dan English has voted several times for high-density zone changes despite public opinion," he said. "Coeur Terre is a big one."
Traffic congestion also has been an ongoing issue in the city, and English said he believes the city has been making progress.
"I think we're doing a lot of things to mitigate that," he said.
English said he makes it a point to meet with and listen to people about their concerns so they feel heard. His long tenure as a Coeur d'Alene resident also gives him a unique perspective, he said.
"I'm pretty confident with my record and track record," he said.
Knutson said he'd like to provide a new voice to the council and said he wouldn't be committed to a party platform.
"I feel like I have a different background, a different approach," he said. "I believe voters should have a choice."
Garlock said that as a parent with two young children, he would bring an important perspective to the council. He said he believes English is out of touch.
"I'm a representation of how local government affects your life," he said. "I'm not a retiree. I punch a clock 50 hours a week. I have insight and understanding into what people are dealing with."
---