How to clean and roast pumpkin seeds from your jack-o'-lantern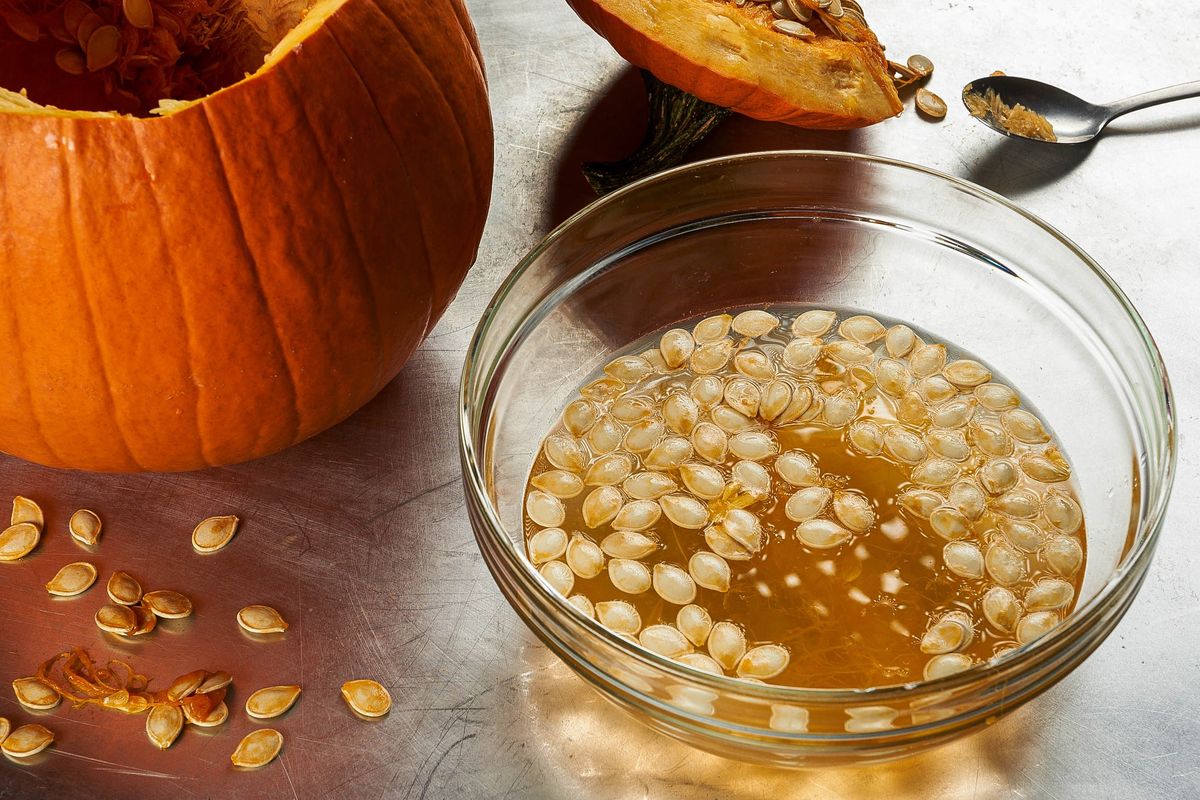 Yes, decorative gourd season is upon us, and while the markets are chockablock full of cute striped and ridged little squashes, we're truly awash in a sea of pumpkins. Everywhere you turn, whether farm stands, grocery stores or stoops, the orange orbs are inescapable.
Like it or not, many of those pumpkins are destined to be carved up, turned into jack-o'-lanterns and, if your neighborhood is anything like mine, left to the voracious appetites of wily squirrels.
William Woys Weaver, an author and food ethnographer with a deep knowledge of culinary history and heritage seeds, doesn't love that people sacrifice produce in the name of decor. But if you're interested in making at least some use of your pumpkin: Don't just toss the seeds.
All pumpkin seeds are edible, Weaver says. That doesn't mean they're all palatable. "Some are very tasty, and some are like 'Oh, why am I bothering with this.'" Growers know which varieties have the tastiest seeds, though that may be less apparent to the typical consumer who stumbles across a pumpkin patch that features a variety of species. If you're more interested in cooking than carving and want gourds with tasty flesh, you should seek out small, round sugar pumpkins and bumpy-skinned peanut pumpkins, as well as such varieties as Cinderella, Jarrahdale, Fairytale and Long Island Cheese.
Some pumpkins produce oil-rich seeds that are, you guessed it, pressed to extract pumpkinseed oil, Weaver says. Other varieties have seeds that were ground by Indigenous peoples and used in such foods as puddings. But for the average modern pumpkin carver, the most obvious answer is roasted pumpkin seeds. And keep in mind that everything I'm about to suggest here goes as well for the seeds you get from other winter squash, such as butternut, acorn, Hubbard and kabocha.
Start by pulling, scraping or scooping out the seeds, which will probably come out with slimy, stringy flesh attached. One note: These seeds will not necessarily look like the pumpkin seeds, or pepitas, you buy at the store, which have had their hull removed or come from particular varieties that create hull-less seeds. Don't worry, though – you can eat the hulls, no problem.
You can separate the seeds in a few ways.
• Weaver likes to place the seeds in a sieve under running water, rinsing and rubbing them until they come loose from the flesh.
• I prefer putting the strings and seeds into a bowl of water, stirring and agitating to help the seeds break free of the strings. Fun fact, via Weaver – good seeds will float to the top. Sterile seeds, or seeds that are just hull with no edible part inside, will sink. Relegate those to the compost. Scoop the seeds you want to keep off the top with your hand, a spoon or skimmer.
• In "Ruffage," cookbook author Abra Berens recommends soaking the seeds overnight in salted water. She says it makes it easier to remove the strings and also more thoroughly flavors the seeds.
Next, thoroughly dry the seeds so they have the best shot at browning. Pat with a clean towel or leave to air dry on a screen or wire rack.
Now it's time to season the seeds. Cook's Illustrated recommends a ratio of 2 teaspoons olive oil, 1 teaspoon total spices or spice blend and 1/2 teaspoon kosher salt (1/4 teaspoon fine salt) per 1 cup of seeds. What to use for those spices? Berens favors a mild pepper such as Aleppo or Marash. Try using your favorite spice blend, such as Chinese five spice, garam masala or ras al hanout. Or match to the spices used in the dish you want to use the seeds as a garnish for, whether that's cumin, cayenne, smoked paprika, cinnamon or more. It's also fine to just stick with salt.
The temperature at which you roast is not very consequential as long as you get the seeds crisped and golden brown. Washington Post food editor Joe Yonan roasts the seeds at 450 degrees for 10 to 15 minutes, while Cook's Illustrated recommends 20 to 25 minutes at 350 degrees. Just use your eyes and nose – they should smell nice and nutty – to determine when the seeds are done. You can roast them on an unlined sheet pan, or you can use parchment or silicone underneath for easier cleanup.
Now that you've roasted them, what should you do with those pumpkin and squash seeds? Of course, they're a delectable snack on their own. Try them for added crunch on top of a salad, slaw or soup, especially if it's pumpkin. Pumpkin seeds also pop as a garnish scattered on the sour cream atop baked potatoes. With the right warming spices (or no spices at all), they can be stirred into granola.
Seed-to-Skin Squash and Sage Pasta
Here's how to use almost every bit of a butternut squash in one satisfying recipe. First, you roast the cubed flesh, stripped peel and cleaned seeds. Then you turn the flesh into a sauce for pasta, and the crunchy peel and seeds become a complementary garnish. To keep the dish vegan, use an egg-free pasta.
The finished pasta with sauce can be refrigerated for up to 5 days; refrigerate the peels and seeds separately. Freezing the finished dish is not recommended, but you can freeze the sauce for up to 3 months. Defrost and reheat before tossing with the pasta before serving.
The squash flesh, seeds and skin can be roasted and refrigerated for up to 5 days. When ready to serve, make the sauce and reheat on the stove top, and let the seeds and skin come to room temperature before cooking the pasta and finishing the dish.
1 (2-pound) organic butternut squash, well scrubbed and dried
1 large yellow onion (12 ounces), peeled and quartered
4 cloves garlic, unpeeled
2 tablespoons extra-virgin olive oil, divided
1 teaspoon smoked paprika
1 teaspoon fine sea salt, divided, plus more to taste
1/2 teaspoon freshly ground black pepper, divided, plus more to taste
6 fresh sage leaves
1 cup canned coconut milk
2 tablespoons fresh lemon juice, plus more to taste
2 cups lightly packed baby arugula
1 pound dried pappardelle, tagliatelle or other favorite pasta
Position two racks in the upper and lower thirds of the oven and preheat to 400 degrees.
Wash and dry the squash. Using a sharp peeler, peel the squash in long strips. Cut the peels into 2-inch pieces, then cut the pieces into very thin slices. Using a sharp knife, cut the squash in half lengthwise. Using a spoon, scrape out the seeds and stringy pulp, transfer them to a small bowl of water, and separate the seeds from the pulp. Discard or compost the pulp, and transfer the seeds to a clean dish towel and dry them thoroughly.
Cut the squash flesh into 1-inch cubes. In a large bowl, toss the cubes with the onion, garlic, 1 tablespoon of the oil, the smoked paprika, 1/2 teaspoon of the salt and 1/4 teaspoon of the pepper. Transfer the mixture to a large, rimmed baking sheet in one layer and roast for 35 to 40 minutes, until the squash's edges begin to brown and the flesh is soft.
Meanwhile, in the same bowl, toss the sage leaves, squash seeds and peels with the remaining 1 tablespoon of oil, 1/2 teaspoon of salt and 1/4 teaspoon of pepper. Transfer them to a second rimmed baking sheet in one layer and roast for 10 to 15 minutes, tossing occasionally, until lightly crisped and golden brown. Transfer to a plate to cool.
When the squash cubes are tender, transfer the onion quarters to the bowl of a food processor. Squeeze the garlic out of its papers into the bowl and add 1/2 cup of the coconut milk. Puree until smooth. Add the remaining coconut milk, squash cubes, 3 of the roasted sage leaves and the lemon juice, and pulse a few times until thick but still chunky. Taste, and add more salt, pepper and lemon, if needed. Transfer the sauce to a large serving bowl and add the arugula.
In a large pot of salted boiling water, cook the pasta according to the package instructions until al dente, then use tongs to transfer it directly to the serving bowl. Toss to combine. Add the remaining sage leaves, roasted peels and seeds, and serve hot.
Adapted from "More Plants Less Waste" by Max La Manna (Yellow Kite, 2019).
---