Katy Ryan, former Idaho Gatorade Player of the Year at Lakeland and standout opposite for Washington State, shows maturity beyond her years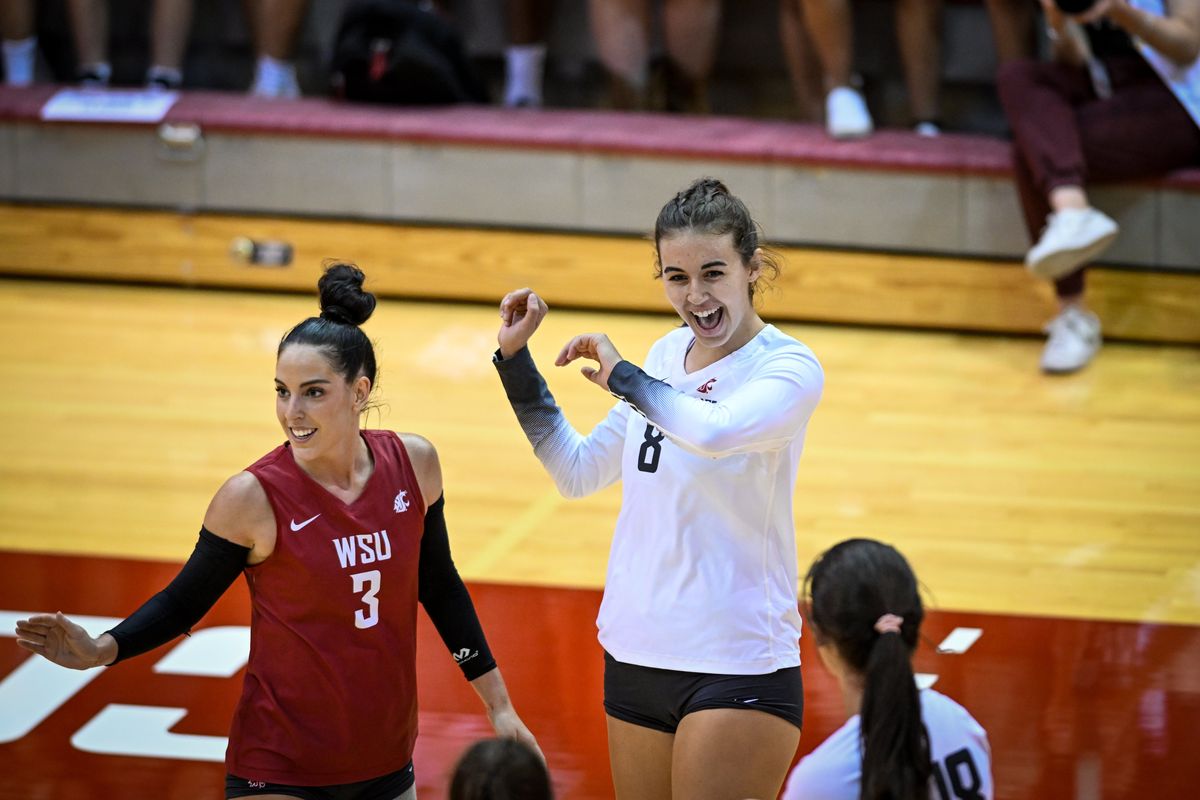 Katy Ryan started playing volleyball in third grade.
By eighth grade, she'd become a force.
Now a junior for the No. 6-ranked Washington State Cougars, Ryan's journey to Pac-12 volleyball took flight with club tournaments in eighth grade and culminated in a state title her senior year with those same club teammates at Lakeland High School in Rathdrum.
"She seemed to have a natural touch as early as third grade," said her mom, Lorain Ryan, who also played volleyball, "but by eighth grade, she could slam it down like a bullet and made a few people bleed. That's when we could see this could go somewhere."
That led to WSU, where Ryan and her Cougars teammates have rolled to an 18-3 record this season, including 8-2 in conference play. WSU plays host to No. 9 Oregon on Friday night at 7, and Oregon State on Sunday at 2 p.m.
"Katy's a huge part of our offense and defense," WSU associate coach Burdette Greeny said.
In 2021, the 6-foot-5 Ryan was named to the All-Pac-12 freshman team. She followed it up with honorable mention all-conference honors last season.
This season, she's third on the team in kills (182) and fourth in blocks (54).
Greeny said Ryan's maturity has been her most defining and impressive characteristic since joining the team.
"The maturity that she has is phenomenal," Greeny said. "She's more mature than most adults that I know who are 50 years old. She is really impressive."
It's not the first time she's impressed coaches. As a freshman at Lakeland, she made varsity in volleyball and basketball, lettering all four years and becoming one of the most decorated athletes in school history.
Early on, her combination of height and talent drew interest from smaller colleges in the area, and eventually Division I schools began to show interest.
"I kind of got some attention from some local colleges and then Hawaii reached out to my coach," Ryan said. "That's kind of when I was like, 'Dang, I could actually keep going after high school.' "
Her senior year was sensational. Ryan finished with 234 kills, 101 digs, 32 blocks and 24 aces in Lakeland's state title run and earned the 2020–21 Idaho Volleyball Gatorade Player of the Year award. She also played for USA Volleyball's Women's Junior National Training Team.
"I think that was probably one of my favorite seasons of my life," Ryan said of her senior year of high school. "It was a really close group and I really loved our head coach, and we were doing really well. So I had a lot of fun that year, for sure."
Staying close to those high school friends and her family made Pullman the perfect college destination, Ryan said.
"It was so exciting that Katy had an option to be close to home and play high-level volleyball at the same time," mom Lorain said. "We are a close family and it is a blessing to share this experience with her.
"When she was in high school, I remember getting some postcard camp invites in the mail from Baylor and Wisconsin and throwing them in the garbage. We are huge Coug fans and love that she is in Pullman."
So do WSU coaches.
Through 21 matches and 74 sets, she has a career-best hitting percentage of .330 and has averaged 2.46 kills per set.
Entering the season, Greeny praised Ryan's development and growth from last year.
"We're just continually impressed with Katy Ryan," Greeny said.
For Ryan, playing alongside Magda Jehlárová, Iman Isanovic, Pia Timmer and the since-departed Laura Jansen has really helped in her development.
"(Playing with international players has) been awesome," Ryan said. "I love it. I'm from a small town in Idaho, so it's been a really good exposure to different cultures."
It has also produced a tight-knit family atmosphere, she said, just like she had at Lakeland.
"I just love hanging out with everybody, even just outside of volleyball. We all have such a good time together," she said.
"I try to continue to bring good energy to my teammates and be a reliable player for them, not trying to focus too much on the numbers."
---