The Beatles to release AI-powered last song 'Now and Then' with John Lennon, George Harrison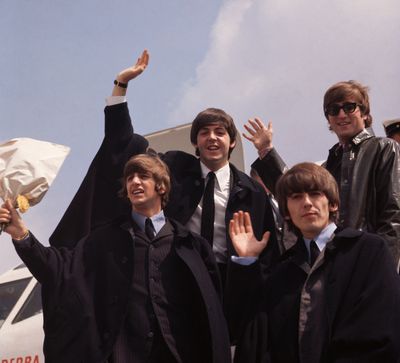 The Beatles will release another new song — their "last" one — next week, thanks to the wonders of artificial intelligence.
The Fab Four's surviving members, Paul McCartney and Ringo Starr, announced Thursday that "Now and Then" will be released Nov. 2. The track is written and sung by late singer-songwriter John Lennon, with contributions from McCartney, Starr and George Harrison, the latter of whom passed away 22 years ago next month.
To complete the song that originated nearly 50 years ago, McCartney and Starr employed the same technology used to enhance the audio in Peter Jackson's Apple TV docuseries "The Beatles: Get Back."
The "Lord of the Rings" auteur and a sound team used the software to isolate Lennon's vocals from the original demo, which the late musician first recorded in the 1970s after the Beatles split up.
According to the BBC, the tune is "an apologetic love song … addressed to an old friend (or lover), to whom Lennon declares: 'Now and then, I miss you / Now and then, I want you to return to me.'"
After Lennon was fatally shot outside New York City's Dakota Building in December 1980, his widow, Yoko Ono, gifted the song to McCartney on a cassette.
"There it was, John's voice, crystal clear," McCartney, 81, said in a statement about completing the song last year using AI. "It's quite emotional. And we all play on it, it's a genuine Beatles recording. In 2023, to still be working on Beatles music, and about to release a new song the public haven't heard, I think it's an exciting thing."
"It was the closest we'll ever come to having [Lennon] back in the room so it was very emotional for all of us," added Starr, 83. "It was like John was there, you know. It's far out."
McCartney and Starr added new vocals, drums, bass, guitar and piano to the song. It also features guitar parts recorded by Harrison in 1995, prior to his death from lung cancer in 2001.
This isn't the first time Lennon's old recordings have been brought to life for something new.
Early versions of "Free as a Bird" and "Real Love" — also given to McCartney by Ono — were reproduced and released as new Beatles singles in 1995 and 1996, as part of the Beatles Anthology project.
To accompany the upcoming release, a 12-minute documentary titled "Now and Then – The Last Beatles Song" will debut Nov. 1 on the band's YouTube channel. A music video is expected for Nov. 3.
---