Things to watch: Idaho, fresh off a bye, hosts Montana State for top 10 clash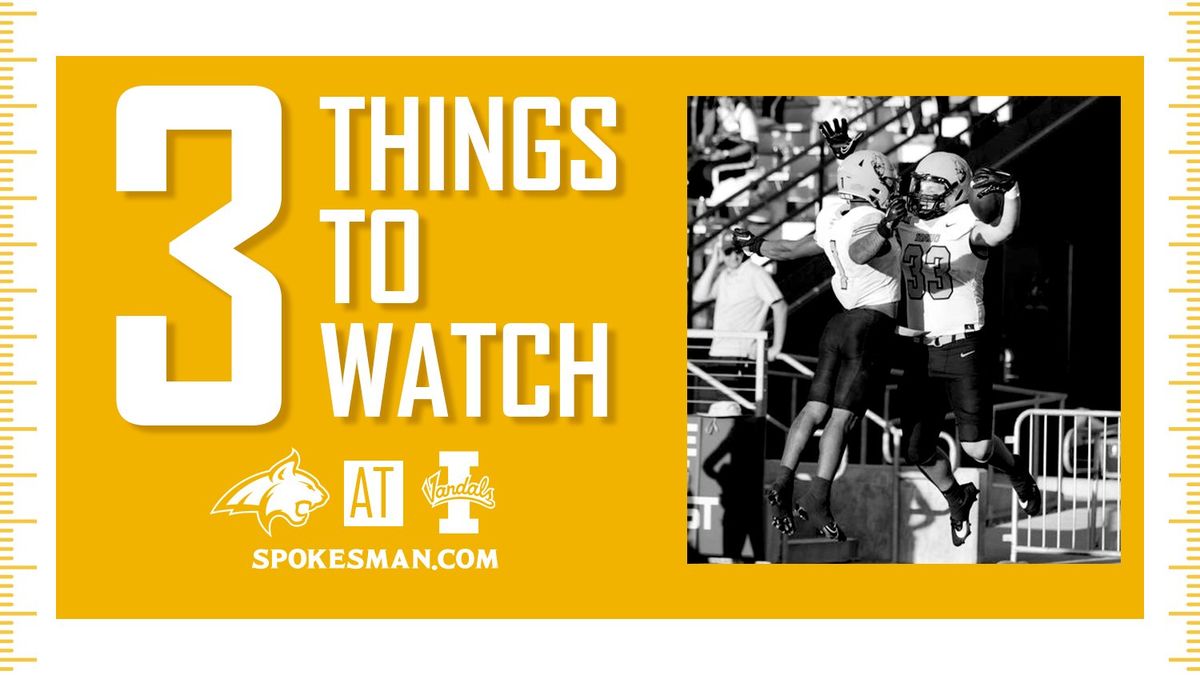 MOSCOW, Idaho – Another key Big Sky game between highly ranked opponents, another sellout crowd – it's set up to be another entertaining matchup at the Kibbie Dome.
The ninth-ranked Idaho Vandals (5-2, 3-1 Big Sky) host No. 2 Montana State (6-1, 4-0) at 1 p.m. Saturday.
Idaho, coming off a bye week, suffered its first Football Championship Subdivision loss of the season Oct. 14. The Vandals couldn't complete a second-half rally and fell 23-21 to then-No. 16 Montana in front of the Kibbie Dome's first sellout crowd in 13 years.
The dome will be at full capacity again when the Big Sky favorites come to town. The Bobcats have FCS championship aspirations. Their only loss this year came in a close game against No. 1 South Dakota State.
The Bobcats' run game
Montana State averages 325 rushing yards per game – the top mark in the FCS.
The Bobcats have amassed over 300 yards on the ground in six of their seven games. Their worst rushing output was still impressive, with 211 yards in a 20-16 loss to top-ranked SDSU on Sept. 9.
"No one's really done a great job of taking away their run," Idaho coach Jason Eck said.
"This is a very physical team that we're playing this week. We gotta play a physical brand of football to compete with them."
MSU's two quarterbacks, Sean Chambers and Tommy Mellott, are both proficient runners. Chambers, at 6-foot-3 and 220 pounds, is "a load," Eck said. The senior has rushed for a team-high 521 yards and 11 touchdowns.
The Bobcats rotate three running backs, each of whom has recorded more than 200 yards and at least two touchdowns.
"Their (quarterbacks) are weapons and their backs are very good," Eck said.
The Bobcats haven't had to rely much on the pass. They rank 83rd nationally in passing offense. But MSU's QBs have thrown just two interceptions and taken only four sacks.
It'll be the toughest test yet for Idaho's rushing defense, which has performed to mixed results this year. The Vandals rank 40th nationally and fourth in the Big Sky with 134.4 rushing yards allowed per game. Idaho gave up 158 rushing yards against Montana.
"Early in that game, (Montana) 'outphysicaled' us," Eck said. "We can't let that happen again."
The Vandals need to stand firm on early downs against MSU's rushing game and force the Bobcats out of their comfort zone. MSU has attempted 296 rushing plays this year – more than double the team's passing attempts. The Vandals rank 11th nationally in pass-defense efficiency rating.
UI offense needs consistent outing
The Vandals have to be at their best if they hope to keep up with Montana State's offense – the No. 2 total offense (506 yards per game) and No. 1 scoring offense (45 points per game) nationally.
Idaho can't afford to start slow, like they did in their most recent game. The Vandals' offense looked out of sorts early against Montana. Idaho fell into a 20-0 hole in the first half and didn't have enough time to climb out.
Idaho settled in on defense and limited Montana's offense in the second half. The Vandals lead the conference in total defense (302.6 yards per game), but no team has managed to slow down Montana State's attack, so the Vandals' best bet against the Bobcats might be a high-scoring shootout.
MSU ranks 18th nationally in total defense (312.7 yards allowed per game) and 11th in scoring defense (18.7 ppg). The Bobcats surrender 125 rushing yards per game (31st nationally) and 187.8 passing yards per game (30th nationally) – solid numbers, but they have shown the occasional lapse against potent offensive teams.
The Bobcats allowed 434 yards and 30 points in a win over Sacramento State last week.
Idaho's offense has the tools necessary to trade scores with the Bobcats and turn this game into a back-and-forth match.
Vandals quarterback Gevani McCoy is coming off perhaps his best game of the year. He threw for a season-high 336 yards against Montana. All-American receiver Hayden Hatten also had his most productive showing, recording 139 yards and two touchdowns on 11 catches.
The Vandals must get a little more help from their rushing game, which has been impressive for the most part this season but ran into a wall against the Grizzlies. Idaho totaled 58 rushing yards on 32 carries.
"We've gotta find a way to run the ball this week," Eck said. "We gotta be able to eat up clock and keep their offense off the field, because their offense is so good."
The Vandals will be asking a lot out of their young offensive line, which had a tough outing against Montana. Idaho gave up six sacks.
"I think (the O-line) will have a chip on their shoulder to play better than they did in the Montana game," Eck said.
Another packed house
How will the Vandals handle the environment this time out?
Eck said his team got a bit too caught up in the moment against Montana and made some uncharacteristic mistakes.
"We gotta focus on what happens in between the lines and not worry about the crowd, not worry about the (game's) implications," he said.
"Our fans did a great job of impacting the last game, but I think we've gotta handle it better. We gotta make sure the crowd and the atmosphere doesn't affect us – getting too hyped up and (making) some unforced errors."
Hosting sellout crowds and nationally relevant games is still a new experience for the Vandals, but now that they're a prominent FCS program again, they'll have to get used to it.
"I'm hoping, with us having our second game with a sellout crowd, that we can handle our nerves a little bit," Eck said.
---