An 'Endangered Species' plays the Bing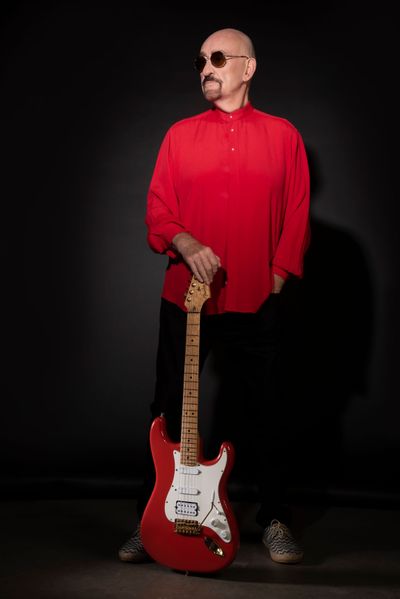 "We Just Disagree," Dave Mason's solo hit from 1977, couldn't be more relevant in the United States.
"We certainly live in a divided country," Mason said while calling from his Carson City, Nevada home.
Mason's tunes are still relevant, such as "Only You Know and I Know" and "Feelin' Alright," which he recorded with Traffic.
"I look at it this way," Mason said. "There are two types of songs. There are good ones and bad ones. I believe the good songs stand up to the test of time."
Mason, 77, who is on his "Endangered Species" tour, which stops Sunday at the Bing Crosby Theater, has performed on a number of great songs. The British singer-songwriter, who grew up in Worcester, England, was not only part of the legendary band Traffic with Steve Winwood. Mason was a close friend of guitar hero Jimi Hendrix and also played on the Rolling Stones' classic, "Street Fighting Man."
No wonder Mason just finished a memoir, "Only You Know and I Know" which will hit shelves in 2024 and is available for pre-order on his website, www.Davemasonmusic.com
"Writing the book was an interesting little project," Mason said. "It covers 77 years of my life. I got badgered into writing the book but I'm glad I did it."
Mason laughed when asked about his relationship with Hendrix. "For a guy who was such an innovative guitarist, Jimi was pretty quiet," Mason said. "He was such a nice guy. It's a shame he died at such a young age since no one is like Jimi Hendrix, who was extraordinary."
Another late iconic guitarist Mason befriended was the Rolling Stones' Brian Jones. "I got to know Brian and was able to play on 'Street Fightin' Man' since I was part of a very small community of musicians," Mason said.
Mason was also pals with the late George Harrison. "I really enjoyed George," Mason said. "We bonded over the sitar. … I went to some of the Beatles sessions at Abbey Road. It was fascinating experiencing that."
Mason is pleased to have emerged as a musician during the '60s. "It was a great environment," Mason said. "Nobody buys music anymore. There's no radio anymore. All you hear is classic rock. You hear the same song over and over again. It's not a good business to be in right now. This reminds me of my father, who had a candy store for 48 years. I remember him telling me that he was in the worst business. His problem was that everyone was selling candy, even the gas stations. Right now it feels similar in the music business. If you want to make money, don't make an album since it's just not economically feasible. If you make an album today, you have to do it for the love of it."
Mason isn't counting on record sales but he's going to make an album with blues guitar virtuoso Joe Bonamassa. "Joe is an excellent guitarist," Mason said. "I look forward to working with Joe and this tour. The saving grace of the music industry is that people still come out to see live entertainment. I enjoy playing out now as much as I enjoyed it when I was a young man.
"I look forward to the book's release. I was part of some wild history in the world of music. I've finally told my story but what's wonderful is that I still create and play out. There will still be chapters written after the book comes out."
---