'Finally': ONE Spokane Stadium to open for high school sports, pro soccer, concerts in downtown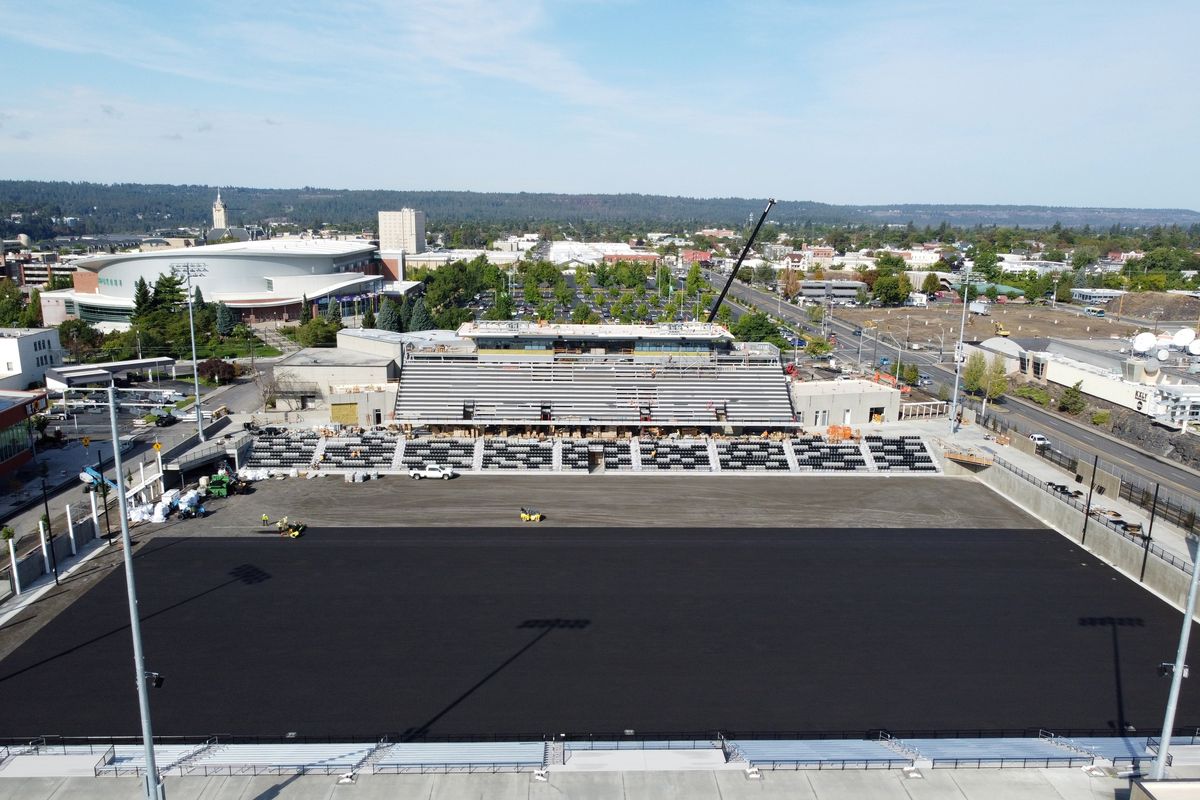 After years of debating, voting, arguing, negotiating, planning and finally constructing, the new downtown outdoor sports facility – dubbed ONE Spokane Stadium – will open this fall adjacent to Spokane Arena and the Podium to finally give the five Spokane Public Schools a place to call home for football and soccer.
The building, which replaces the now-demolished Joe Albi Stadium in Northwest Spokane, will also host professional soccer in the near future.
"Here, under the lights on a Friday night? Whole family, friends here. This is going to be a time to be alive," Rogers senior quarterback Aaron Kinsey said. "I didn't think they were going to be done in time for my senior year. But it's so exciting that they are.
"The fact that we can just go out in our backyard and just have a whole football game on a Friday night … It's like, this is perfect. This is the perfect setting, perfect everything."
According to organizers, the stadium – with an upper deck and individual seating on the home side – will hold 5,100 for sporting events and between 10,000-12,000 for concerts, depending on stage and seating layout.
"I didn't think it was gonna be this big," Kinsey said. "But that makes it that much more exciting and the fact that the bleachers are that much closer to the field – I can hear the other crowd talking or the other sideline. This is going to amp our whole team up."
ONE Spokane Stadium is a partnership between Spokane Public Schools and the Spokane Public Facilities District. SPS is serving as the construction manager, and PFD will be the operator.
The estimated final budget for the project is $37.9 million.
The ribbon-cutting ceremony is scheduled for Sept. 26, with the first games to take place Sept. 28, when Pullman faces Shadle Park in girls soccer at 4 p.m., followed by North Central football hosting Clarkston at 7 p.m.
The street between the stadium and the Podium will be renamed Joe Albi Way, and the unveiling of the plaza will be Sept. 30, as will a community open house at the stadium – where pep bands from all five city schools will perform.
Organizers said turf installation will be "complete by mid-September" and the new parking lot north of the stadium is under construction and should be done this year.
---