Fulton County special grand jury recommended 39 indictments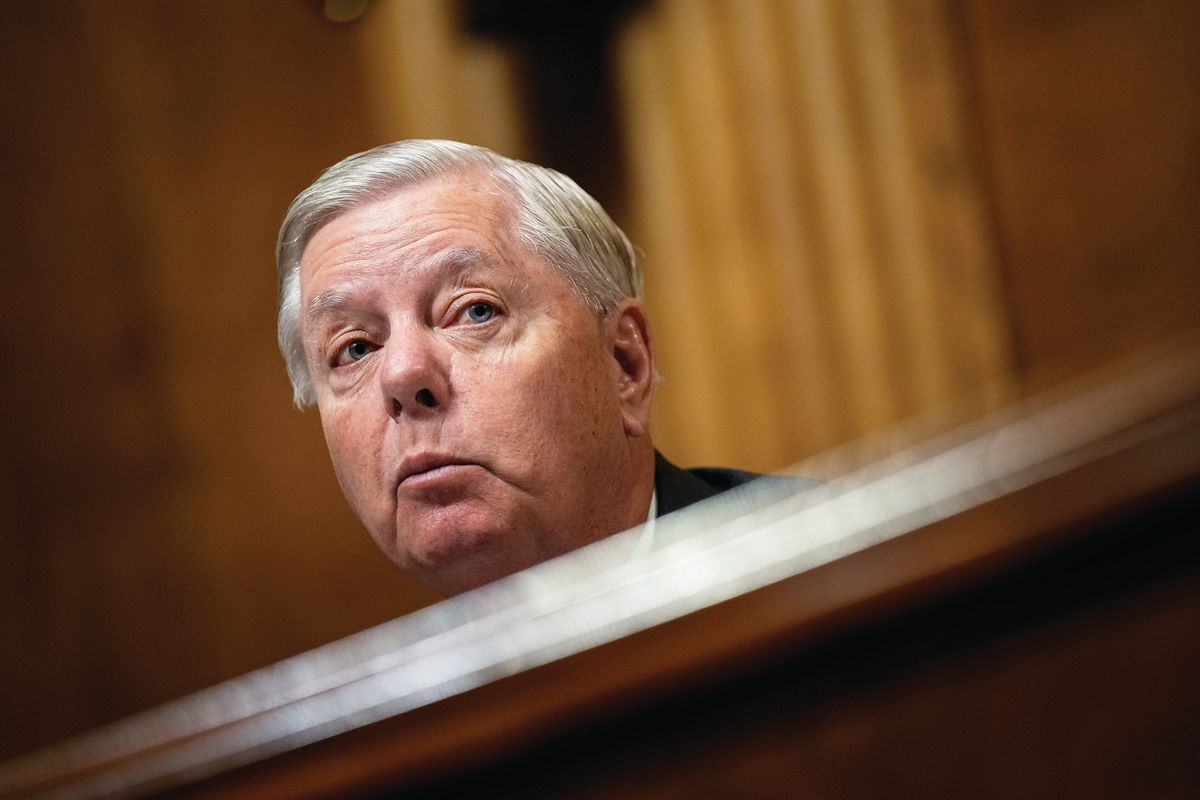 ATLANTA – Members of the Fulton County special purpose grand jury that investigated interference in Georgia's 2020 presidential election recommended that more than three dozen allies of former President Donald Trump be indicted for alleged crimes, more than double the number who were ultimately charged.
The recommendations – which included U.S. Sen. Lindsey Graham, ex-Trump National Security Adviser Michael Flynn and former Georgia U.S. Sens. David Perdue and Kelly Loeffler – were contained in the 23-person jury's final report, which was released in full on Friday. The 28-page document was finalized in January but most of its contents were quickly sealed by a judge at the request of Fulton District Attorney Fani Willis.
In August, a separate criminal grand jury handed up a 41-count racketeering indictment against 19 people, using testimony and other information that was collected in part by the special grand jury.
The group's report was meant to function as an advisory document for Willis, but jurors also requested that it be publicly released. It shows that the jurors were nearly unanimous in their votes to charge Trump and some of his top advisers, including attorney Rudy Giuliani and White House chief of staff Mark Meadows.
Among the blockbuster names on the special grand jurors' list who have not been indicted are Graham, Perdue and Loeffler. The latter two were pressured by Trump to call for the resignation of Georgia Secretary of State Brad Raffensperger.
Other names included in the report but not in the indictment were Flynn, Republican activist and former congresswoman Cleta Mitchell and retired libel attorney Lin Wood.
The grand jury also recommended criminal indictments for former state Sen. William Ligon and Lt. Gov. Burt Jones.
Ligon chaired a Senate committee before which Trump's legal team aired false allegations about the election and vote counting at Atlanta's State Farm Arena. He also went to Washington on Jan. 6 to urge Congress to reject Georgia's presidential elector.
Jones was part of the slate of Trump electors and signed a letter urging Vice President Mike Pence to postpone certification.
A Fulton judge last summer disqualified Willis from investigating Jones saying she had a political conflict of interest. The Prosecuting Attorneys Council of Georgia is weighing whether to appoint a special counsel to see whether he should face charges.
The special grand jury met for nearly eight months between May 2022 and January 2023, hearing testimony from roughly 75 witnesses and issuing subpoenas for evidence.
Jurors organized their recommendations based on sets of events that occurred in Georgia in the aftermath of the 2020 election, including the infamous Jan. 2, 2021, phone call Trump placed to Raffensperger; a set of legislative hearings in which Giuliani and others aired false claims about the vote count in Georgia; and the appointment of a slate of Trump electors in Georgia even though Democrat Joe Biden had won the state.
The report included the jurors' vote tallies for each person recommended for indictment.
In addition to Trump, the group was nearly unanimous in its recommendations that several attorneys affiliated with the Republican's campaign be indicted, including Giuliani, Mitchell, John Eastman and Ray Smith.
It was more closely divided over the current and former U.S. senators, as well as most of the GOP electors.
Three of the 16 electors were ultimately charged: former Georgia GOP chairman David Shafer, state Sen. Shawn Still and former Coffee County GOP chairwoman Cathy Latham. At least eight others negotiated immunity deals with prosecutors.
In February, Fulton Superior Court Judge Robert McBurney released portions of the report, but not the section that detailed who the grand jurors recommended be indicted. He kept those under wraps at the urging of Willis, who said she was concerned about defendants' due process rights before she went to a regular grand jury to obtain an indictment.
After the charges were handed up last month, McBurney concluded that such an "exceedingly public development" eliminated those due process concerns, at least for the 19 defendants charged in the case, and set the stage for the full report's release.
In the portions of the report that were previously released, jurors stated that they had unanimously concluded that there was no evidence of widespread fraud in the 2020 election as Trump and his supporters had claimed. And they expressed concerns that some witnesses may have perjured themselves when testifying before the panel, though they did not name names.
Among the 41 counts in the racketeering indictment is a perjury charge against attorney Bob Cheeley. According to the indictment, he "knowingly, willfully and unlawfully" made false statements before the special grand jury about the meeting of Trump electors in the Georgia Capitol on Dec. 14, 2020.
Jurors voted 20 to 1 to recommend that Cheeley be indicted for false statements and writings; filing false documents; forgery and other charges.
Jurors also made suggestions with respect to the breach of elections equipment in Coffee County; the harassment of Fulton poll worker Ruby Freeman; and efforts nationally to overturn the 2020 election results in swing states outside of Georgia, as well as Washington, D.C.
The group recommended specific charges against Trump, Giuliani and Perdue in connection to "persistent, repeated communications directed to multiple Georgia officials and employees" between Nov. 2020 and Jan. 2021.
In a footnote, one juror who recommended against indicting Perdue and Loeffler on a racketeering charge, noted that he or she believed they were pandering to their political base but that did not rise to the level of being guilty of a criminal conspiracy.
The only person Willis indicted who was not on the grand jury's list is Republican operative Michael Roman.
_____
(Atlanta Journal-Constitution staff writer David Wickert contributed to this article.)
———-
---