GOP gets the Democratic border crisis it wanted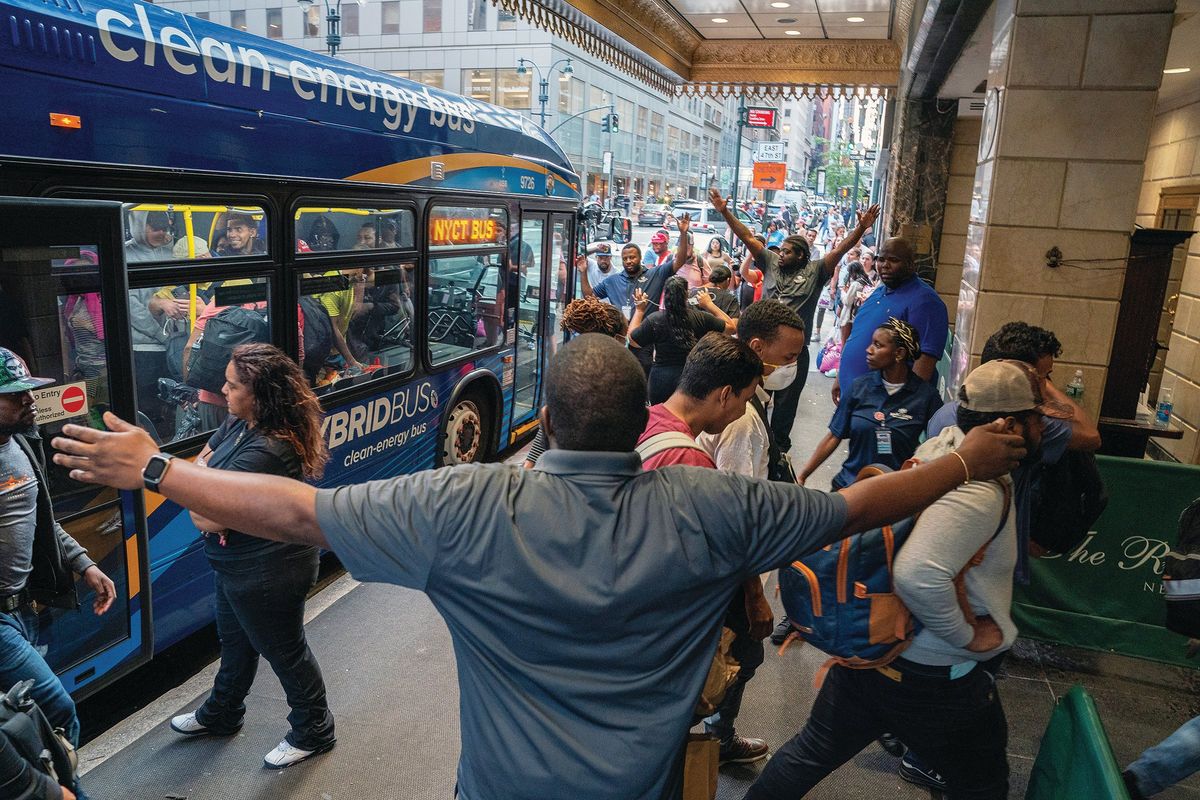 When Gov. Greg Abbott of Texas began sending migrants and asylum-seekers from the southwestern frontier to New York, Washington and Chicago, he vowed to bring the border to the Democratic cities he said were naively dismissing its costs.
A year later, the migrant waves he helped set in motion have put northern "sanctuary" cities increasingly on edge, their budgets stretched, their communities strained. And a border crisis that has animated Republican politics for years is now dividing the Democratic Party. Humanitarian impulses are crashing into desperate resource constraints, and once-loyal Democratic allies have reluctantly joined Republicans to train their fire on President Joe Biden.
Eric Adams, the mayor of the nation's largest city, declared this week that without a federal bailout and clampdown at the border, swelling migration "will destroy New York City." The nation's second-largest city, Los Angeles, has promised to sue Abbott. And the liberal mayor of the third-largest city, Chicago, began pleading last month for the White House to step in.
"Let me state this clearly: The city of Chicago cannot go on welcoming new arrivals safely and capably without significant support and immigration policy changes," Mayor Brandon Johnson said.
Gov. Maura Healey of Massachusetts, a liberal Democrat, has declared a state of emergency, activated the National Guard and started petitioning the White House for help.
The migrants on state-funded buses from Texas are a fraction of the total number arriving in northern cities. Texas brags that its "Operation Lone Star" has sent more than 13,100 migrants to New York City since August 2022, but the overall strain there stems from the total, more than 110,000. Some of those migrants have family in New York, while others are attracted to the city's history of welcoming immigrants.
Still, the rising clamor is creating a rare convergence between the two parties, which for years have fought in seemingly parallel political universes. Democrats focused on issues like abortion, the preservation of democracy and expansion of health care, while Republicans warned of a migrant "invasion" and railed against "woke" liberal ideology, socialism and expanding LGBTQ rights. Endless Republican news conferences at the border and threats to impeach Alejandro Mayorkas, the homeland security secretary, were dismissed as political bluster.
Now, suddenly, some Democrats are sounding remarkably like Republicans.
"Upstate New Yorkers shouldn't be forced to bear responsibility for decades of failed immigration policy, dysfunction and stupidity out of Washington, Albany and places like New York City," said Josh Riley, the Democratic candidate seeking to unseat Rep. Marc Molinaro, a Hudson Valley Republican. Riley added that it was time for Biden to "to step up and help out."
For Republicans, the response to Abbott's gambit has gone beyond what they could have hoped for: a spreading of the pain as millions of migrants stream across the southern border, fleeing violence and poverty, drawn to what they see as a more welcoming administration in Washington and plentiful work.
Conservative Rep. Ronny Jackson, R-Texas, praised the bus caravans as "bold" and "thinking outside the box."
Even more moderate Republican voices have praised the move.
"The reality is, Abbott was shining a light on existing issues that nobody was talking about," said Will Hurd, a moderate Republican and former House member from a Texas border district now running for president as a fierce critic of Donald Trump. "Blue governors and mayors are having to deal with what Republican governors have had to deal with for three years now."
Democrats seem paralyzed by a surge of urban migration that has defied easy answers – and increasingly threatens their political aspirations, from crucial tossup congressional races in the suburbs of New York City to the race for the White House.
Democrats in the cities continue to castigate their Republican opponents for using migrants as political weapons, with little regard for their health or safety. Last month, a 3-year-old child traveling to Chicago on a Texas-funded bus became ill, was put on an ambulance and later died at a hospital. The party's candidates are quick to point out that Republicans deserve a large share of blame for blocking previous attempts to enact a bipartisan immigration overhaul in Washington.
But many Democrats realize complaints only go so far as they enter an election year, when immigration, border security and appeals to nativism from Trump and his imitators will roil the electorate far from the Mexican border.
"The potency of the issue has not abated, and Democrats who think that it has are fooling themselves," said Howard Wolfson, a top Democratic strategist who steers hundreds of millions of dollars in political spending as Michael Bloomberg's adviser.
"This is not just going to be a local New York City or Chicago or Boston issue," he added. "This is going to be top of mind for voters all over the country next year, and my strong advice to the White House is, they need to get off the sidelines and take action to address this."
The numbers are becoming impossible to ignore. New York City is sheltering 59,000 migrants each night and projects that caring for them could eat up $12 billion in the next few years, threatening the viability of other city services.
Chicago has taken in 13,500 migrants and spent at least $250 million. Migrants have jammed police stations and O'Hare Airport and prompted fierce recriminations from Black residents on the South Side who see disparities between investment in their communities and the money spent on migrant care.
In Washington, the city has taken in 10,500 migrants since the first bus arrived outside the home of Vice President Kamala Harris.
And in Massachusetts, the arrival of thousands of migrant families has driven the state's shelter population up by 80% in the last year.
"When is enough, enough?" asked Rep. Henry Cuellar, a conservative Democrat who represents a border district around Laredo, Texas. "You've got to be able to control your borders and be able to handle the number of people that come in. You just can't open up the faucet and let everybody in."
Cuellar said that even before Biden's inauguration, he warned Biden transition officials that a crisis was looming with the receding COVID-19 emergency and the end to draconian border rules imposed by the Trump administration. He recalled meeting Adams at a reception this year and listening to his complaints.
"I didn't tell him who I was," Cuellar said. "I was just smiling and thinking to myself, 'You guys only get a drop of what we get here at the border.'"
As the appeals grow louder, the White House has slowly ramped up its response.
The Federal Emergency Management Agency in June allocated huge "shelter and service" grants to cities and states unused to such attention: $105 million to New York City, $10.6 million for Chicago, $19 million to Illinois and more than $5 million to Washington. Other programs at the Department of Human Services boosted the total federal money to New York to $140 million and $45 million for Chicago. Those numbers, however, hardly meet the need: Chicago and Illinois alone have allocated about $200 million on migrant care in the city this year.
After Gov. Kathy Hochul of New York traveled to Washington last month, Biden administration officials said they would ask Congress to allocate more money to reimburse cities and states and pledged to help asylum-seekers fill out paperwork to obtain work permits more quickly. They also blamed Congress for refusing to take up a comprehensive immigration plan Biden first proposed in 2021.
Tom Perez, director of the White House Office of Intergovernmental Affairs, has begun convening weekly phone calls with Adams and Hochul, and he spoke with Healey on Thursday.
White House officials said they were rushing work permits to migrants who cross the border using a new app issued by Customs and Border Protection and said the administration had spent $1 billion to ease the crisis. An additional $600 million request is awaiting congressional action.
But the officials said ultimately, Congress must act to broaden immigration legislation.
Angelo Fernández Hernández, a White House spokesperson, dismissed Abbott's "cruel political stunts" and chided "Republicans in Congress who not only refuse to pass comprehensive immigration reform but are also not providing" the Department of Homeland Security with the resources it needs.
He said the Biden administration was "using the tools it has available to secure the border and build a safe, orderly and humane immigration system while leading the largest expansion of lawful pathways for immigration in decades."
But the White House has quietly said no to more aggressive unilateral actions, such as using executive powers to accelerate work-permitting. And Biden himself appears to want nothing to do with the issue publicly, forgoing the kind of high-profile leadership local officials have been clamoring for.
"When some of these governors and blue cities like New York started calling out, I thought the Biden administration would get its head out of the sand, but not a lot has changed," Jackson said. "I just think they don't know what to do at this point. They've created a crisis they can't manage."
Some Democrats fear that their standard-bearer for 2024 may be misreading the potency of a volatile issue heading into an election year.
Tom Suozzi, a Democratic former congressperson from Long Island mulling a comeback attempt next year, urged Biden to take a page from one of his predecessors, Bill Clinton. Suozzi said the president should propose to Republicans a moderate package of reforms that balances border security with "the very real human suffering that exists."
"If the Republicans come to the table with the president and the Democrats, America has a path forward," Suozzi said. "If the Republicans reject the president's moderate solution, it exposes them as simply playing politics on this issue."
But Democrats are divided on how the administration should respond. Leaders in some of the affected cities want an expansion of humanitarian parole programs and temporary protected status for whole classes of migrants, such as Venezuelans. Those steps would help rush work permits to overcrowded shelters, police stations and airports now housing people who are either forced to sit idle or enter the underground economy.
"This does require a national response, but it has to be a humanitarian response, not an iron hand across the border," said Nubia Willman, who led Chicago's Office of New Americans as the first buses began arriving.
And public displays of division have liberal Democrats worried that more moderate Democratic leaders like Adams may just play into Republican hands.
Former Vice President Mike Pence and Speaker Kevin McCarthy have both quoted Adams in recent days in their own appeals to harden the southwestern border.
Rep. Delia Ramirez, a Chicago Democrat, said she understood the "frustration" of some Democrats. But, she said, "I just really hope that my colleagues would show why Democrats need to stick together. The blame game doesn't get us anywhere."
She called Adams' comments "anti-immigrant" and "despicable."
For now, even the fastest way to relieve cities' burdens – requests for federal funds to help reimburse cities and states – has been caught up in politics. Republicans are threatening to stop any funding that would share the cost of the crisis.
"The city and state made a choice," Molinaro said. "There is no willingness by the president and governor to intervene in a real way. I don't see subsidizing the city to be a sanctuary city."
This article originally appeared in The New York Times.
---