Man accused of assaulting employee, trying to rape her during Spokane Valley robbery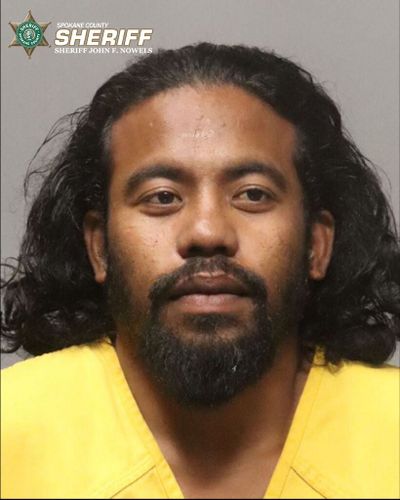 A 27-year-old man is accused of trying to rape a woman and assaulting her at a Spokane Valley business. Detectives say the man is also suspected in other sex crimes in the area, and they're asking people with information on him to come forward.
Gordon Majmeto was booked into the Spokane County Jail on suspicion of first-degree attempted rape, first-degree burglary, first-degree attempted robbery, second-degree assault and second-degree attempted kidnapping, according to a Spokane Valley police news release.
Deputies responded around 11 p.m. Monday at a business on the 13500 block of East Sprague Avenue, the release said. The caller reported Majmeto was still at the location, took the victim's cell phone the day before and was back at the business demanding money.
Deputies heard a woman scream as they entered the building and found the victim bleeding from her hand, police said. She declined medical attention.
The woman told deputies Majmeto harassed her and other employees previously.
That night, she told deputies Majmeto hit her in the head with his fists, brought her to a back room against her will, threw her down on a bed and removed her clothes as she tried to resist. She thought he was going to rape her but then heard deputies arrive, causing Majmeto to flee the business, police said.
She said Majmeto previously stole $1,000 and a cellphone from her, the release said. She also alleged Majmeto sexually assaulted her two days before the incident, but she had not reported it yet.
Deputies eventually located and arrested Majmeto.
Majmeto was also arrested Aug. 31 on suspicion of fourth-degree assault with sexual motivation and was released from jail the next day, police said. Majmeto is listed as a suspect in other sex crimes.
Detectives believe Majmeto may be associated with other incidents not reported yet.
Majmeto is described as Asian/Pacific Islander and approximately 5-foot-6, and 140 pounds, with black hair and brown eyes.
Detectives hope to contact anyone who may recognize Majmeto and may have witnessed any suspicious behavior or potential criminal activity in the last few months, the release said.
Contact Detective Tom Keys at (509) 477-3474 and reference Majmeto or case No. 10133564.
Majmeto is set for an arraignment on Sept. 19 in Spokane County Superior Court. He remained in jail Friday night on a $200,000 bond.
---