TV Take: Cougars control first half, overcome lull for primetime win over Wisconsin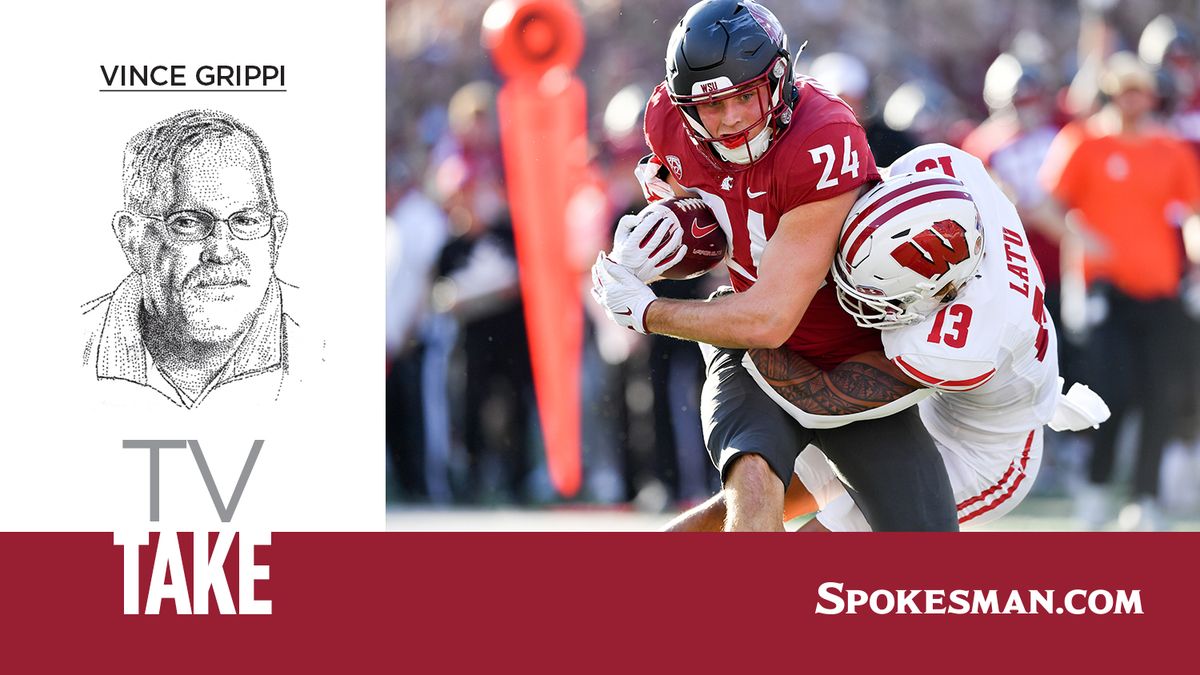 It's hard to say Wisconsin had revenge on its mind, what with a new coaching staff residing in Madison and new faces in key places.
But if it was, the Badgers found earning vengeance is tough, especially when you run into a Washington State team with emotion seeping from everywhere, including the coaching staff's pirate shirts.
The Cougars controlled the first half, overcame a third-quarter lull, forced a third turnover late and picked up a 31-22 victory against the Big Ten team, the first time a member of its soon-to-expand conference has played in the Palouse in 25 years.
That 1998 season-opening 20-13 Wazzu win against Illinois was televised by Fox. This one was on ABC, with Mark Jones doing his usual excellent job with the play-by-play, Louis Riddick on the color and Quint Kessenich roaming the Gesa Field sidelines.
What they saw
• The Cougars honored their late coach Mike Leach, who used to prowl the Pullman sidelines. It was the first home game since Leach, who left WSU in 2019 to coach at Mississippi State, died at the end of last season. But there was another tribute that occurred on the field.
Both teams ran a version of the Air Raid offense Leach and Hal Mumme invented many year ago. It's normal for the Cougars … but Wisconsin? The Badgers (1-1) are one of the Midwest's power teams, right? Not anymore. Not with Luke Fickel in charge.
The first-year Wisconsin coach has installed a different Air Raid. Thankfully, Riddick explained the different emphasis before the game.
His explanation concerning using the wide receivers to spread the field for the running game, as opposed to always running to space, used as an illustration an 89-yard Chez Mellusi touchdown run during last week's 38-17 home win over Buffalo. It was instructive but not predicative. No matter how wide the Badgers spread the Washington State (2-0) defense, they still rarely cracked the front on the ground.
Mellusi had the most success, but he had just 49 yards on 12 carries. His bruising partner, Braelon Allen, struggled to 20 yards on seven carries.
• The other part of the Wisconsin offense, the passing game, did shine, especially in the second half. Tanner Mordecai, the SMU transfer, completed 25 of 40 passes for 278 yards and one touchdown.
But that's WSU's strength, with Cam Ward hitting on 20 of 32 passes for 212 yards and two touchdowns. More important, the Cougars did not turn the ball over while forcing three game-deciding fumbles.
What we saw
• The ABC crew didn't avoid the Pac-12's looming demise. In fact, they embraced it, with a short early segment you could have labeled Cougars vs. Everybody. Kessenich kicked it off, there were interviews with fans in the RV lots, with all of them bemoaning the recent events.
That was followed up by a discussion about the conference falling apart, how WSU coach Jake Dickert is using it to build a chip the size of Steptoe Butte on their shoulders and how ABC's visit is a chance to show they belong in, as Jones said, "a Power Five conference."
Later, as ABC showed tape of Klay Thompson embracing Dickert before the game, Kessenich described the crowd with a perfect Pullman double entendre.
"This place is lit up pretty good," he said. In that regard, Washington State is certainly a Power Five school.
And they were one on the field this night, with the cliché-busting ability to hold on despite frittering away all but two points of an 18-point lead. Maybe that's what Dickert had on his mind when he spoke to Kessenich on the field as the stands emptied postgame.
"In this moment, it's everything," a hoarse Dickert said in response to the usual what-does-the-win-mean question. "We belong in a Power Five."
• Of course, with the game on ABC, the network dipped into its archives and played a Keith Jackson soliloquy about the Palouse. And then Jones and Riddick praised the WSU icon, whose voice was synonymous with college football for decades.
Jones called Jackson arguably the most recognizable WSU alum.
"This place kind of represents what Keith Jackson was all about," Riddick said after sharing his memories of sitting down in front of the TV on a Saturday and hearing Jackson's voice, knowing it was a big game.
• The most interesting TV moment came with 2 minutes left in the first half. That's when Ron Stone Jr. forced a Mordecai fumble, Brennan Jackson recovered and bulled into the end zone for a 24-6 lead.
"Stone and Jackson, stone cold," Jones said, though he originally misidentified Jackson's finish as a pick-six.
As Jones allowed the crowd to have its moment, WSU Director of Athletics Pat Chun could be seen in an inset box in the upper right-hand corner mouthing a "wow."
"The two sixth-year seniors, who returned to the Palouse for another year," Jones added, "teaming up in dynamic fashion for the touchdown."
Riddick then took over to explain the move Stone put on Wisconsin left tackle Jack Nelson to cause the fumble. It was Football Analysis 101 and it was perfect.
The interview finished, with Chun more than ready to praise the two edge rushers who, unlike 10 Pac-12 members, kept faith with WSU.
---