'Just a big mess': The Lumineers fans, locals frustrated by massive traffic delays at the Gorge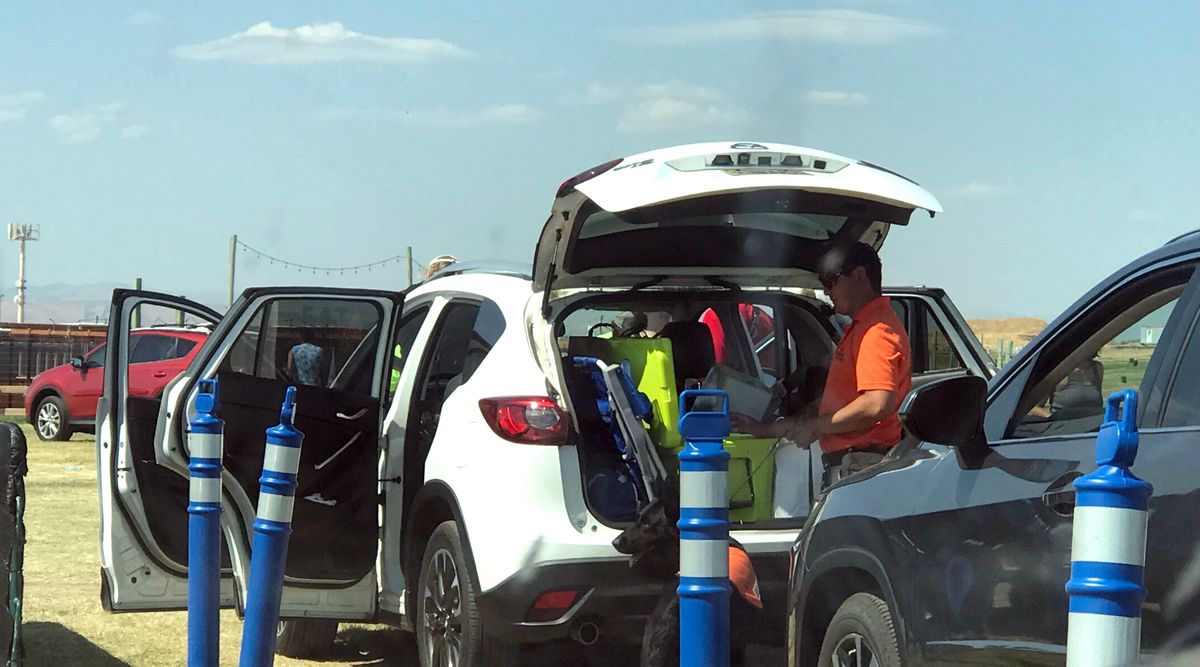 What started as an exciting trip for Paul Bessent to take his daughter to her first concert Friday at the Gorge Ampitheatre ended up a disappointing seven hours spent sitting in the car – and no live music.
Bessent and his family left Spokane around 4 p.m. that afternoon to drive to the Gorge for a Lumineers show that night. They stopped in Moses Lake for a quick bite to eat and arrived just before 7 p.m. near the Central Washington venue to find a line of gridlocked traffic. They sat waiting in their car for nearly two hours on a road outside the venue before they decided to turn around and drive home.
The Spokane family of three were among hundreds of concertgoers frustrated by massive delays trying to get into the Friday night show. Like Bessent, many ticket holders turned around before making it to the venue. Others who stayed in line never got out of their cars and sat in traffic for the duration of the concert.
"Even if the Gorge gave a refund and free tickets to other shows, I still won't go back," Bessent said in an interview. "Our toddler was excited for her first concert, but accepted that the Gorge was 'broken.'"
The delays, in part, were due to increased security at the venue after a shooting in June left two people dead and three injured.
The venue expanded security in June, requiring every vehicle that enters the camping area be screened by a drug dog.
Delays were also caused by people entering the venue early to camp for an Eric Church concert Saturday night, said Grant County Sheriff's Office spokesperson Kyle Foreman.
The traffic logjam spanned roughly 7 miles on Silica Road, southeast of the venue and moved at a crawl for four hours. Bessent said he received an alert to expect traffic delays near the venue earlier that day.
"I didn't expect to not get in," he said. "At 8, we were 6 miles away and I figured the Lumineers would go on stage around 9. By 8:30, we had only moved a quarter-mile. We knew we weren't getting in."
The Lumineers delayed the start of their concert in the hope more people would make it in at the last minute.
After the delay, the band's lead singer, Wesley Schultz, apologized for the delay and mentioned to the crowd that some 700 people had not made it into the venue.
The traffic jam also prevented locals from getting home and evening workers from getting to their jobs on time.
Bessent and other ticket holders reported they had not yet received refunds for the missed show as of Monday evening.
Venue officials wrote that refunds should be disbursed by the end of the week. Live Nation, the entertainment company that owns the Gorge, sent a statement to The Spokesman-Review Monday:
"We are proactively providing a full ticket refund to purchasers who missed any part of the Lumineers performance," the company wrote. "We are committed to ensuring fans visiting the Gorge Amphitheatre have a great experience and that was not the case on Friday. Refunds will be processed to purchasers by Ticketmaster within the next five business days."
In a separate note titled "Attention the Lumineers Fans," Gorge officials asked for another try.
"We hope you will give us another chance and join us again," they wrote, along with information regarding $50 cash codes per ticket purchased, which can be used towards events at the Gorge and other Live Nation venues.
Grant County Sheriff Joe Kriete apologized for the traffic standstill in response to public upset.
"Clearly, trying to move that many vehicles both in and out of the area simultaneously was not a good idea," Kriete wrote on Facebook.
This week, the sheriff's office plans to contact Live Nation and ask them to avoid scheduling concerts in a way that caused a traffic gridlock, Foreman said.
---