'Back to where I started': Dozens of tenants forced out of downtown apartment with little notice after city intervenes over code violations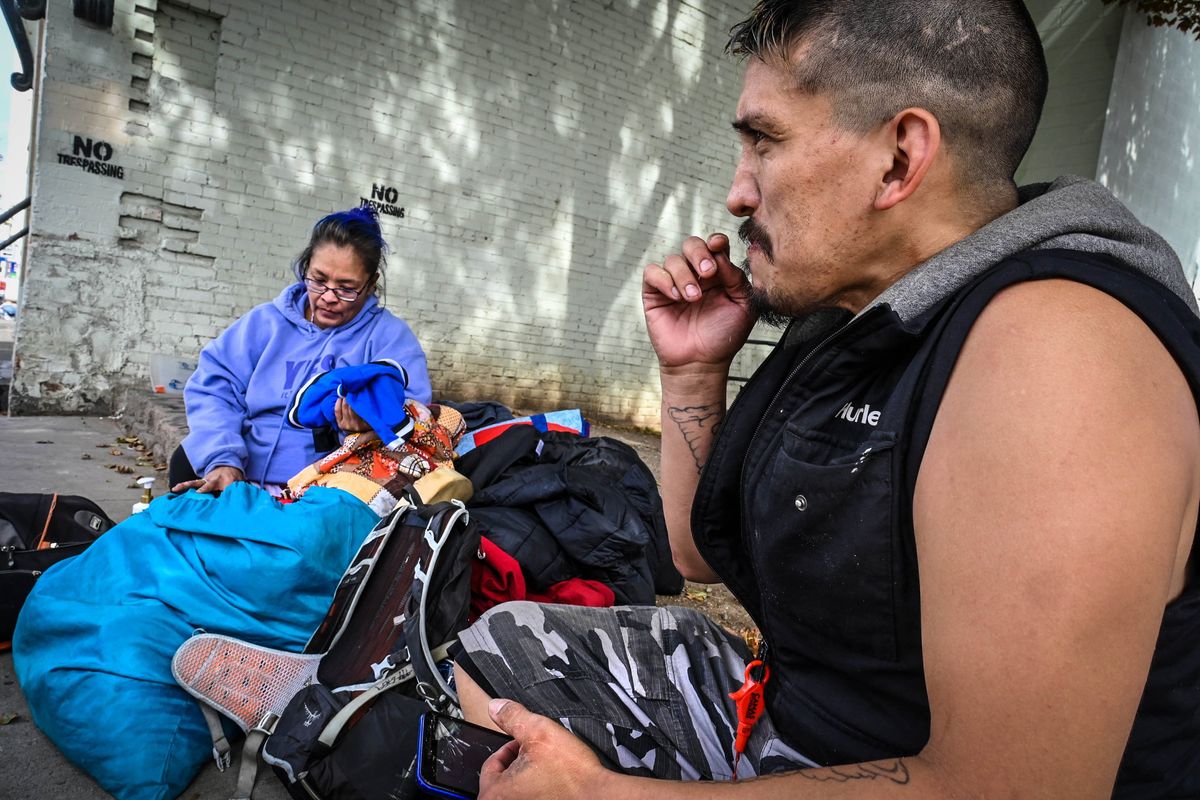 Tenants at the Wall Street Apartments in downtown Spokane, many disabled and poor, are having to move out with only a week's notice as the city shut the building and boarded up doors and windows over code violations and unsanitary conditions.
With her belongings piled on the sidewalk adjacent to the entrance of the building Tuesday, Rita Sherwood was unsure what to do next.
"I have nowhere else to go," the 47-year-old said softly as she wiped away tears.
Before moving to the building's fourth floor four months ago, Sherwood and her husband Michael, 40, lived out of their vehicle. Thanks to a state Department of Social and Health Services program called Housing and Essential Needs that provides assistance for low-income people who can't work, they were granted assistance and referred to the property.
Though they were fearful of the night ahead, Michael wondered if the eviction could be a positive.
"Cockroaches, bedbugs, you name it," he said. The residents occasionally lacked hot water and endured revolting odors.
"The smell is throughout the whole damn building – you can't get away from it," he said.
The living conditions and safety concerns garnered the attention of the city almost one year ago. Saying attempts to reach the landlord, Dr. Alaa Elkharwily, were met with obstruction and ultimately no resolution, the city ordered a no occupancy notice – prohibiting anyone from residing at the location. Residents have until Wednesday to move out.
Spokane Fire Chief Brian Schaeffer said forcing people out was a last-ditch resolution.
"We prefer voluntary compliance. There are letters, meetings, inspections, one-on-ones with the deputy fire marshals, building officials and others to point out life safety issues and more than enough time to respond," Schaeffer said. "(Elkharwily) declined to respond, so we took action."
The property is now entering a receivership process in which the creditor, Inland Northwest Bank, will take ownership. It has 35 units, though not all are currently occupied.
Under the bank's supervision, tenants can return when issues posed by the agencies are remedied, according to Spokane Fire Department Fire Marshal Lance Dahl.
Though it can be hard to tell who in the building is a lawful tenant , the building's 24-some residents can seek assistance from Spokane Neighborhood Action Partners to help find new accommodations, according to Dahl.
As far back as September of last year, city agencies including Code Enforcement, Building and the fire marshal participated in multiple hearings with the owner to address concerns with the property that included water leaks, sewage leaks, a common area covered in garbage, insect infestation, exterior doors and windows inadequately weatherproofed, deficient heating systems and hazardous electrical conditions, according to a code enforcement report.
The most glaring safety issue with the building was perhaps the recurrent and unlawful locking of fire escape exits.
Dahl said city workers removed screws that illegally locked the escape routes and found them in place again multiple times.
"I think he was locking the doors to keep people from climbing up the escape," Dahl said. "But he's locking emergency doors in a building without a sprinkler system – that is a major safety hazard."
Elkharwily, a doctor of general internal medicine, said in an interview Tuesday he did not receive many of the notices and attempts to reach him, and feels he is being unfairly treated by the city.
He said his mission is to give housing opportunities to those who would not otherwise have a chance. He said he met inspection regulations and has worked hard to improve the condition of the building more than a century old.
Elkharwily said he eradicated insects in the building and has worked hard to update plumbing and make renovations when possible. More than anything, he believes in helping the lowest income people however he can.
"I wanted this building to be something good for the community," he said. In addition to keeping rent low, he claims to also pay all tenant utilities. Elkharwily said he recently raised the rent to $775 monthly.
"My apartment is truly low-income housing. It is some of my tenants' last opportunity for housing."
Allison Fox was one such tenant.
"I've been arrested so many times to where I can't find housing," said the 38-year-old who also gained housing through the state program because she said she suffers from chronic back pain and ailments lingering from a past stroke.
She is saddened to leave her home because she believes she will need to be employed to afford another housing situation. She did not mind the insect infestation of the building because she experienced this at the Trent Resource and Assistance Center, the city homeless shelter where she previously resided.
Elkharwily said insect infestations come to the building from such shelters.
"I do the treatments when we discover bugs and do regular treatments every two weeks. But they come with people from the shelters," he said. "What can I do?"
While she didn't want to leave, Fox said she didn't like how Elkharwily would question her guests in an attempt to limit foot traffic in the building.
Elkharwily said these efforts are for safety and to limit drug use in the building. This is something Tom Allen, 38, appreciated.
"He mentioned that one of the requisites for me to move in was that I wouldn't bring a lot of traffic," Allen said. "I know from experience what goes on in buildings with a lot of people coming in and out – it's an absolute nightmare."
Allen was another tenant who said he could not have housing if it weren't for the state program and the Wall Street apartment building.
This is because of an altercation with his previous landlord that resulted in him being evicted. In Washington, evictions stay on a person's record permanently, making it hard to find a new apartment.
But Elkharwily gave Allen the keys to his new apartment before he even signed a lease.
"He understood my situation, what I had gone through, and he told me, 'Look, I know that you have an eviction on your record. I know you've had a difficult life. But I want to take a risk on you. Because I believe in you,'" Allen said.
He had moved into a third-floor apartment just two weeks ago.
"Just like that, I am back to where I started," he said as he lifted a laundry hamper of clothes into the trunk of his car.
---