Huskies have struggled historically on grass fields. Should that impact preparation for Michigan State?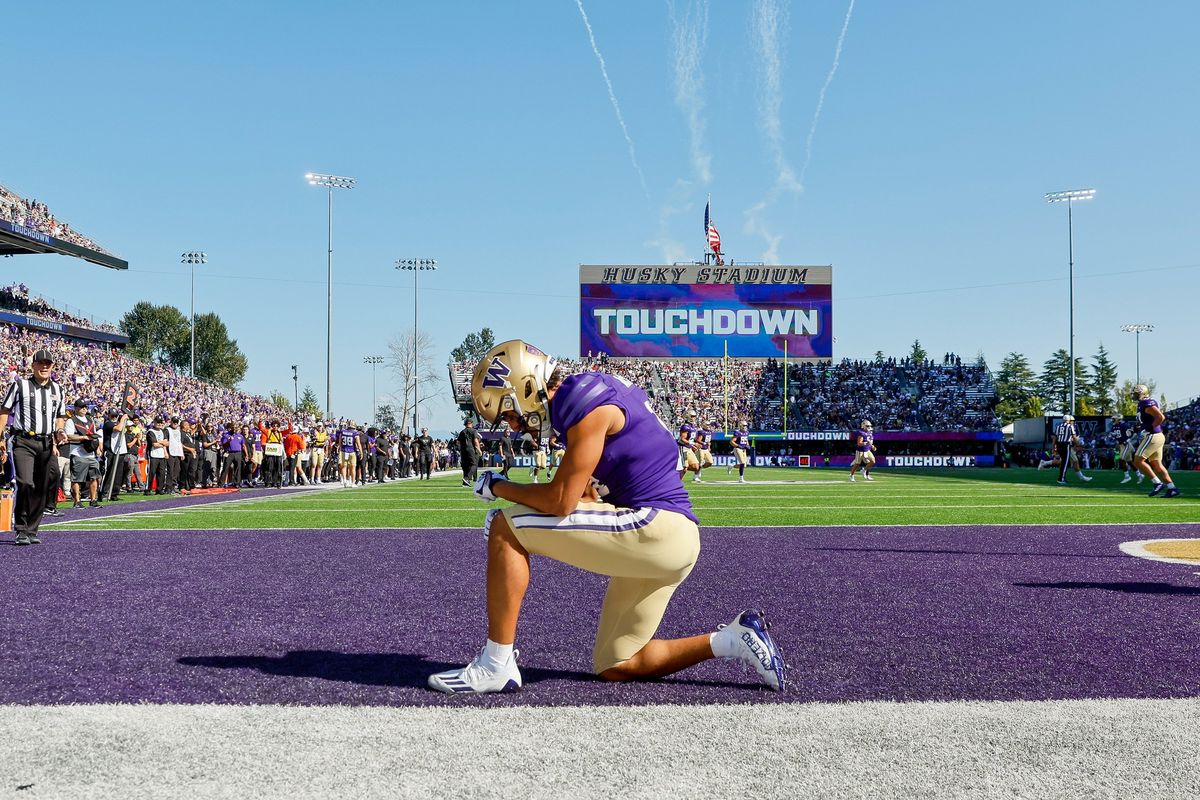 SEATTLE – How much does grass actually matter?
That's a complicated question.
Since Chris Petersen arrived in 2014, Washington – which uses artificial turf in Husky Stadium as well as its practice fields – is 64-25 (.719) on artificial turf …
And 9-12 (.429) on natural grass.
Which, understandably, causes concerns. But on Sept. 19, 2019, two days before a nonconference road test on natural grass at BYU, Petersen essentially stiff-armed the subject.
"We've researched this long and hard, and there's no grass around here – and that's the bottom line – that we can use. So we practice on turf, and it's really not an issue," he said. "If we don't get things done out there, it has nothing to do with the surface. Guys slip on our turf. The surface that we have on the practice field is different from the game field. So it's all about fundamentals, planting on the correct foot and all those type of things. It is what it is."
Still, Petersen allowed his kickers to practice planting and kicking on grass that week, "just because sometimes kickers overthink things."
It's possible Husky football fans are overthinking all of this. After all, the Huskies proceeded to pummel BYU 45-19. And because UW only plays on grass for 1.) road games, 2.) bowl games or 3.) Pac-12 championship games, the heightened degree of difficulty transcends surfaces.
UW's games on natural grass2014: 1-1 (Colorado 38-23 W, Oklahoma State 30-22 L in Sun Devil Stadium)
2015: 2-2 (USC 17-12 W, Stanford 31-14 L, ASU 27-17 L, Southern Miss 44-31 W in Cotton Bowl)
2016: 1-0 (Colorado 41-10 W in Levi's Stadium)
2017: 1-3 (Colorado 37-10 W, ASU 13-7 L, Stanford 30-22 L, Penn State 35-28 L in State Farm Stadium)
2018: 2-1 (UCLA 31-24 W, Utah 10-3 win in Levi's Stadium, Ohio State 28-23 L in Rose Bowl)
2019: 1-2 (BYU 45-19 W, Stanford 23-13 L, Colorado 20-14 L)
2021: 1-1 (Stanford 20-13 W, Colorado 20-17 L)
2022: 0-2 (UCLA 40-32 L, ASU 45-38 L)
Total: 9-12 (.429) since 2014
But after UW's only two losses last fall came on natural grass, the Huskies spent part of Tuesday's practice on an unidentified grass field to familiarize themselves. Sophomore wide receiver Ja'Lynn Polk said "we were trying to get on grass, get a feel, get it on our feet, so whenever we step out at Michigan State it won't be a surprise. We were moving from field to field."
According to Michigan State's website, Spartan Stadium – which will host the Huskies on Saturday afternoon – features grass "grown at Tuckahoe Turfgrass Farms in New Jersey, the number one provider of high quality athletic field turfgrass for the Midwest and northeastern part of the country.
"The soil types at Tuckahoe Farms provided a natural match to the engineered root zone that is used in Spartan Stadium. Sod from Tuckahoe Farms can be seen in professional stadiums across the country, including Lambeau Field, Lincoln Financial Field and Heinz Field in the NFL."
It certainly appears quality is not a concern.
And for No. 8 Washington (2-0), there are advantages as well.
"I don't feel a terrible difference (between artificial turf and grass)," junior wide receiver Rome Odunze said. "I honestly love playing on a grass field. There's more grip to it and it allows you to play a little bit freer. Getting tackled isn't as tough because you slide and you're not hitting that tough turf. So it's a little bit of an adjustment for sure, but I personally think it's an advantage."
"I grew up on the grass, so I really love the grass," Polk said. "I feel like all the guys really love the grass, too."
As for Husky football fans … check back on Saturday night.
But whether UW wins or loses, it'll still be difficult to determine if 100 yards of sod ultimately helped or hurt.
"I think it's always what you make of it," UW coach Kalen DeBoer said. "If you make things a big deal, it becomes a big deal. We'll certainly make sure to adjust a few things throughout the week, making sure the guys get a chance to at least get on grass at some point. What you really don't want is Saturday to be the first time they feel grass underneath their feet. Over the years that's what I've experienced."
Added co-defensive coordinator Chuck Morrell, when asked if grass is a factor: "Not to us. Not to me. Not to our guys. I think they just line up and are ready to go. I don't know that the surface matters or where the surface is at or what kind of surface we're on makes a big impact. The bigger focus is on, for us, playing in a really hostile environment and a big road game against a team that's going to be really connected and really aggressive. I think that's where our focus lies this week."
Four years later, we certainly know where Petersen stands on the subject. But in case there was any doubt …
"When I was in college we played on all grass fields. Maybe one or two was not," Petersen said on that day in 2019. "Then by the end of the year they get really, really muddy – I mean, (up) to your ankles. That's an issue. A little bit longer grass is not an issue. So away we go."
A quick clarification
It's true, Washington ranks first in the nation in passing (472 yards per game) and completions of 30-plus yards (10); fourth in yards per pass attempt (11.5); fifth in pass efficiency rating (204.87); sixth in total offense (565.5 yards per game) and seventh in red-zone touchdown percentage (91.67%) …
But don't say the Huskies are scoring at will.
"I don't know that we're scoring at will," UW associate head coach and wide receivers coach JaMarcus Shephard clarified last week, after a reporter used that phrase. "I think we as a staff, our players, are working extremely hard. We don't get here at 4:30 in the morning and stay here until 10 o'clock at night because it's happening at will. If that was the case, I'd be staying in bed longer and leaving earlier and seeing my family.
"So there's a lot of hard work put in to make some of these things happen as efficiently as you just mentioned. There's a lot of hard work put in by our players to really make sure they're seeing all the looks, watching extra film and know the details of exactly what is supposed to happen on Saturday."
---