Minecraft: The Exihibition is ending its national tour in Spokane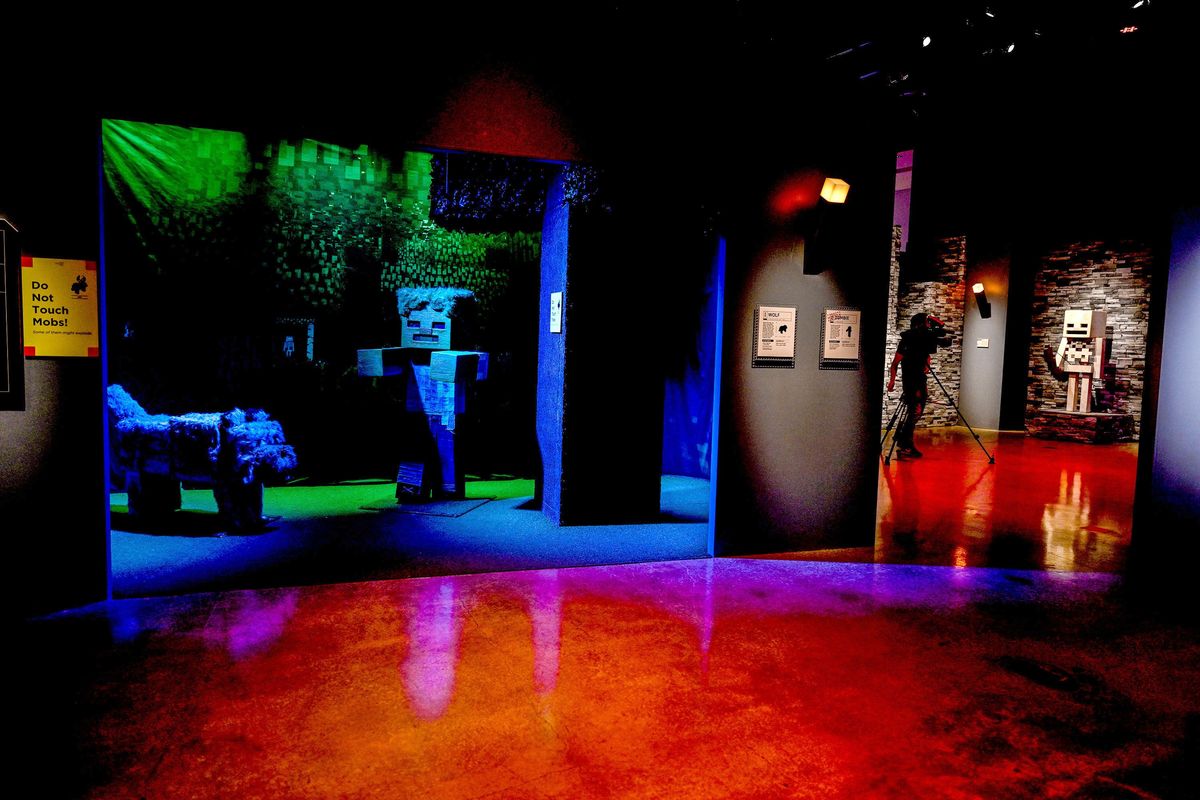 Minecraft enthusiasts have one last chance to see the game's museum exhibit as it makes its last appearance in Spokane's Northwest Museum of Arts and Culture this fall.
The exhibit will open at 10 a.m. Saturday at the MAC and run through Dec. 31.
"Minecraft: the Exhibition" was created through a partnership between Mojang Studios and Seattle's Museum of Pop Culture (MoPop). From there, the creation has visited locations throughout the country, including New Jersey and Indianapolis.
In Minecraft, players interact with an open "sandbox" world that allows for virtually limitless creation. Players can choose between creative mode, having full access to
the game's resources and being invulnerable to death, and survival mode, having to create and collect resources to protect themselves from the various monsters of the Minecraft world.
Kayla Tackett, director of exhibitions and collections at the MAC, described the exhibit as "extraordinarily immersive."
"MoPop, Mojang and the MAC transformed our galleries," she said. "Walking through the exhibition is like walking into the world of Minecraft itself."
Indeed, the exhibit features life size blocky trees, lit-up torches mounted on the walls, a crafting table, a day-night lighting cycle and even a set of Minecraft-style train tracks rescinding into the darkness of a cave. Some 15 Minecraft characters can be found throughout the exhibit, including a creeper that explodes when it detects the motion of a viewer.
One part of the exhibit allows attendees to play the game and explore previous Minecraft creations.
The MAC has been working to get the exhibit since 2020.
"This is an exhibition that we've been working on securing for years," said the MAC's executive director, Wes Jessup. "It takes a while to put the pieces together."
Jessup was at the exhibit's debut in Seattle and thought it would do well in Spokane.
"I thought to myself, what an amazing exhibition that's bringing so many people together. Families were coming into the museum, so many different visitors of all ages, and it really made me realize that Minecraft is this extraordinary phenomenon, and we have so many players and participants in Spokane, this would be a wonderful thing for our region," he said.
The Minecraft exhibit covers 6,000 square feet, taking up more than half of the museum's space.
"We've really kind of turned our space over to it," Jessup said.
The expansive exhibit wasn't easy to install.
"This is probably the most complex exhibition the Mac has ever hosted; we've been installing this now for over three weeks," Jessup said. "You come into a museum, you see a wonderful exhibition, oftentimes you don't know what goes on behind the scenes, and this has been an incredible effort by so many people to get this together."
Already, the museum's school tours are in high demand. The MAC's director of education programs, Rob Worstell, said they are expecting at least 1,400 students to visit the exhibit in the coming weeks.
"We definitely have had a lot of interest so far," he said.
But the exhibit is for people of all ages, whether they are familiar with the game or not.
"Minecraft enthusiasts of all ages will experience their favorite game in a whole new way, and newcomers will gain an understanding of what Minecraft is and why this game has fascinated millions of players around the world," Tackett said. "The average age of a Minecraft player is 24 years old."
Minecraft has about 140 million players a month and is the bestselling video game of all time. The MAC expects that to translate to high levels of attendance at the exhibit.
"We anticipate a lot of visitors to this exhibition, not only from Spokane but from the region and beyond," Jessup said. "We may get 30,000 or 40,000 people. It would be our biggest exhibition of the year, probably."
"If you have the chance to bring a Minecraft-obsessed kid to this exhibition at the MAC, do it, because their eyes will just light up over and over again," Tackett said. "It's the best."
Roberta Simonson, of Deer Park High School, is a member of The Spokesman-Review's Teen Journalism Institute, a paid high school summer internship program funded by Bank of America and Innovia Foundation. As the only paid high school newspaper internship in the nation, it is for local students between the ages of 16 and 18 who work directly with senior editors and reporters in the newsroom. All stories written by these interns can be republished by other organizations for free under a Creative Commons license. For more information, please contact our newspaper's managing editor. Simonson can be reached at (509) 459-5451 or by email at robertas@spokesman.com.
---