Morocco's king makes rare appearance as earthquake death toll nears 3,000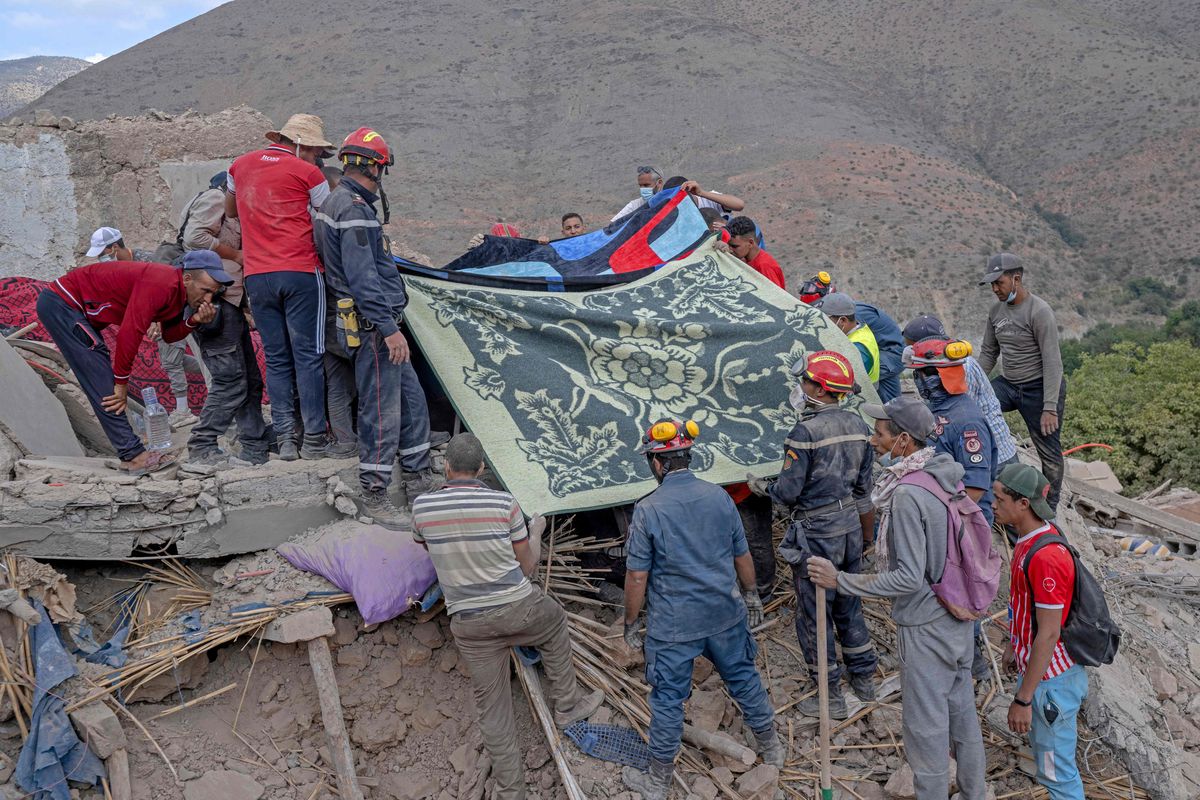 Morocco's King Mohammed VI visited earthquake victims in Marrakech as the death toll neared 3,000 people from a disaster that cast a spotlight on his prolonged absences from public life.
State television on Tuesday evening aired footage of the king's visit to the university hospital of Marrakech, a city that's a tourist hotspot and was damaged by Morocco's most powerful quake in a century. King Mohammed spoke to some of the wounded and donated blood, the broadcaster said. It didn't air any comments.
The appearance has been eagerly anticipated in a country where the monarch's sweeping powers come into full display at times of crises and natural disasters. Although he chaired an emergency meeting in Rabat the day after the quake, King Mohammed's hospital visit was his first public appearance in its aftermath.
The 60-year-old was overseas when the disaster – which likely caused billions of dollars of damage – hit. Though he returned swiftly, it was a reminder to Moroccans of the long stretches he has been said to spend outside the country. Few of the trips are publicized, but the king owns multiple properties in France and also travels elsewhere in Africa.
The quake was "a real lost opportunity" for the king, said Intissar Fakir, director of the North Africa and Sahel program at the Washington-based Middle East Institute. "The optics of his absence at the time of the quake, though officially unconfirmed, and the paralyzing impact in the first hours after the quake add to the increased perception of detachment from the population."
The monarch's visit came as hopes fade of finding more survivors from the quake that struck the High Atlas mountains on Friday, tearing across some of Morocco's poorest towns and villages while damaging roads key to rescue and aid efforts. Two days later, a storm lashed nearby Libya, triggering floods that have killed thousands of people and left 10,000 missing.
In Morocco more than 2,900 were killed and 5,530 others injured, a catastrophe for the kingdom that paints itself as an island of stability in North Africa and was shaping up as an investment brightspot. Officials have indicated that International Monetary Fund and World Bank annual meetings due in Marrakech next month will go ahead.
Venting Anger
Survivors in devastated villages have vented anger over the perceived slowness of domestic rescue efforts and aid supplies. Morocco has so far accepted assistance from Spain, the UK, United Arab Emirates and Qatar, while snubbing offers from the U.S. and former colonial ruler France.
People close to Morocco's "Makhzen" – the centuries-old web of advisers, security officials, military men and business interests that orbits the monarchy – have expressed increasing discontent over the king's absences, as well as his much-publicized friendship with a trio of German-raised cage wrestlers known as the Azaitar brothers.
The focus is now turning to rehousing the survivors and rebuilding. Former central bank director Abdelouahed El Jai told Bloomberg the latter may cost between 30 billion dirhams ($3 billion) and 50 billion dirhams.
The government on Monday made some of its first pledges for the recovery, including financial assistance for reconstructing homes. At least 30,000 houses, 500 schools, hospitals, roads and other infrastructure need to be rebuilt, while temporary housing will be established, Prime Minister Aziz Akhannouch told local media.
---