A peek at the history behind Marilyn Monroe's Tahoe cabin — the tunnel, the drama — before it's destroyed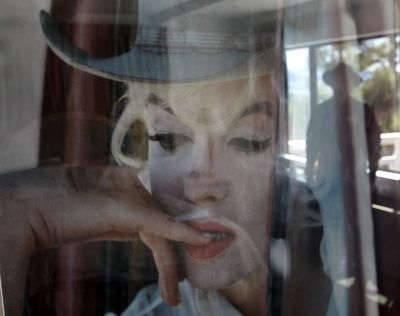 LOS ANGELES — Cabin No. 3 at Cal Neva resort isn't just any cabin.
The wooden cottage — outfitted with a heart-shaped bed, a secret tunnel for rendezvous, and the best view of Lake Tahoe's Crystal Bay — was Marilyn Monroe's prized vacation spot, and the place she stayed the weekend before her death on Aug. 4, 1962.
But that cabin, with its wraparound deck and fortress of tall trees, is set to be demolished as part of renovations for the historic lodge that was once owned by Frank Sinatra, according to recently revealed plans by the new owners, McWhinney. The real estate firm announced in April that it had acquired Cal Neva. The hotel has been closed for a decade, and McWhinney plans to rebuild it into a luxury hotel, the company said.
While her cabin faces demise, Monroe's Brentwood home has been granted a temporary reprieve from demolition. The owners of the house — her final home and the only one she ever owned herself — had sought to knock down the structure, but local residents and a Los Angeles council member are pushing to save it. After a unanimous City Council vote, it is being considered for status as a historic-cultural monument.
No such efforts appear to be underway for her favorite getaway. (There are conspiracy theories that Monroe died at Cal Neva.)
Opened in 1926, the sprawling, 13-acre Cal Neva was "the Castle in the Air" straddling the Golden and Silver states, where guests could "dine and dance in California and play in Nevada," according to an article in the Nevada State Journal from 1935. It was there, that same year, that a Hollywood agent spotted a young teenager named Frances Gumm, who was performing alongside her two sisters, and set her on a path to becoming Judy Garland.
Cal Neva burned down in 1937 but was rebuilt in record speed. It changed hands several times before Sinatra bought the place in 1960. He owned it for three years, redeveloping the lakefront property with new performance spaces and establishing the lodge as a celebrity in its own right, complete with drama and scandals. The Rat Pack's Sinatra, Dean Martin, Sammy Davis Jr. and Peter Lawson crooned in the Celebrity Showroom, which was part of Sinatra's redesign. Other prominent guests to frequent Cal Neva over the years included Garland, the Kennedy family, Joe DiMaggio, Lucille Ball, Tony Bennett and Ella Fitzgerald.
Underground tunnels that were once used to sneak in alcohol during the Prohibition era were said to be meeting spots for mobsters, who slipped below ground to conduct business, and for distinguished guests to make their way around the property discreetly.
Monroe spent some of her final days at Cabin No. 3, and she reportedly overdosed in the cottage. Sinatra and Sam Giancana — the Chicago mob boss and alleged silent partner in Cal Neva who was banned from Nevada casinos and ultimately cost Sinatra his gambling license — found her, revived her and took her to a hospital.
The hotel continued to operate under different owners, and guests could stay in Monroe's cabin for several hundred dollars a night. But the Cal Neva never again rose to its 1960s prominence. Reports swirled about what might happen to the lodge and its famous cabins, including No. 5, where Sinatra stayed, and No. 4, where celebrity guests stayed ("Stop spreading the news — Cal-Neva cabins may be saved," one 2004 headline read). In 2009, the Cal Neva was forced into foreclosure, and in 2013, the property shut down after its owners went bankrupt.
McWhinney purchased the lodge from a firm owned by Lawrence Ellison, the founder of Oracle. According to local reports citing real estate records, the deal was for around $58 million. The goal is to reopen the hotel in 2026 in honor of its centennial, McWhinney has said.
The company, in collaboration with partners, said on its Revitalize Cal Neva website that it would modernize the property while retaining some of its iconic features, including the Indian Room, the Circle Bar and the Celebrity Showroom.
The renovations include tearing down the lakefront cabins, including Monroe's No. 3 abode, and building new ones. McWhinney's senior vice president of hospitality development, Jason Newcomer, told SFGate in an email that "many of the remaining cabins have been neglected for many years," rendering them structurally unsafe and "past the point of being able to rehabilitate."
McWhinney says it plans to preserve the lodge's lakefront pool, which features an underwater line separating California and Nevada. Portions of the underground tunnels, some of which have been filled in over the years, may also be part of the hotel's next life.
Representatives for Cal Neva did not respond to requests for comment.
---