Trout Unlimited brings national conference to Spokane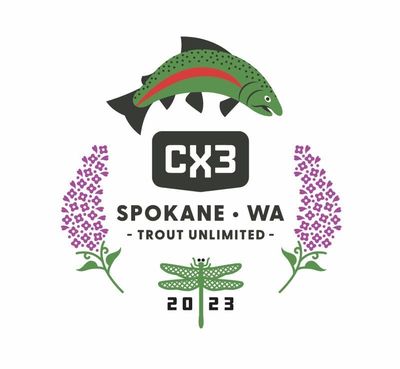 The country's most prominent fisheries conservation organization is holding its national convention in Spokane later this month.
Trout Unlimited is holding its annual CX3 (Community, Cold water, Conservation) event at The Centennial by Davenport from Sept. 27 to Oct. 1. The event is the national organization's annual meeting, and members from its hundreds of chapters nationwide are expected to attend.
The event moves around the country each year, said Chris Wood, the CEO of Trout Unlimited. Last year it was in Maine, and it's been held in New Mexico and Arkansas in recent years.
Wood said Spokane was chosen to introduce the organization's members to conservation issues in Washington, and particularly the group's work toward removing the four lower Snake River dams.
He also said Spokane is "like a little hidden jewel" in the Northwest, and that he hopes attendees get out and explore it.
"It's a great combination of an urban environment but surrounded by natural settings," Wood said.
A wide variety of activities is planned throughout the event's four days. Fishing trips are planned on the St. Joe, North Fork Coeur d'Alene and Spokane rivers on the first two days, and the ensuing days include workshops, film showings and a 5K in Riverfront Park.
A tour of the Lower Granite Dam southwest of Pullman is planned for the second day of the event.
The dam is one of the four Trout Unlimited is pushing to have removed to help salmon and steelhead migrating upstream from the ocean. Wood said getting rid of the dams has become one of the top priorities for the organization, and that visiting one of the dams helps illustrate the problems they pose for anadromous fish.
"It's one thing to talk about things theoretically," Wood said. "It's quite another to actually see the effect."
The following day features a full day of workshops on different conservation issues. The final day includes an address from Wood, film showings, a tour of the Spokane River and more.
Scott Noble, a board member for the Spokane Falls Chapter of Trout Unlimited, said he hopes the event is a good showcase for Spokane and the quality of its aquatic resources. He also hopes to learn from members of other chapters around the country about their local fisheries, and what they've done to protect them.
"It's really exciting to have leadership come out here, but what I'm really looking forward to talking to other TU leaders in other parts of the country to hear how they approach their own river systems," Noble said.
---