Washington State walk-on Dylan Paine seizes moment, scores first college TD in 64-21 rout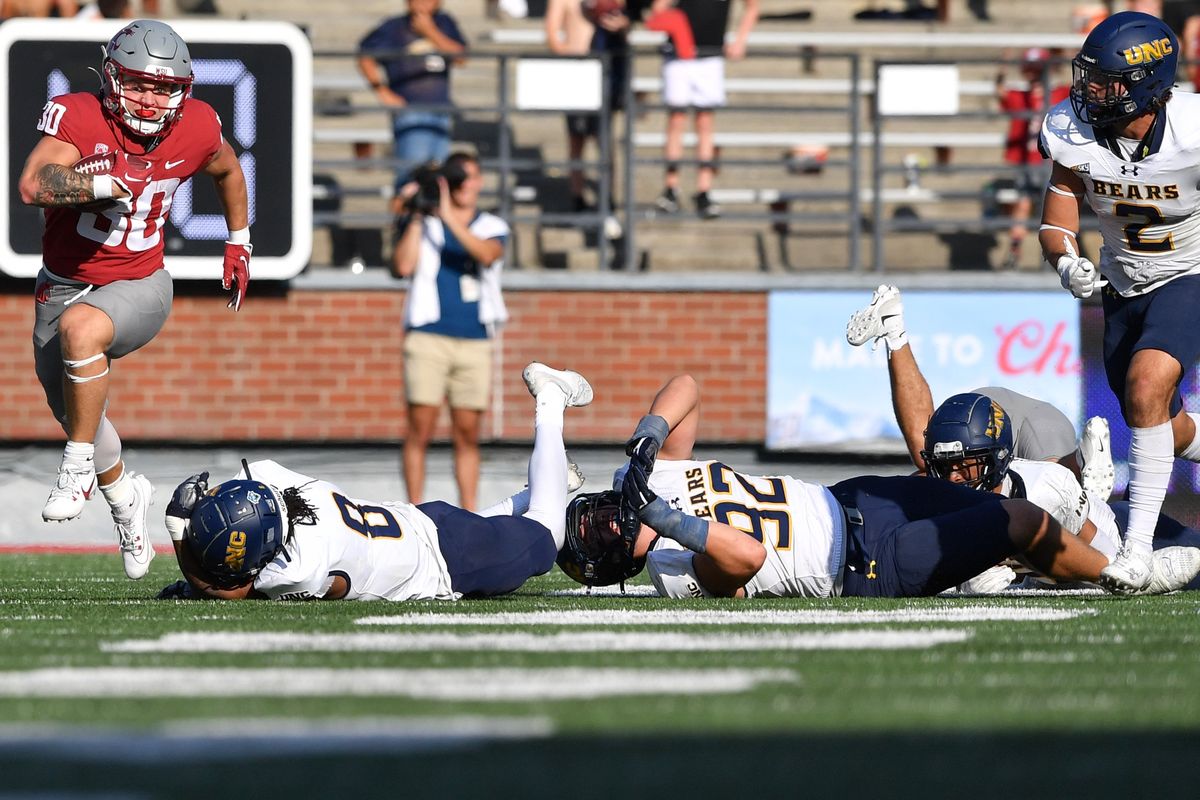 PULLMAN – Dylan Paine goes back to a conversation he had with Jake Dickert when Washington State's second-year coach was still a defensive coordinator, looking for ways to improve the Cougars' depth on that side of the ball.
Paine joined the Cougars during fall 2020 as a walk-on running back, but Dickert had other ideas for the Olympia native and Tumwater High School product. Paine's account of the story involves an informal recruiting pitch from WSU's then-DC to the scout team tailback following a practice during his redshirt freshman season.
"(Dickert) may not remember this, but I think it was maybe my second year when I was on scout team, he was telling me after practice, he was like, 'Get ready to come to the defensive side of the ball. You're going to be a safety or something,' " Paine said. "I was like, 'Coach, you just wait. I'm going to play running back.' "
Paine never made the switch, and Dickert might be the last person to suggest he try it now, especially after the redshirt sophomore tailback led the Cougars with 81 rushing yards while scoring his first collegiate touchdown in No. 23 Washington State's runaway win against Northern Colorado Saturday at Gesa Field.
A 1-yard scoring run from Paine, dubbed "the Bulldog" by coaches and teammates, was the final WSU score in a 64-21 blowout of the Big Sky Bears and gave the Cougars their ninth touchdown in as many offensive possessions.
" 'The Bulldog,' " Dickert said of Paine. "I remember him three years ago on scout team when I first got here and just his attitude, his energy, his toughness I think has really meant a lot to our football team and I think he plays a vital role.
"So just really proud of Dylan and I know a lot of our guys are, too. That's what makes a team, that's what really makes a team when a guy like that goes out there and busts his tail off and gets rewarded for it."
Paine made 11 appearances for the Cougars last season, primarily in spot duty as a third- or fourth-string running back, and carried the ball 15 times for 64 yards. When WSU opened up a 43-7 halftime lead, Paine and a sizable group of second-string players replaced the offensive starters – including top running backs Nakia Watson and Jalen Jenkins – in the third quarter.
Paine's first three carries gained 26 yards, but the small, powerful back found more room to run on his fourth attempt. Paine took a handoff from backup quarterback John Mateer and followed blockers to the sideline before running another 35 to 40 yards until Northern Colorado's Franky Morales finally brought him down at the 28-yard line.
The 52-yard rush, WSU's longest run play of the season, set up Paine's 1-yard touchdown plunge nine plays later.
"It felt good to get through there, the O-line made a good push and a hole opened up and I just had to get out there," Paine said. "Just run. Run as fast as I can."
WSU starting linebacker Kyle Thornton can relate to the walk-on portion of Paine's journey, spending two years in Pullman without a scholarship before shedding his walk-on status prior to the 2021 season.
"I couldn't be more proud of Dylan," Thornton said. "I can still remember his first day showing up on scout team for us. Back then, I think I was running scout with him and I couldn't be more proud of him. No one deserves it more than he does. He works his butt off in the weight room, he does everything the right way and he finally got his moment tonight and I couldn't say enough about him."
Paine chose the walk-on route despite scholarship offers from smaller programs such as Pacific Lutheran, Whitworth, Redlands College and Whittier College. His younger brother, Ashton, followed in his footsteps, walking on to WSU's football team last fall as a defensive back.
"He's a walk-on in our program," Dickert said, "but I'm just telling you those are the guys that really are the glue of what we do and just really proud of Dylan today."
---