Little is known about waterfowl in the Pend Oreille Valley. The Kalispel Tribe is trying to change that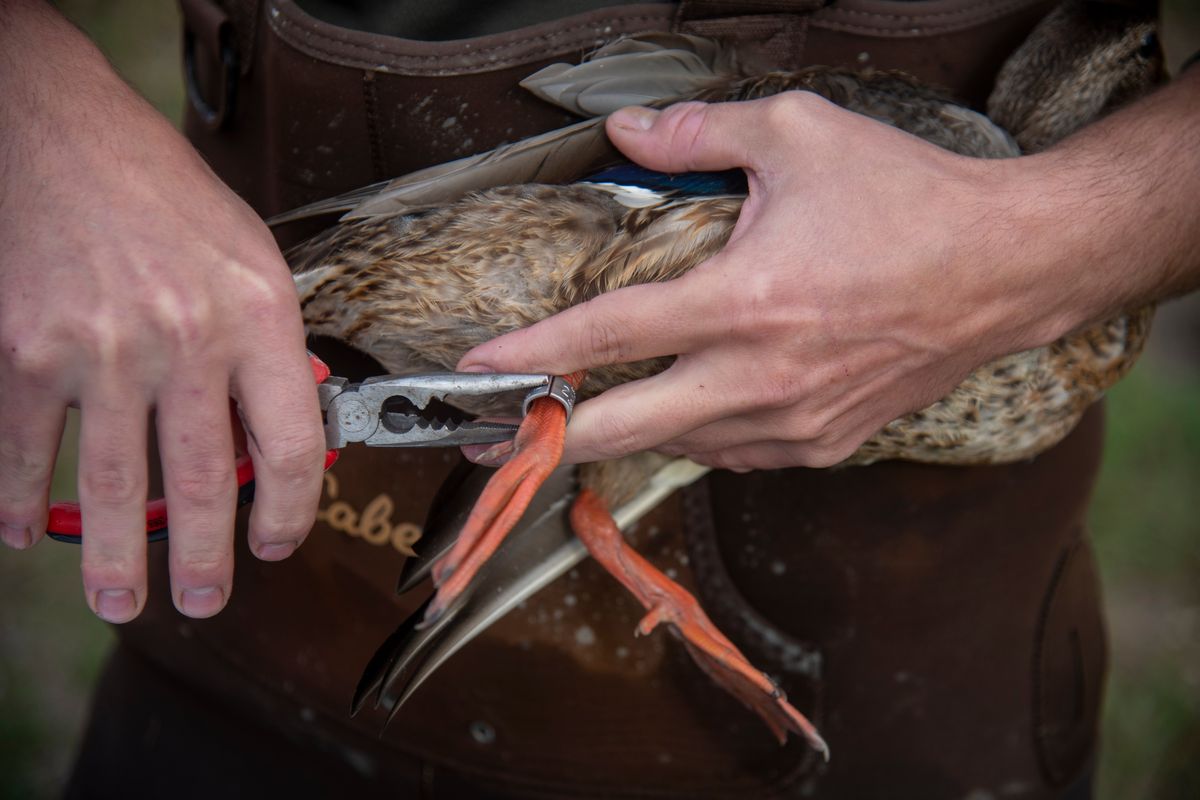 USK, Wash. – Standing on the banks of a slough off the Pend Oreille River, TC Peterson cradled a mallard like a football.
He held out its right leg between two fingers. With his other hand, he used a set of pliers to squeeze together a small metal band just above the duck's ankle. He angled the pliers in different directions until the two ends of the band were aligned and touching.
With one final pinch, the band made a small click.
"If you hear a click, you did it right," Peterson said.
He threw the bird in the air and watched it fly away, then he reached into an orange plastic crate for the next one.
Peterson, a biologist for the Kalispel Tribe of Indians, has spent nearly every morning since mid-August here, collecting ducks from three mesh swim-in traps baited with grain and crimping bands on their legs.
The bands are more than just jewelry. Each one has a number. If a hunter shoots one of these ducks, they'll report the number online, along with the location where the bird was shot. The hunter will find out that their bird came from the Pend Oreille Valley, and Peterson will find out where his duck went.
Last year, Peterson learned that mallards he banded spent the winter in the Tri-Cities. Wood ducks went to northern California. At least one teal flew to Texas – that one surprised him.
It's just the second year of Peterson's project, and his work is a blip in terms of the nationwide banding effort that happens each year.
But because so little waterfowl research has been done in the Pend Oreille Valley, each reported band offers fresh and valuable information.
"There's zero known about waterfowl in this northeast section of Washington," Peterson said.
Filling a gap
Scientists have been banding birds in North America for more than a century, and not just ducks – doves, songbirds, albatross. The method for gathering data is simple: When someone finds a banded bird, they report the band's number to the U.S. Geological Survey's Bird Banding Laboratory, which serves as the central repository for that information and gives permits to scientists for banding projects.
Scientists use the data to learn whatever they can about birds. They can learn where the birds are hanging out, what they eat. They can also use it to understand how the population of a certain species is doing.
Chris Bonsignore, manager of conservation programs for Ducks Unlimited, said the data has provided vital information for waterfowl biologists, helping them understand the survival rate of young birds, what species are most often targeted by hunters and more.
"That information going back many decades has been really critical to understanding the relative populations of the various waterfowl species," Bonsignore said.
It also informs decisions on hunting regulations. In Washington, migratory bird regulations fall within a framework set by the Pacific Flyway Council, a federal body responsible for the birds that live and migrate west of the Continental Divide.
Matt Wilson, statewide waterfowl specialist for the Washington Department of Fish and Wildlife, said the state has enjoyed long seasons and liberal bag limits for ducks for many years, meaning the populations have been doing fairly well.
Used alongside other methods of surveying the population, banding data helps officials determine whether the rules need any changes.
"The more data we have, the better informed decisions we make for harvest," Wilson said.
Wilson leads banding efforts for WDFW. He said the agency typically puts bands on between 1,000 and 1,500 geese each year and between 2,500 and 3,000 ducks.
But the agency has limited staff resources to dedicate to the work, which means they don't get banding done everywhere they'd like. Regional biologists work on all manner of wildlife, and often there's just no time to squeeze pieces of metal onto the legs of waterfowl.
The Pend Oreille Valley was one place where the agency didn't have much information about waterfowl. Wilson said the last time intensive banding work was done in northeast Washington was in 2008 and 2009 to monitor bird flu.
Peterson, who has been with the Kalispel Tribe for about 1½ years, recognized that little had been done to track waterfowl in the Pend Oreille Valley. Waterfowl are a culturally important species for the tribe, and Peterson knew banding would be a relatively easy way to learn more about the birds.
"It has a great impact for waterfowl habitat, ecology, all those sorts of things," Peterson said. "It takes two hours a day for a handful of months, so why not?"
He reached out to WDFW in 2022, telling officials that he was going to start up a banding program. The agency decided to let him operate under its permit from the Bird Banding Laboratory, saving him the trouble of applying for one, and it provided him with some bands.
"The more birds we band, the more sort of gaps in our knowledge we fill in," Wilson said.
The long view
Peterson's duck traps are big, circular nets standing in a slough next to a hayfield on tribal property. A small opening at the bottom allows the ducks to swim in, but not back out.
When he goes out to check the traps, he brings stringers of bands in multiple sizes – mallards have bigger legs than wood ducks – and a few buckets of grain to bait the traps once he's done. On a clipboard, he jots down a bird's species, sex, age and the number it will wear on its leg.
There are a lot of ducks in the Pend Oreille Valley. In 2022, he banded close to 500. A significant portion of those were wood ducks.
"I'd say the coolest thing (I've learned) so far is how many wood ducks actually exist in the valley," he said, adding that he and his technician caught close to 250 last year on the land where he traps the ducks.
"If you take one property and extrapolate that to another 20,000 acres, that's a lot of birds," he said.
This year, Peterson has banded well over 400 ducks, with a few weeks left to go. He's not seeing quite as many wood ducks, but he's still seeing plenty. Mallards have been the more dominant species, to the point that Peterson's been running low on bands for them.
Some days, when Peterson pulls up to one of his traps, he'll find 20 or 30 birds inside. He's seen that on some days this fall, but not on others. Still, he's finding a lot of ducks, and a lot of hatch-year ducks, ones born this past summer.
"That's pretty much what it's been for the whole season," he said on a recent Wednesday as he squeezed another band onto a leg. "It means that the valley is very productive."
There are also a lot of recaptures, ducks that were already banded entering the traps for the second or third time. That's not unusual. He said they usually hang around the same area for a few days at a time, and they follow hunger into the trap.
He added that it was a little early for the birds to begin heading south, particularly the mallards. That will change as fall gets more serious, though.
The birds born here just a couple of months ago will head south, finding a winter home. Some of them will get shot. The others will likely return to the valley in the spring. Then next fall will come around and the cycle will begin again.
Projects like this are all about repeating a process over time. Three years would make a quality dataset, Peterson said, but five or 10 years would be even better to see how the populations ebb and flow.
"I'd like to keep doing it as long as it's beneficial," Peterson said.
---