NFL Locals: Gardner Minshew guides Colts to win over Texas, says every time he plays is 'heaven'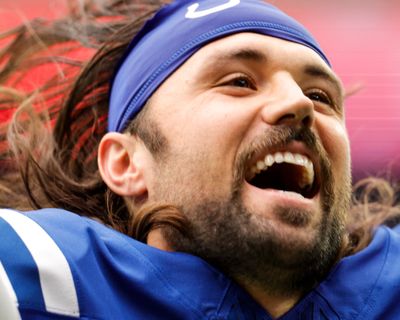 Break out the mustaches and jean shorts, Minshew mania is back, at least for now.
Gardner Minshew (WSU) took over at quarterback after Anthony Richardson exited with a concussion and steered the Indianapolis Colts to a 31-20 win over the Houston Texans on Sunday at NRG Stadium in Houston.
Minshew entered in the second quarter, with a 14-7 advantage and led touchdown drives on the next two possessions.
"Every time I get to play football, that's heaven for me," Minshew said. "I'm happy to be out here, happy to help out the team, a really great day."
Richardson ran for two touchdowns before leaving the game. The Colts (1-1) defense helped the early lead, with Samson Ebukam (EWU) getting a strip sack on Texans (0-2) quarterback C.J. Stroud during their first possession.
Minshew completed 19 of 23 attempts for 171 yards, a touchdown and no interceptions. He signed a one-year, $3.5 million deal with the Colts in March, before they drafted Richardson with the fourth overall pick out of Florida.
The Colts did not say how long Richardson will be out, but Minshew will likely be needed to start next week's game at Baltimore.
Ebukam finished with two tackles and a sack.
• Two wide receivers with local ties took the field in an AFC East battle on Sunday Night Football.
Miami's River Cracraft (WSU) and New England's Kendrick Bourne (EWU) caught passes in the Dolphins' 24-17 win over the host Patriots at Gillette Stadium in Foxborough, Massachusetts.
Bourne was targeted nine times and had four receptions for 29 yards. He had the first two catches on the Patriots' (0-2) final drive of the game.
New England came back from down 24-10 in the fourth quarter and had possession at its 45 with 2 minutes remaining.
Bourne caught passes of 3 and 13 yards on the drive that ended in a turnover on downs at the Miami 33 with 51 seconds left.
Cracraft had two receptions for 34 yards, both on a drive before halftime, where the Dolphins (2-0) went 75 yards to score a touchdown in 1:38.
• Things weren't looking good most of the day for Kaden Elliss (Idaho) and the Atlanta Falcons.
Elliss and the Falcons defense stepped up in the fourth quarter, however, and Atlanta rallied to a 25-24 win over the Green Bay Packers at Mercedes-Benz Stadium in Atlanta.
Elliss led the team with six tackles and a sack.
The Falcons (2-0) trailed 24-12 late in the third quarter before scoring a touchdown and two field goals and forcing a turnover on downs in the final minute.
• Jalen Watson (WSU) and the Arizona Cardinals were bound for victory.
Watson had seven tackles (one for loss) and his first interception of the season as the Cardinals took a commanding lead at halftime but lost 31-28 to the New York Giants at State Farm Stadium in Glendale, Arizona.
The Cardinals (0-2) shut out the Giants (1-1) in the first half, as New York finally scored its first points of the season in the third quarter.
• Kansas City Chiefs cornerback Jaylen Watson (WSU) made two tackles during a win over the Jacksonville Jaguars at EverBank Stadium in Jacksonville, Florida.
The defending champion Chiefs earned their first win of the season in a defensive struggle. The Jaguars totaled just 271 yards.
---