F-35 jet is missing after pilot parachutes free in South Carolina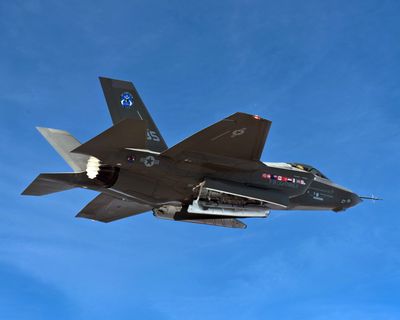 Military and government authorities continued a sweeping search Monday for an F-35 jet that disappeared after a U.S. Marine pilot used an emergency parachute to eject from it Sunday afternoon in North Charleston, South Carolina.
The pilot, who has not been publicly identified, was in an F-35 from Marine Corps Air Station Beaufort. He was taken to a local medical center and his condition was stable late Sunday, said Jeremy Huggins, a spokesperson for Joint Base Charleston.
It was unclear why the pilot needed to eject. The search involved a broad range of government and military officials, including from the Marines, its 2nd Marine Aircraft Wing, Navy regional authorities in the Southeast, the Civil Air Patrol and the Federal Aviation Administration.
Law enforcement teams across the state were also assisting in the search.
"We appreciate the support we've received from our mission partners and every organization involved, as integrated teams are searching and preparing for the recovery of the jet," Joint Base Charleston said.
Based on the last-known position of the jet, an F-35B Lightning II, the base was focusing on an area around Lake Moultrie and Lake Marion, in coordination with the FAA, Joint Base Charleston said late Sunday, adding that it was seeking the public's help.
The authorities asked anyone with information about the missing jet's location to pass along tips.
The F-35B Lightning II is the variant used by the Marine Corps, a short-takeoff and vertical-landing version. Manufactured by Lockheed Martin, it completed its first combat strikes for the Marine Corps in Afghanistan in 2018.
The F-35's Joint Strike Fighter program is the Department of Defense's most expensive weapon system program, with estimates that it will cost nearly $1.7 trillion to buy, operate and sustain the aircraft and systems over its lifetime, the Government Accountability Office said in a report released in May. The purchase cost of the Marine Corps jet has varied over the life of the program. The federal government said it was as low as $70 million in 2012, and the Project on Government Oversight said it was as high as $135 million in 2020.
This article originally appeared in The New York Times.
---