'I just idolized the guy': Former classmates remember Coeur d'Alene bar owner and football star Aaron Robb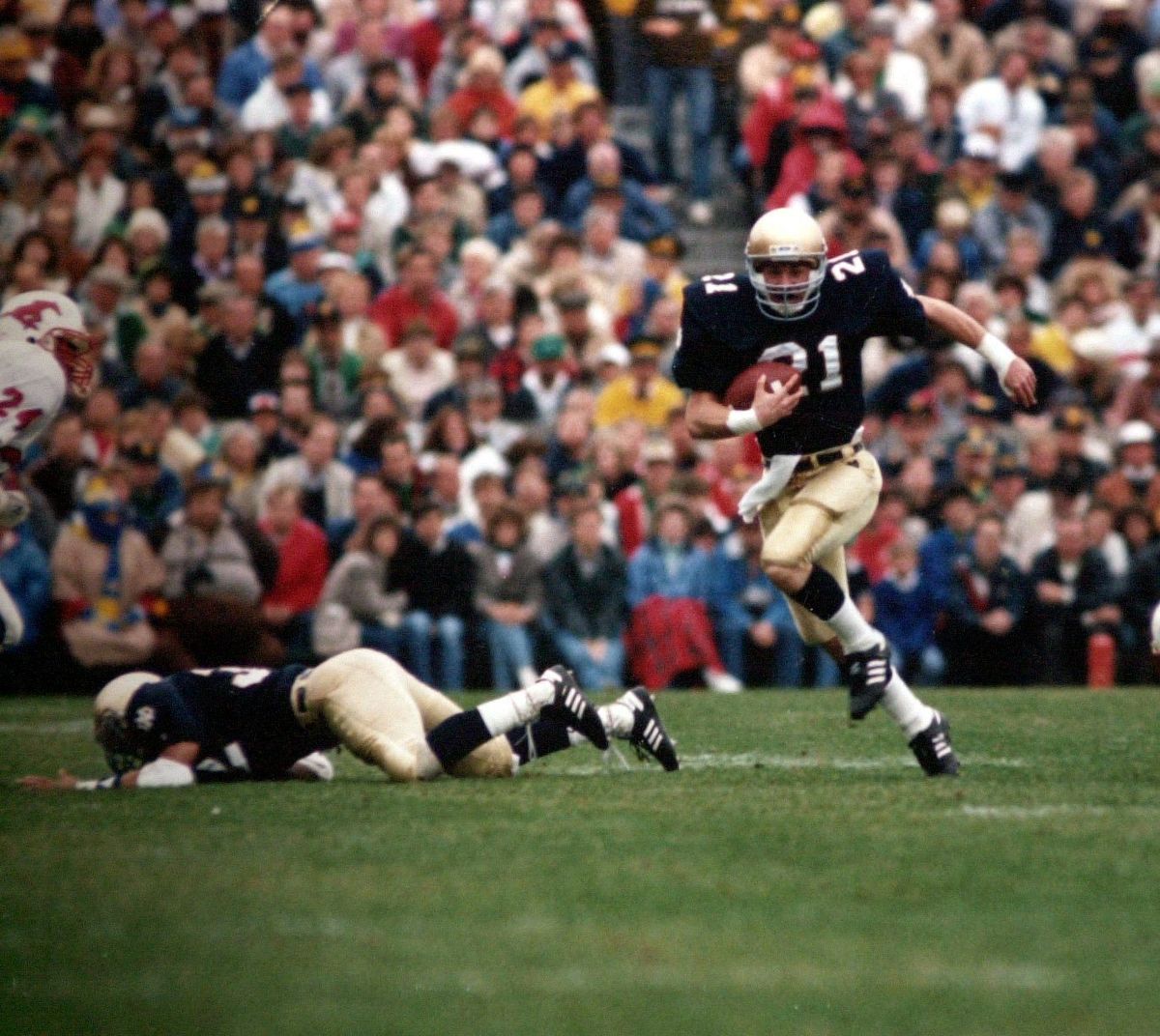 Aaron T. Robb, the owner of the Iron Horse bar and grill in Coeur d'Alene and a former college football national champion, drowned Saturday in Lake Coeur d'Alene.
The Kootenai County Sheriff's Office is investigating the death of Robb, who was in his mid-50s.
For half a century, Robb and his family have owned and operated the Iron Horse on Sherman Avenue in downtown Coeur d'Alene. Tom Robb, the family patriarch, started the business in the early 1970s. Aaron Robb managed the Coeur d'Alene location, and his brother, Mike Robb, managed a second location in Spokane Valley.
Aaron Robb grew up in Coeur d'Alene but commuted to Gonzaga Prep for high school. He was a standout athlete, starring in both football and basketball.
On the gridiron, Aaron Robb was a 6-foot-1, 180-pound running back and defensive back who helped lead Gonzaga Prep to a state championship in 1982. He ran for over 1,100 yards as a junior and averaged more than 8 yards per carry as a senior.
Aaron Robb was a highly decorated basketball player as well, putting up nearly 19 points per game during his senior year as a point guard and wing. When he graduated, his 89% free-throw percentage was the fifth best in school history. He was known for having a pretty shot with an enormous amount of arc on it.
"He's so strong; he just flicks his wrists, and it's like shooting marbles," Coeur d'Alene High School basketball coach Jim Kravick told The Spokesman-Review in 1983.
Nick Volk, one of Aaron Robb's high school football teammates, said he was a humble athlete.
"He was never flashy," said Volk, who played football at Washington State University. "He had a spirit of humility."
After Gonzaga Prep, Aaron Robb headed to South Bend, Indiana, to play football for the University of Notre Dame Fighting Irish.
In a 2001 story about the Iron Horse, Aaron Robb told The Spokesman-Review he hadn't even known where Notre Dame was before the school recruited him.
"Back in the '80s we thought, 'Wow, that could be on the other side of the world,' " Volk said.
Aaron Robb went on to have a solid career for the Irish, primarily as a special teams player.
He initially showed up in South Bend expecting to play defensive back, but head coach Lou Holtz converted him to wide receiver during his sophomore year.
Unfortunately for Aaron Robb, that position change put him behind Tim Brown on the depth chart.
Brown, who earned the nickname "Touchdown Timmy," won the Heisman Trophy in 1987, and was later drafted in the first round by the Los Angeles Raiders. He made nine Pro Bowls for the Raiders and was elected to the Pro Football Hall of Fame in 2015.
"It's hard playing behind a Heisman Trophy winner," Aaron Robb told The Spokesman-Review in 1988. "It's not like I'm disappointed with what I've done here, and I'm still willing to play the role I'm assigned to help the team win, but there's still the feeling that I can do more and that's my goal."
Aaron Robb was a regular contributor on the undefeated 1988 Notre Dame team that won the national championship. He graduated in 1989 with a liberal arts degree and returned home soon thereafter.
"I knew I wanted to come back to the Northwest," he told The Spokesman-Review in 2001. "I probably could have tried out to play in the NFL, but I was tired of getting the stuffing kicked out of me."
Gonzaga Prep head football coach Dave McKenna remembers Aaron Robb as a high schooler. McKenna was a freshman when Aaron Robb was a senior.
"I knew him as a fan," McKenna said. "I just idolized the guy."
McKenna, like Volk, remembers Aaron Robb as a remarkably humble player. He was a hard worker too, especially in the weight room.
"He knew how to lift," McKenna said. "His legs were unbelievably defined, it was crazy."
Volk, one of a handful of players from the Gonzaga Prep class of 1985 who played Division I college football, said Aaron Robb was the kind of "guy that people would want to have in their corner."
"He never quit when things got tough," Volk said. "You always knew that he would get his job done."
---