Stolen WSDOT asphalt truck goes up in flames during pursuit near Ritzville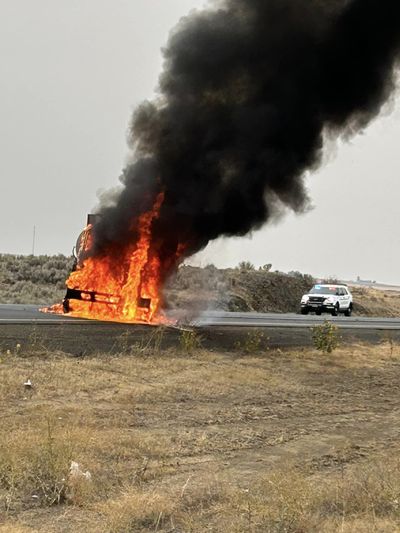 A 31-year-old man is accused of shooting at a semitruck and stealing an asphalt truck before leading law enforcement on a long pursuit that ended with the truck in flames and the man in custody Tuesday morning in Adams County.
The Adams County Sheriff's Office Facebook page identified the man as Lance Rogers, of West Richland, Washington.
Law enforcement officers were called at 7:15 a.m. to the Washtucna area after Rogers reportedly shot at  a semitruck driver through a window, Washington State Patrol Sgt. Greg Riddell said.
About 10 minutes later, a Washington State Department of Transportation asphalt truck was reported stolen from the agency's shed in Washtucna. Rogers displayed a firearm in the theft, according to Riddell and the state Department of Transportation's page on X, the social media platform formerly known as Twitter.
Rogers fled north on state Highway 261, and law enforcement located him shortly after the reported theft, Riddell said. He said Rogers brandished a firearm outside the window toward law enforcement during the pursuit.
Rogers turned east onto Interstate 90 and police used spike strips to slow the vehicle, Riddell said.
He said Rogers started driving on rims after the tires deflated, sending sparks into the air. The vehicle then caught fire, Rogers exited the passenger side and ran before police arrested him at about 8:10 a.m., almost 40 minutes after the pursuit started, near Ritzville.
He was taken to a hospital with injuries believed to have been sustained from an incident in Yakima, Riddell said. Detectives recovered a firearm from the asphalt truck.
The sheriff's office Facebook page said Rogers is the suspect in multiple crimes, including a drive-by shooting.
Riddell credited the cooperation among WSP, Ritzville police and the sheriff's office in making the arrest with no injuries.
"It's great to see that teamwork come together in a safe conclusion," he said.
---