How has WSU's Dickert let go of his defensive mindset? Ahead of OSU game, it starts with trust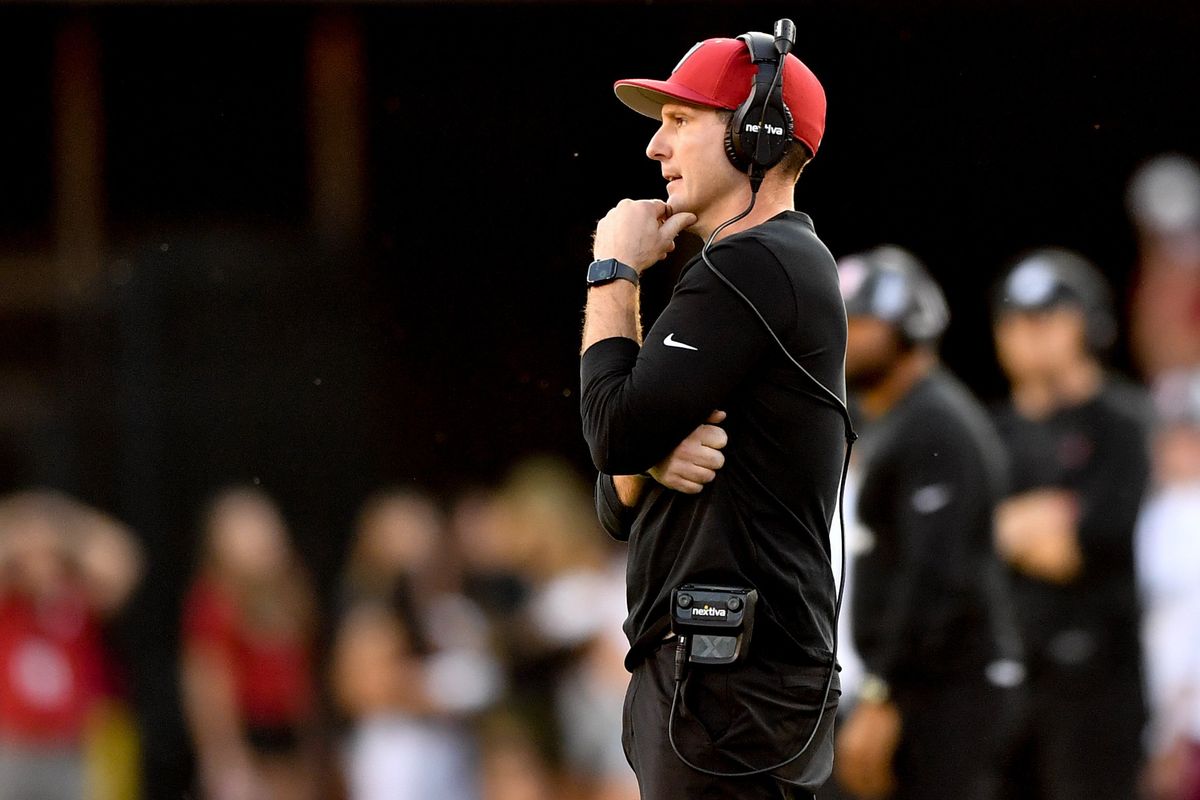 PULLMAN – These days, Jake Dickert has learned to let go. Deep down, Washington State's head coach wants to manage the Cougars' defense like he did a couple of years ago, the perfect situation for a guy whose brain gravitates toward defense anyway.
"In my heart and passion," Dickert said, "I do keep an extra eye on that side of the ball."
How could he not? Until October 2021 arrived and he took over as WSU's interim head coach, Dickert had coached solely defense all his life. He coached safeties at North Dakota State. He coached defensive backs at South Dakota and Southeast Missouri State. He was the defensive coordinator at Augustana, a Division II school in South Dakota. During the next five years of his life (2014-19), he oversaw defenses at all kinds of programs.
That is no longer Dickert's job. WSU's defensive coordinator gig belongs to Jeff Schmedding, who is in charge of finding holes in the offense of No. 14 Oregon State, which comes to town on Saturday for a 4 p.m. showdown with No. 21 Washington State.
In days past, Dickert might feel tempted to dissect the Beavers' offense. What are quarterback DJ Uiagalelei's tendencies? What makes OSU's run game so effective? How do we contain playmakers like running back Damien Martinez and receiver Silas Bolden?
Now, Dickert trusts Schmedding to answer those questions. If that sounds like an easy transition to make, it shouldn't. Two years ago, when WSU fired former head coach Nick Rolovich for failing to comply with the state COVID vaccine mandate and Dickert took over as interim head coach, he strained to move on mentally.
"It was very hard, very difficult," Dickert said.
Since those days, Dickert has had two defensive coordinators. In 2022, it was Brian Ward, who left after the season for the same job at Arizona State. In 2023, it's Schmedding, who departed the same gig at Auburn for WSU.
To connect with both men, Dickert has had to find the right balance, offering his perspective without stepping on toes, using his background to find an edge without overlapping.
"I think it comes through trust and time and understanding what my new role is," Dickert said. "And I understand that now way better today than I did a year ago. I think it's support, encourage and help and give feedback – but know when they're doing it, they're pulling the trigger, they're making the plays, they're running it, that there's a certain thing that really … I want to be an asset."
"He will come in and be a resource, and I appreciate that resource," Schmedding said. "It's actually been enjoyable. I mean, we'll go into his office and talk some ball and talk about situational things and things like that."
To take down Oregon State this weekend, Schmedding and Dickert will have to put their heads together. The Beavers rank 15th nationally in rushing offense, averaging 219 rushing yards per game. With backs like Martinez and Deshaun Fenwick in the fold, the Cougars will likely need to tackle well in space – and put themselves in the right positions.
That's to say nothing of OSU's receivers, some of the most dynamic in the Pac-12. Earlier in the week, when Dickert was watching film of Oregon State's win over San Diego State, he was impressed by Anthony Gould's 75-yard touchdown reception.
Then there's Bolden, who has looked like Uiagalelei's favorite target. Bolden has 13 catches for 159 yards and one touchdown. His most electric play of the season, though, had nothing to do with a reception. In OSU's 55-7 win over FCS UC Davis, Bolden returned a punt 65 yards for a touchdown, reversing fields twice, darting between defenders .
Over their 3-0 start to the season, six Beavers have caught touchdown passes. Five have rushed for touchdowns – including an offensive lineman on a trick play. OSU's is a run-heavy offense, but it also includes Uiagalelei, which points to the challenge facing Schmedding and the Cougars.
Schmedding won't be the only one diagramming plans to slow down that offense. During this week and others, Schmedding will pop into Dickert's offense and start talking defense. It isn't quite a foreign language, but it is dialect both men speak fluently.
"It is nice to be able to go in and spit out the lingo and all the different things, and immediately have someone recognize what you're doing," Schmedding said. "Because it does give you that sense of, OK, you've got another set of eyes. And you have to appreciate that. I think it's been a good relationship, and we're continuing to grow it."
That's only possible because over the past two years, Dickert has made conscious efforts to change. He recognizes that for as well as he reads offenses, now he has to read other things: How is recruiting going? How are we doing on fundraising? How's our starting left tackle doing?
There's a lot on Dickert's plate, not just defense, so it helps that he trusts Schmedding so much.
"I think that's awesome," Dickert said. "I think Jeff has done an amazing job, coming in, 'Hey, what do you think about this? What's your thoughts here? I just want to check your pulse on what you think of this.' I think that's good partnership, and I think that's what we have."
---