West Bonner School Board rendered powerless as trustee inexplicably misses meeting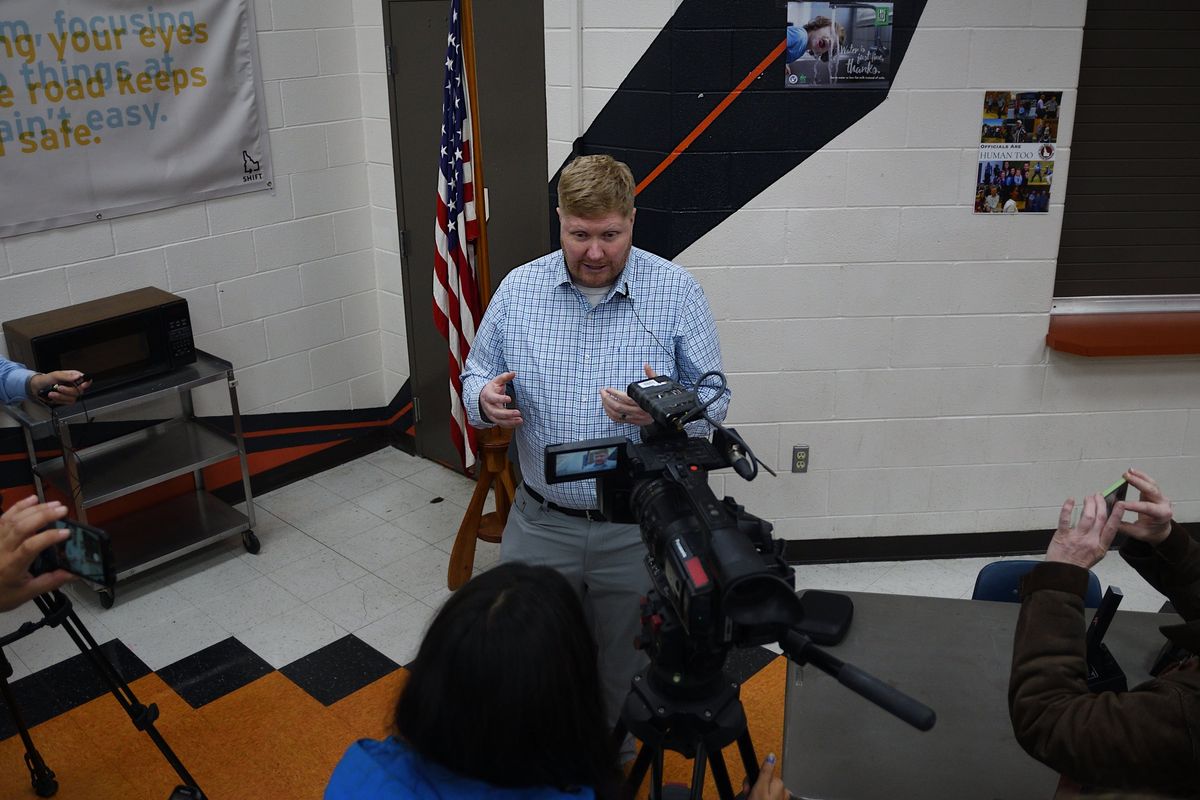 PRIEST RIVER, Idaho – Chaos continues to reign in the West Bonner County School District.
The school district's board was unable to hold its monthly meeting Wednesday after Trustee Troy Reinbold failed to attend. Reinbold's absence meant the board lacked a quorum and couldn't legally do any official business.
Many district parents say they believe Reinbold's absence is part of a larger strategy to prevent the school board from firing superintendent Branden Durst, the former Idaho Freedom Foundation staffer and state legislator who was hired this summer to lead the district despite never having worked in K-12 education.
The West Bonner County School District has been embroiled in controversy for months.
Voters in May rejected a $4.7 million annual levy, which made up a third of the district's budget. Then, the district's board of trustees this summer hired Durst as its third superintendent since last year, inspiring dozens of parents to pack board meetings and angrily voice their displeasure. In August, voters overwhelmingly recalled two board members – Keith Rutledge and Susan Brown – who had led the charge to hire Durst.
Wednesday's meeting would have been the board's first since Rutledge and Brown's ouster. Given that two of the remaining three board members – Margaret Hall and Carlyn Barton – opposed Durst's hiring, it was widely expected that the new three-member board might fire him.
Candy Turner, a former district teacher and parent who helped lead the recall effort, said she believes Reinbold chose not to attend Wednesday's meeting to prolong Durst's tenure with the school district.
"It's a delay tactic on their part," Turner said.
The state Board of Education this month rejected Durst's application for an emergency certificate to serve as superintendent. Durst needed the certificate because he doesn't meet the state's qualifications to lead a school district. Durst can still serve as superintendent despite not holding the certificate, but the state won't fund his more than $100,000 salary.
Durst's hiring has been controversial not only because he's never worked in a K-12 school, but because he's a highly partisan political figure.
A former Democratic state representative and senator from the Boise area, Durst is now a member of the GOP. In 2022, he ran for Idaho superintendent of public instruction as a Republican but failed to advance past the primary.
Before taking the West Bonner superintendent job, he worked as an education policy analyst for the Idaho Freedom Foundation, an organization that, in its own words, seeks "to make Idaho into a Laboratory of Liberty by exposing, defeating, and replacing the state's socialist public policies."
During his run for superintendent of public instruction, Durst emphasized his opposition to the teaching of critical race theory – the idea that slavery, segregation and other racial injustices from the past continue to impact Black people today.
Durst has expressed support for publicly funded religious schools and said he doesn't believe in the separation of church and state. He has also criticized transgender people and the public display of gay pride flags.
Hall said she's still working to figure out what would happen if Reinbold continues to miss meetings.
According to Idaho law, the school board can declare Reinbold's seat vacant if he misses four consecutive meetings.
If that happened, the board still would lack a quorum and be unable to appoint his replacement. Instead, the Bonner County Commission would appoint a replacement after 120 days.
That scenario could be disastrous for the school district. If the school board can't meet, it can't perform basic functions, such as paying the district's bills.
Hall said she's worried about the possible impact on the district's insurance if that hypothetical situation becomes reality.
"If we can't function as a district, what does that mean to our insurance agent?" she asked.
Even if Reinbold misses four consecutive meetings and the board of trustees can't function for four months, it appears unlikely the county commission will get a chance to appoint a Reinbold replacement.
Reinbold is up for re-election in November. Even if he missed four meetings, he could be re-elected and start to serve once more in January.
Durst said he wants Reinbold to show up to meetings and believes his continued absence would "make things difficult."
"I really don't want to be in that place," he said.
Durst said he doesn't believe Hall and Barton planned to fire him Wednesday. He said the board had planned to talk about him in executive session, but it would have merely been a performance review. Durst said he has been requesting a performance review since he was hired this summer.
"That way I would know how I was doing," he said.
The first-time school administrator said he doesn't plan to waste time thinking about losing his job.
"I'm confident I'm going to continue the work I was hired to do," he said. "Until such time as I'm no longer employed to do it, I'll continue to do my best."
---