'Fix Congress' lawmakers debut new caucus with familiar goal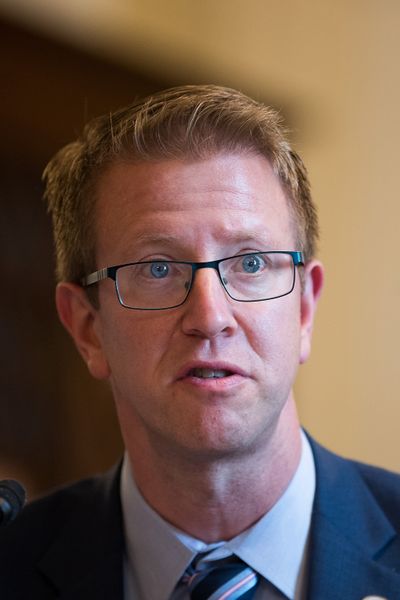 For someone who's spent the last few years trying to modernize the House and how it operates, Rep. Derek Kilmer sounds surprisingly upbeat.
"The work isn't done," the Washington Democrat said in an interview this week. "There are more good ideas out there."
Kilmer launched a congressional caucus Thursday to keep the rallying cry alive: Fix Congress. It means reuniting with Republican Rep. William R. Timmons IV of South Carolina, his former colleague on the now-defunct Select Committee on the Modernization of Congress.
"Nobody thinks Congress isn't broken," said Timmons. If members on opposite sides of the aisle can agree on that much, the next step for the caucus is to try to drum up interest in problems that might seem mundane (like outdated technology or high staff turnover) or simply unsolvable (like partisan gridlock, polarization and mudslinging).
Already they've recruited 28 House colleagues from across the political spectrum, including GOP leadership ally Garret Graves of Louisiana and Freedom Caucus member Ken Buck of Colorado. The roster also includes moderates like Dan Newhouse, R-Wash., and Marie Gluesenkamp Pérez, D-Wash., along with more than a handful of progressives.
Both co-chairs listed bipartisanship as a top priority, though there were just eight Republican members of the Fix Congress Caucus at the time of its launch.
"We will have more Republicans," Timmons promised. "Bipartisanship is huge, so we will continue to work on that."
"Bipartisanship isn't just a buzzword for our caucus. It's the foundation on which lasting, impactful change can be built," Kilmer said. "The reality is, if you're going to attempt systemic institutional reform, it can't be partisan."
Several caucus members are fellow alumni of the select committee that began in 2019 and disbanded at the end of the last Congress, after making more than 200 recommendations to improve the House.
Kilmer also sits on a House Administration subcommittee that was created to continue the work of modernization.
Kilmer has experimented with daring-for-Congress techniques in the past, like mixing up the seating chart for his select committee so Republicans and Democrats sat next to each other. This time, he's mostly sticking to the standard playbook for congressional caucuses, with plans to meet every one or two months, write letters and boost legislation. But he hopes to raise thorny topics like gerrymandering or money in politics. Those, he said, were nonstarters in the select committee, which required a two-thirds majority vote to advance a recommendation.
Timmons, for his part, hopes the caucus can address scheduling in a way that would force lawmakers to spend more days in D.C., which he said could be key to breaking the gridlock in the nation's capital.
"You can't engage in policymaking if you don't have trust. And you can't develop trust if you don't spend time together," Timmons said. "So you've got to spend time together. And I prefer to do it over a glass of wine and some good food."
---