Spokane Braves junior hockey returns to the ice for first season since COVID-19 pandemic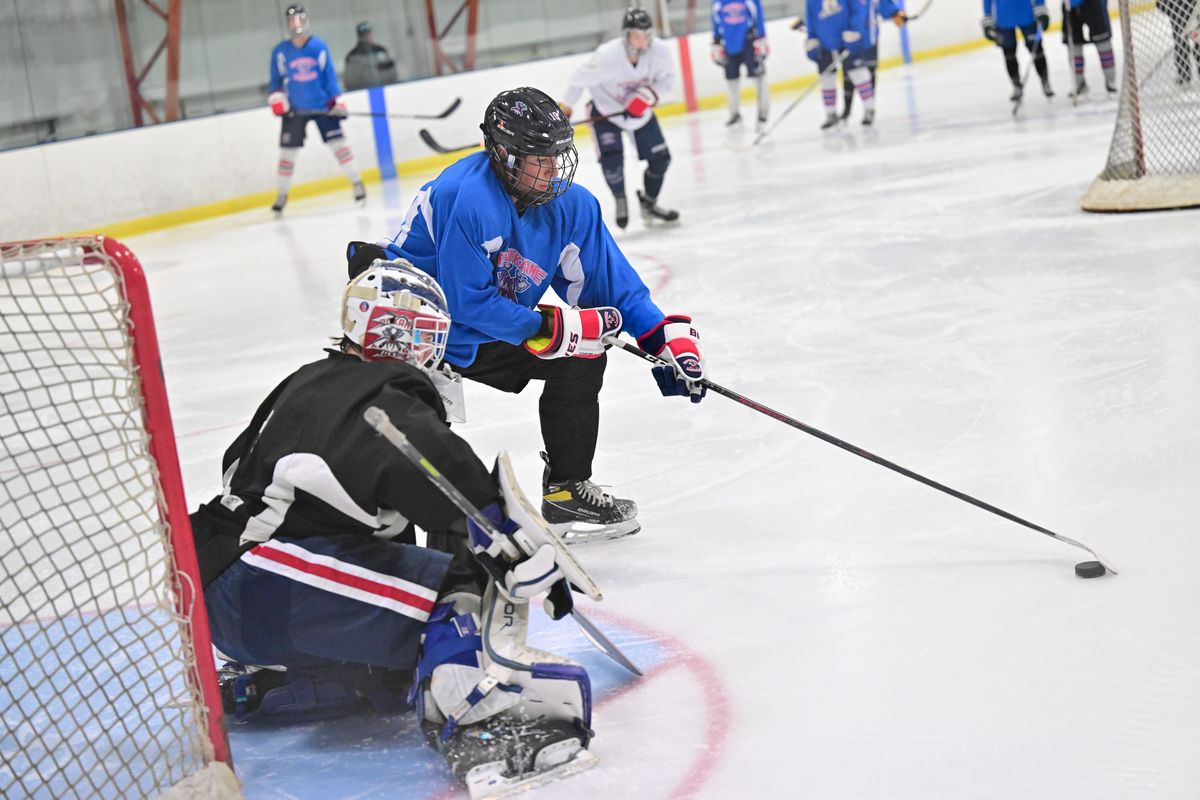 Three years removed from their last official hockey game, the Spokane Braves return to the ice with a new roster, a new coach and a new classification.
Sidelined by COVID-19 obstacles since last playing in 2019-20, the Braves make their debut as a Junior A Tier 2 franchise Friday night against the Columbia Valley Rockies in Invermere, British Columbia.
All 20 teams in the Kootenay International Junior Hockey League were bumped up from Junior B to Junior A Tier 2 this season by the governing BC Hockey organization. The Braves, who were nicknamed the Rockets when the club joined the KIJHL in 1972-73, remain the only non-British Columbia team in the league.
Junior A Tier 1 is the second-highest level of junior (20-and-under) hockey, just below major junior teams like the Spokane Chiefs of the Western Hockey League. Junior A Tier 2 is a notch above Junior B.
The KIJHL has produced approximately 50 National Hockey League players, including ex-Braves (and Chiefs) center Derek Ryan, who plays for the Edmonton Oilers.
Hundreds of former KIJHL players have advanced to major junior, college, Junior A Tier 1 and minor league and European pro leagues.
Resurrecting the Braves, who have consisted largely of local players, is a considerable challenge. Spokane has never won a KIJHL championship. The Braves are loaded with 17- and 18-year-old players who played Midget Division hockey last season.
"We can compete in every single game," Braves coach Darin Schumacher said. "We have the scorers. We have the goaltenders, and we have the defensemen."
"We definitely have the skill to compete against every team," right wing Josh Humphreys said.
Humphreys is one of three Spokane-area players on the Braves who spent last season with the Sheridan (Wyoming) Hawks in the North American 3 Hockey League.
Humphreys and Schumacher, an assistant coach on the Hawks, say the NA3HL has some excellent teams, but the Kootenay League is a better league overall.
Schumacher said Humphreys and center Lance Insko are key team leaders "on and off the ice." Humphreys suffered a dislocated kneecap (a recurring problem for him) in Spokane's first exhibition game and is sidelined indefinitely. Insko, a Butte native who played some of his youth hockey in Coeur d'Alene, is ready to go.
"He's extremely fast, extremely difficult to play against," Schumacher said.
Schumacher said he's embarking on his 30th year of coaching. Most of his experience came with high school and youth teams in his native North Dakota. He was a volunteer assistant on the Braves in 2019-20, then was promoted to head coach just prior to the COVID shutdown.
Three years later, Schumacher coaches his first official game with the Braves on Friday. There's little doubt the players are every bit as thrilled as Schumacher to be back in action in Spokane, because each player on the Braves pays $7,000 to help cover operating expenses.
"Some (KIJHL) teams charge more," points out Bob Tobiason, the longtime president and general manager of the Braves.
Notes
• The Braves play three road games before making their home debut Sept. 30 against the Grand Forks Border Bruins. Game time is 7 p.m. at Eagles Ice Arena, near Division and Francis.
• KIJHL teams each play 44 games in the regular season. The Braves posted a 1-2 record in exhibition games, all against KIJHL opponents.
• The Braves' roster includes two sets of brothers (Josh and Ben Humphreys and Ray and Robert Eloe), plus the brother of former Braves and Chiefs star Bear Hughes (Dante Hughes). Kevin Humphreys, the father of Josh and Ben and Braves alum Derek, played on Spokane's last senior amateur team in 1984-85.
• Schumacher's son, Tie, is on the team. Mason Lochten is the son of former Braves player Norm Lochten. Cameron Oien, sidelined with a pulled groin, is Tobiason's grandson.
• To help with the transition to Junior A, the KIJHL is permitting teams to use six 20-year-olds (up from five). Andrew Tworkowski, Spokane's only 20-year-old, is set to split goaltending duties with promising 17-year-old Jack Wood.
• Notable KIJHL alumni who played in the NHL include ex-Chiefs Travis Green (Castlegar) and Jon Klemm (Cranbrook); Trail's Ray Ferraro and Steve Tambellini; Beaver Valley's Adam Deadmarsh and Barret Jackman; Shea Weber of Sicamous and Greg Adams of Nelson. In addition, former Spokane Junior B and senior amateur players Mick McGeough and Dennis LaRue were longtime NHL referees.
---