The rant is due when Lewis Black returns to the Bing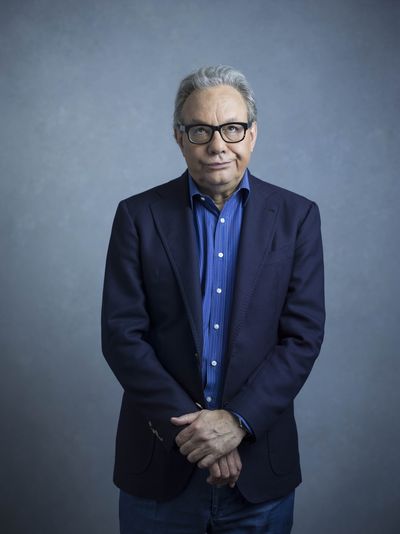 Lewis Black is the happiest angry man you'll ever meet. The comic is fueled by rage, which is evident during his hilarious rants.
"We're living in a phenomenally well written piece of satire," Black said while calling from his New York City apartment. "If you saw what we're living like in a book and it was fiction, you would have to laugh."
Black, 75, is instantly furious when it comes to politicians on both sides of the fence. The veteran comic, who appears on "The Daily Show" to deliver his incendiary "Back in Black" commentary, isn't a fan of Presidents Trump or Biden.
"Why would I listen to a guy with an orange head," Black cracked. "People go on about Trump's nastiness, massive ego and that he's a narcissist. I don't care about any of that. I don't listen to him because he has an orange head. Trump has been called a business genius but he lost three casinos. The only way you don't make money at a casino is to have the National Guard out front preventing people from entering the building. Biden is like the ghost of Christmas past. You literally can't hear him when he makes an address to the nation. Biden is unintelligible when he makes an address up until he says, 'And God bless our troops.' "
Black, who will perform Saturday at the Bing Crosby Theater, always appears on the edge of losing it but that anger is an energy that propels the caustic humorist.
"Having this rage is huge because that's when I'm funniest," Black said. "I'm at my best when I'm angry and frustrated. It connects with the audience because of their frustration. Years ago I would turn my back to the audience and yell at the wall. When I figured out that the audience wouldn't flee when I went on these rants, I turned around and faced them. Now when I cross the line live, I just stop and tell the audience I've gone too far."
Black follows in a long line of iconic comics who were inspired by their anger, such as George Carlin, Richard Pryor and Lenny Bruce. "All of those guys have had such an impact on me," Black said. "It's fine to be angry and a comic."
The rants emanating from Black are often full of vitriol but the former spokesman for the Aruba Tourism Authority couldn't be happier since he loves his vocation. That's been so since Black decided to pursue a career in the arts. It's never been about money or fame for Black. The Yale Drama School alum insists that he's as pleased now as he was when he was a struggling playwright in New York during the '80s. "I'm no happier now than I was back then," Black said.
After studying playwriting for seven years at the University of North Carolina and Yale Drama School, Black barely made ends meet. Black can't help but look back and laugh at one missing aspect from his prestigious education.
"No one at UNC or Yale ever taught me about plot," Black said. "It's like teaching math to students but never having anyone in class learn about numbers."
Like the aforementioned Carlin, who had hoped to be the next Danny Kaye but fell into stand-up, Black did comedy on the side. At mid-life, Black realized that stand-up was his ticket out of poverty.
"I didn't become successful until I was 40," Black said. "It took that long to figure things out but it's fine. My book (2005's "Nothing's Sacred") was written for a 16-year old since I ended up giving young people advice. My message was there's no need to panic in high school. Figure out what you love. You might not end up at your destination but it will lead to something you want to do. Once you get there you'll be way ahead of the pack. Look how long it took me to figure things out in comedy. Better late than never."
That's how it is in the world of comedy. Rodney Dangerfield and Redd Foxx are examples of comic legends, who didn't connect with the mainstream until they passed the mid-century mark. "And you can do comedy for as long as you want," Black said. "It's worked out for me."
Black relaxes by traveling. "I enjoy getting away and I was in Europe twice over the last four months," Black said. "I just got back from Ireland and the people in Europe live so much better than we do in this country. The big difference is that they don't rattle each other over there. We're always digging into each other."
But it's a double-edged sword for Black, who doesn't want to be bugged by petty annoyances but the craziness provides fodder for his stand-up. "I'll never run out of material living in this country," Black said. "There's some annoying stuff happening but I make a living from it."
---