Wood-fire pizzeria and bar to open downtown Spokane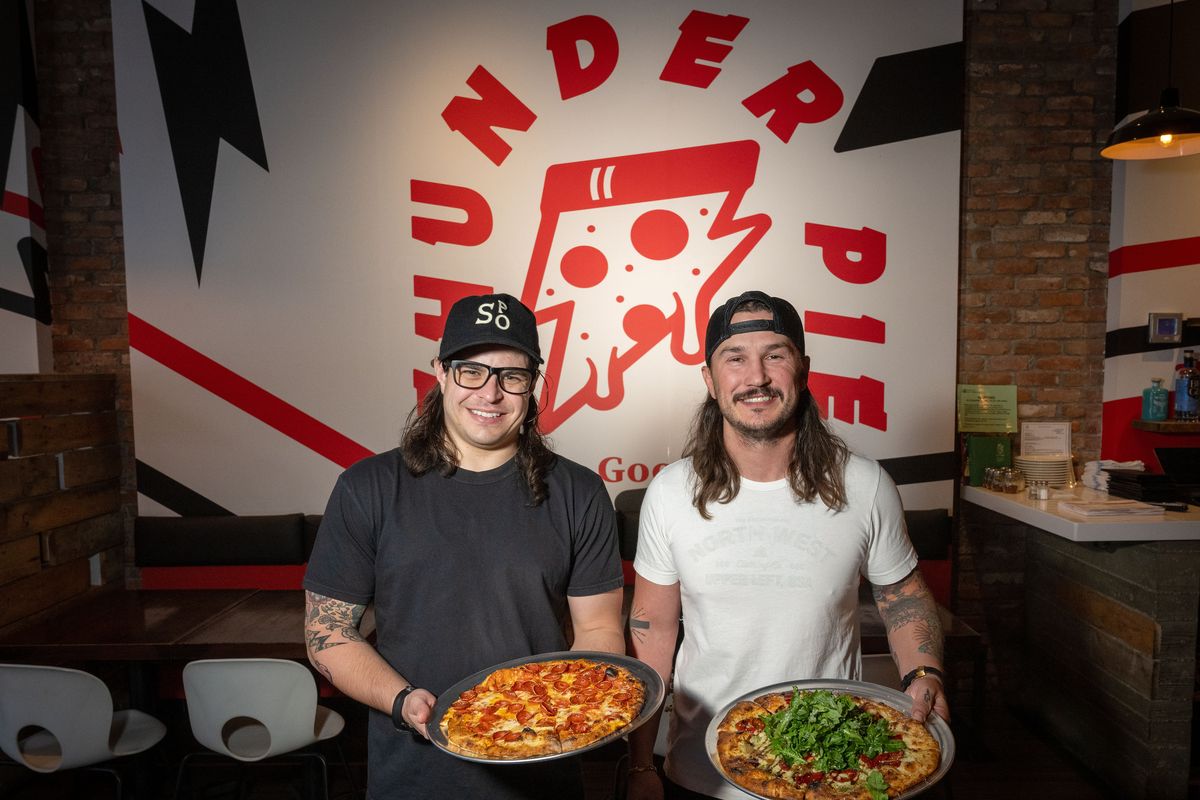 A joke about opening up a wood-fire pizzeria is about to become reality as three business owners officially open Thunder Pie Pizza on Saturday at 818 W. Sprague Ave.
The restaurant, which is taking over the space that once hosted Fire Artisan Pizza and Slightly Charred Wood Fired Pizza, will offer a full bar, craft cocktails and 14 beers on tap.
"All of our personalities are in the brand," co-owner Joel Barbour said.
Thunder Pie is owned by three friends who contribute with their varying experience in the ownership of other businesses.
They include Barbour, owner of The Great PNW, a local clothing company; Ben Poffenroth, owner of Durkins Liquor Bar downtown; and Ramsey Pruchnic, owner of Hello Sugar and Uno Mas taco shop.
Barbour said he handles marketing and branding. Pruchnic takes care of business finances and logistics, and Poffenroth handles operations.
Barbour once frequented a pizzeria that was previously at the location and he is confident the new location will succeed.
"We knew we could turn it into something really great," said Barbour, who designed the interior.
"The bones were there. We really just gave it a facelift."
The new edition of the pizza space has a new chef, and new staff, menu and interior.
Barbour described the atmosphere as edgy and modern.
"Maybe our atmosphere is more for people who used to skate but now they're business professionals," Pruchnic said. "Skateboarding kind of reminds me of a more grungy, dive bar kind of feel."
The three have long thought it would be fun to open a pizzeria because it offers more leniency to be imaginative with the menu and space. Then they looked online.
"We went from joking to owning a restaurant a week later," Pruchnic said.
That was three months ago.
"I mean, this isn't our first rodeo. (Poffenroth) and I have opened multiple restaurants on our own, so we knew what we were doing," Pruchnic said. "My restaurants are more fast-casual and his are sit-down, and this is kind of in the middle. So, it's been pretty straightforward."
Although the grand opening is Saturday, Pruchnic said the pizzeria has been quietly opened for some time.
"We've been slinging pies for three weeks already," Pruchnic said.
"Our staff are all veterans of the industry, so there haven't been many kinks. We've just been having fun putting this thing together."
The food menu was meticulously designed by the cohorts with help from friends and others in the restaurant industry.
All sauces, meatballs and sausage are made in house, which they believe gives their pizzas a fresh, signature flavor.
"We spent six weeks tasting our sauces and collaborating with friends to make sure the menu is perfect," he said.
Behind the bar, customers can enjoy a full bar with a mixed-drink menu that will be changed seasonally.
Much of the cocktail menu and bar area was designed by Poffenroth, who was unavailable on Thursday.
Speaking on Poffenroth's behalf, Barbour said he is proud of the work.
"No one has a cocktail menu like we have now," he said.
Once the doors open, Pruchnic said the owners are looking for what's next.
"We just want to expand – expand hours, expand staff and expand the menu," he said. "But until then, we will just be making … good pizza."
---