Cheney, Central Valley, University High, Mead help round out regional marching band talent Josh Wiswell is bringing the golden touch this year to the Cheney High School marching band.
The 86-member marching band's show this year is called "Midas."
"If anything, we're just trying to ride the success of last year's show," said Wiswell, the band director.
That show, "As Above, So Below," won the marching Blackhawks first place at their last competition in the Puget Sound Festival of Bands in Everett.
This year, "I found," by Amber Run; "Brief Eternity," by Bobby McFerrin; "I See the Light," from the movie "Tangled;" "Dance" by Oliver Davis; and "Sun," by Thomas Bergersen, are the musical selections for the five-part production.
The group's success is based on its work ethic and trust in one another, Wiswell said.
This year, the group is learning to work hard for the right reasons.
"Not necessarily to win, but to have a positive experience," Wiswell said. "Winning was a side effect."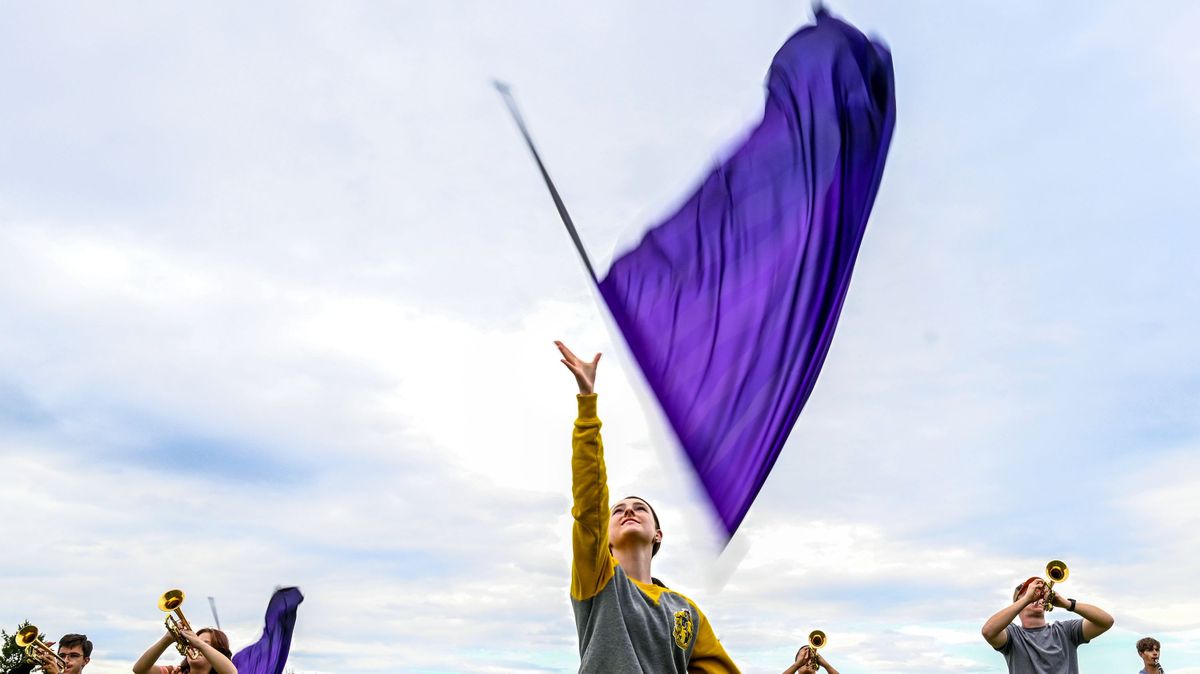 Cheney isn't the only Spokane-area school working to keep teams spirited and crowds entertained.
The Mead High School marching band has a show called "Outside the Box."
"It's about thinking and aspiring. The theme is not overly complicated," band director Rob Lewis said.
Mead and Mt. Spokane high schools work together to host a marching band competition at Union Stadium called the Pacific Northwest Marching Band Championships.
This year, the event will be on Oct. 14. Mead will perform in that competition, as well as the Washington State University Marching Band Championships, the Harvest Marching Band Festival in Yakima and the Cavalcade of Bands in Kennewick.
All three high schools in the Central Valley School District also host marching band programs.
University High School's marching band has tripled in size over the last three years, band director Garrett Newbill said.
It started out with around 20 students in 2021 and has about 60 performers this year.
Featuring music from Singin' in the Rain; "Summer," by Antonio Vivaldi; and the song "Tomorrow," from "Annie," University Marching Arts is presenting a show entitled "When it Rains."
The Central Valley High School marching band show this year is about taking a moment to self-reflect, said Kat Barrett, director of bands a the school.
Their fall production is "Shatter Me." It has music from Tchaikovsky's Swan Lake and the songs "Man in the Mirror," by Michael Jackson, and "Shatter Me," by Lindsey Sterling.
Central Valley, Ridgeline, Cheney, University, Mt. Spokane and Mead's marching bands are all sponsored by Spokane-area Wendy's restaurants this year.
"It's not about driving sales, it's just really what we can do to help," said Tannor Glumbik, an executive assistant for Wenspok companies, which franchises Wendy's in the Pacific Northwest. "Especially being local, because our office is out of Spokane."
Wendy's is hosting fundraiser nights when 25% of the profits go to the band booster programs, as well as donating money and merchandise to the programs.
Glumbik got the idea for sponsoring marching bands because of his positive experience as a percussionist at Mt. Spokane.
"I have nothing but awe and memories to look back upon," Glumbik said.
---