Jonah Keller leads Gonzaga Prep offense in 31-7 win over Mead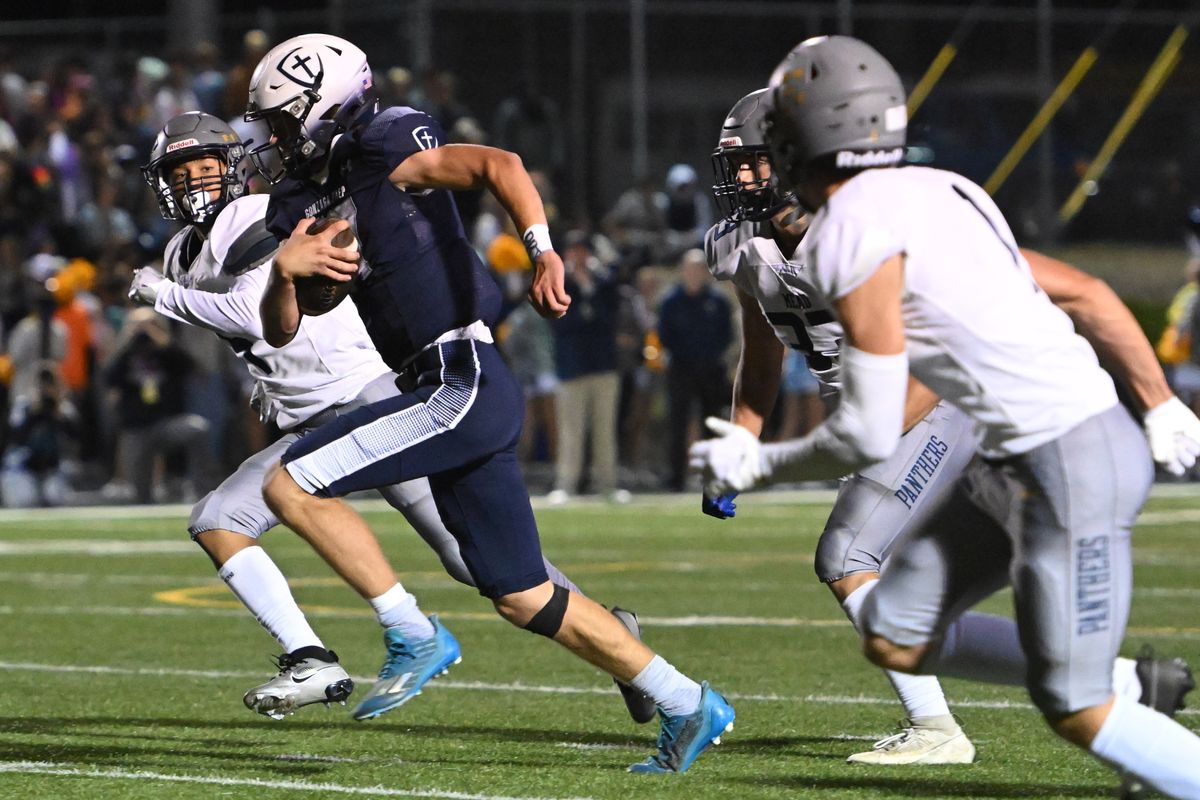 Gonzaga Prep entered play on Friday with 607 rushing yards in two league contests, outscoring Cheney and Ferris 87-6 in those games. The Bullpups figured to get a tough challenge from Mead, which had been competitive in all three of its games this season.
It didn't quite turn out that way.
Jonah Keller scored two touchdowns – one by land and one by air – and rushed for 104 yards and the Bullpups' defense smothered the visiting Panthers en route to a 31-7 decision in a Greater Spokane League 4A/3A game.
"We got a win," Gonzaga Prep coach Dave McKenna said. "At the end of the day, we're pretty green and making some mistakes. But to overcome those mistakes, that's gonna pay some dividends. We have a lot of room for improvement."
"I'm proud of the way our defense played and then our offense played really well in the first half," senior Ryan Jackson said. "They gave us a boost and we just carried that momentum in the second half. I'm just proud of the team effort."
The Bullpups (3-1, 3-0 GSL) gained 239 yards on 46 carries. Mead didn't record a first down until 1 minute, 37 seconds left in the first half when it trailed 17-0. The G-Prep formula doesn't change much from year to year.
"We are so blessed to have the coaches we have, I'll be honest," McKenna said. "They work extremely hard, and they love our kids hard, and our kids responded. And so tip your hat to our kids, but our coaches have them prepared."
Mead (1-3, 1-2) played without starting quarterback JJ Leman, who was injured early in last week's 20-17 double-overtime loss to Ridgeline. Backup Landon Thomas completed 12 of 24 passes for 119 yards with two interceptions and one touchdown. Running back Keegan Mallon carried 12 times for 92 yards, most of which came in the second half.
"We need to play better than we did," Mead coach Keith Stamps said.
"Everybody has challenges at this point in the season, and we put a plan together this week that we thought would be good enough to come out here and compete, and they jumped on us early and we never recovered."
G-Prep took its opening drive to the Mead 38, where Bodie Stafford hit a wide-open Keller down the left sideline for a touchdown and 7-0 lead not 3 minutes in.
Mead went backward on its first drive, and a short punt gave the Bullpups the ball at the Mead 34. Six plays later, Nate Moinette scored from 2 yards out and it was 14-0.
The Bullpups started their next drive at their 45 and stalled out at the Mead 14, where Matthew Herzog kicked a 31-yard field goal for a 17-0 lead with just more than 6 minutes left in the half.
Mead picked up its initial first down late in the half, but Thomas' long pass was picked off by Jacobe McClelland at the G-Prep 21 with 52 seconds left. The Bullpups took a 17-point lead into halftime.
On Mead's first possession of the second half, Mallon gathered a swing pass for a short gain, but G-Prep's Will Jackson forced a fumble and Jackson scooped it up and went 35 yards for a touchdown to make it 24-0.
"Will made a great play, stripped it, and I saw the ball on the ground," Jackson said. "I just scooped and went to the end zone."
"Ryan Jackson is one of our leaders on defense, and he is who he is and the kids respond to him," McKenna said. "He's a special kid. He's a wonderful young man, and we're lucky to coach him."
The Panthers put together their best drive, with Mallon ripping off gains of 14, 12 and 13 yards. The drive stalled at the G-Prep 10, however, and Gabriel Muller's 27-yard field-goal attempt was wide.
Both teams scored touchdowns in the fourth quarter, with Keller scoring on a 15-yard run and Thomas hitting a streaking Braden Powers down the middle of the field for a 59-yard touchdown pass.
"Our heart's never gonna be a question with these kids," Stamps said of the late score. "They play really, really hard. They're high-character kids that play hard. We need to play better. We need to coach better. And we needed to do a better job."
---