Spokane Chiefs organization starts 2023-24 season looking forward, continuing youth movement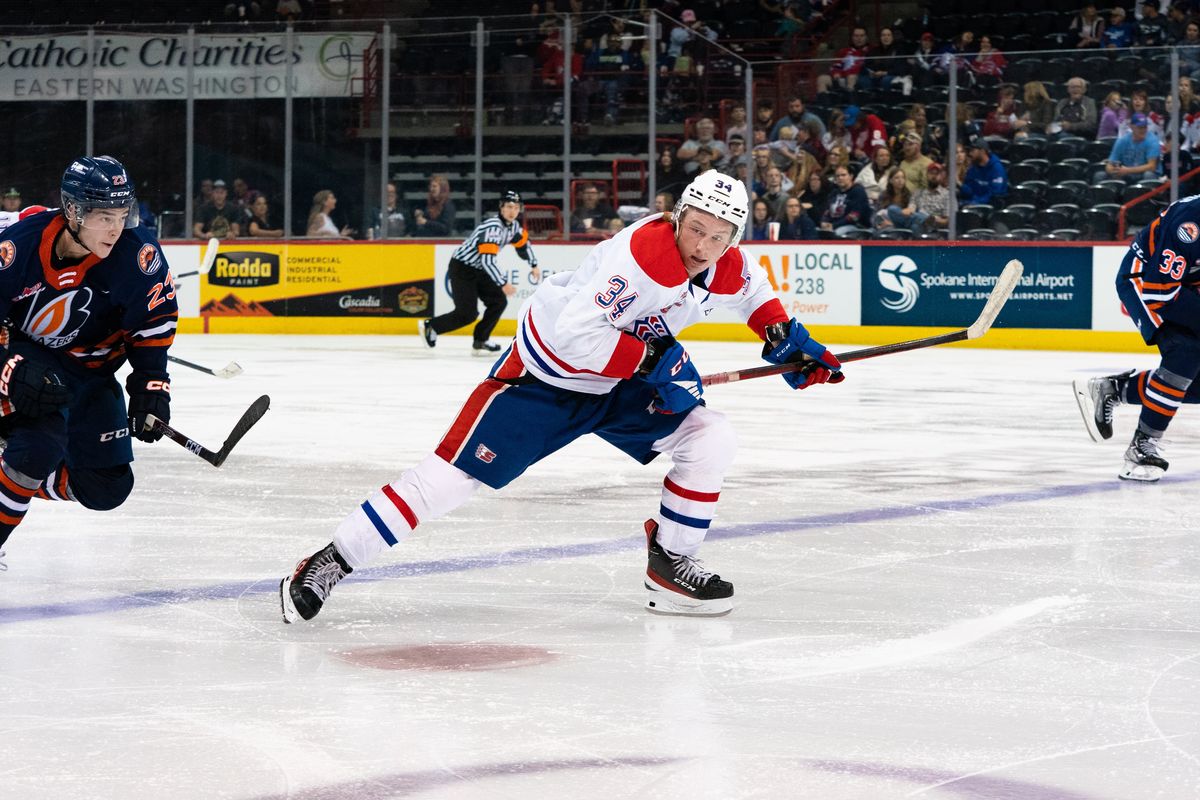 Everyone associated with the Spokane Chiefs acknowledges that last year's finish – 15 wins and last place in the Western Conference – isn't where the organization wants to be. To a person, the goal is to get back to winning championships and developing professional hockey players.
The Chiefs have been quite good at the latter in recent years. They get to work on the former Friday.
The 2023-24 Western Hockey League gets underway with a full slate of games. The Chiefs start the season on the road, with games in Kamloops on Friday and Everett on Sunday before returning for the home opener Sept. 30 against Tri-City.
After a successful preseason, which saw the club go 3-2-1-0 , coach Ryan Smith and his players are anxious to get going for real.
"When you miss the playoffs, you have a lot of time to think in the in the offseason," Smith said after practice on Wednesday. "I think that (the players) are excited for this weekend for the opening of the regular season. And then for the new guys, I'm sure for their first taste of regular season games. It's an exciting time and I feel that energy in the locker room."
"I know all the guys in the room are so excited," returning center Berkly Catton said. "It's been such a long wait from last year now through summer. We just can't wait to get out there and play."
Each new season brings a fresh chance to be competitive.
"I think that every year you start with big expectations," Smith said. "I mean, we want to win a championship, and I don't think you can ever start without that in the back of your mind. We want to see growth in our team."
Learning to play in, and win, the close games are paramount to this season's success.
"We saw that a little bit in the second half of last year – a bunch of games down the stretch where we were winning by one or losing by one," Smith said. "Meaning we were in the game, and we were playing pretty good hockey. The results didn't quite always go our way, but I think that's the one thing we need – to learn to win those close games and be OK winning those close games. So that takes a little bit of practice and some opportunity early in the season."
Smith was encouraged by the preseason success and hopes it'll translate when the games count.
"We managed to have a few really good moments in (preseason) and for us, it was evaluation. It was putting some of our structure into place and seeing if it worked, or what we needed to build on. So, there's a little bit of both of evaluation of individuals and evaluation of your team. For us as a coaching staff, we got quite a bit out of it."
Smith will lean on his top line of Catton and wingers Chase Bertholet and Conner Roulette this season to provide scoring.
The trio showed good chemistry during the exhibition season.
"They're obviously great hockey players, but even better guys," Catton said of his linemates. "We get along so well off and on the ice. Lots of talk and lots of communicating, I think that'd be our biggest thing. We just communicate so well."
"The three of them … find the game the same way. They look at it the same way," Smith said. "They want the puck. They want to make plays with the puck. And when they don't have it, they're really good about supporting the puck and getting to the holes. I think you've got a little bit everything on that line."
Catton will attract attention – on and off the ice – all season long. He scored 23 goals with 32 assists in 63 games last season, then led Team Canada to a gold medal at the 2023 Hlinka Gretzky Cup in August in Breclav, Czechia. He led all tournament scorers with eight goals, one shy of the tournament record, and had 11 total points over five games played.
The 17-year-old is considered one of the top prospects in next year's NHL draft and could be a top-five pick.
"I'd be lying if I said it didn't look at it, but I try not to focus on it too much," Catton said of his lofty draft status. "I think once you're out on the ice, it's just hockey – the same game you've been playing since you're 5 years old.
"My goal is just to go out there and every time I have the puck, make plays."
Smith is also interested to watch 17-year-old Czech forward Lukáš Král.
"Lucas thinks and sees the game quite well," Smith said, noting the difficult transition for a young player moving to a new country and continent.
"I think he was a little bit wide-eyed when he got to camp, a little bit wide-eyed in preseason. But when he settles in, he's going to be perfectly fine. I mean, he's got some skill. He got some good hands.
"We've got a lot of young guys, so we've got to be careful that we don't put too much pressure on him,"
But success isn't always dependent upon offense. Smith highlighted a couple of players on the back end that might be poised to take a more prominent role.
"Nathan Mayes and Owen Schoettler saw a little bit of action with us last year as affiliate players. They seem to have really come into their own," Smith said. "It's a young pairing at 16 and 17 (years old). But they were able to hold their own out there in preseason. I think you're gonna see some solid play from those two."
Two returning players slated to play prominent roles who won't be with the club early on are forward Ty Cheveldayoff and defenseman Saige Weinstein, who have both been named to their respective NHL teams' main training camp rosters after strong performances at the rookie tournament in Las Vegas last week.
Cheveldayoff, 20, is attending the Vegas Golden Knights' camp. Weinstein, 18, will be at the Colorado Avalanche's camp. Neither is expected to be available for this weekend's season-opening games.
"They both represented us well at the rookie camps and have made it into main camp this week. So now you're talking about earning a contract with an NHL team and I think that's everybody's dream," Smith said. "It's huge for our organization, and both those guys work extremely hard and have earned this opportunity."
"We've kind of said in the room, 'We don't want them to come back. We want them to go play pro.' " Catton said. "I mean, obviously having them back would benefit our team a lot. But at the end of the day, we want to keep moving forward and they've been doing an awesome job."
---