The 'Ridgeline Regiment' promises to impress with new 'Rocky'-inspired marching band and color guard show Parents gathered on the fields of Ridgeline High School's football field on a Friday night in August to see their kids play the opener to their new marching band show.
It's about fighting, inspired by Bill Conti's scoring in the American classic "Rocky." The show comes as the third program done by the Ridgeline Regiment since the school opened in September 2021.
Eric Parker, the director at Ridgeline, was inspired by the classic American boxing film to make a show for his students as they come out of COVID. The show, titled "More to Me," runs a hefty near-800 measures, with 60 different sets of choreography that each student on the field must learn.
The production, Parker said, isn't inspired by any martial aspect of being a boxer, but rather in being willing to fight for yourself every day. It's a theme relatable to most everyone, Parker said, adding that his students have poured their own hardships and struggles into the music of their 2023 season show, adding a personal passion from the performers on the field as they march their show.
It's also a show that wholeheartedly embraces the over-the-top nature of modern-day Marching Band productions, put together for competitions all over the Pacific Northwest.
The Ridgeline Regiment's color guard, the band's visual-only performers, perform bicep curls with their props at the head of the field and push the band's soloists into fighting rings as they play to their parents. The show starts well before any note sounds on the field, with Bruce Buffer, the official announcer of the United Fighting Championships, lending his voice to introduce the Ridgeline band.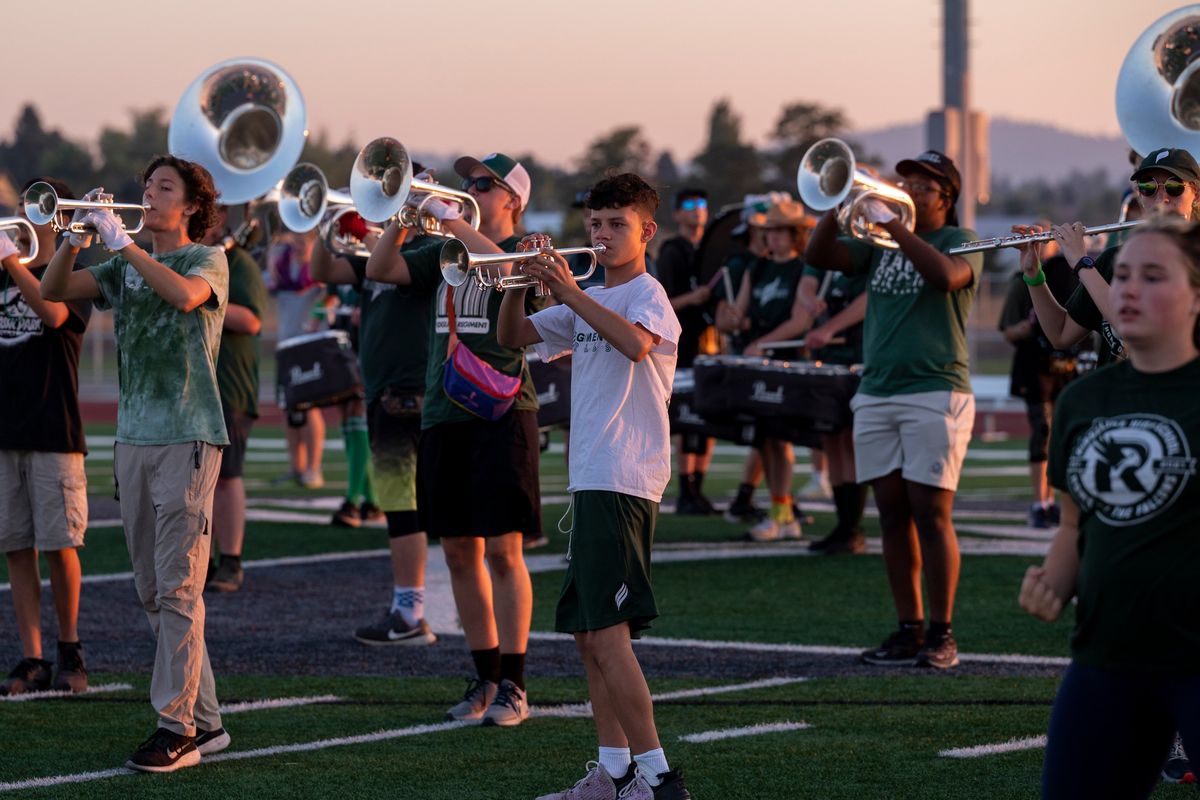 Ridgeline has already created a reputation for itself – the school's marching band was named the best in the Pacific Northwest last year.
But "More to Me" comes just two years after Ridgeline was struggling to even get instruments, borrowing them from the Columbia Drum & Bugle Corp out of the Tri-Cities.
Today Ridgeline's marching band is designed under a hefty budget, one that has empowered its students. It features two electrontic mallet stations within their front ensemble. Parker said the electronic mallet stations, alongside their impact drums, are designed to include everyone within the show and allow new players to practice while working on easier parts. Including everyone in the show has been important to Parker, who's said he's made sure everyone gets their own spotlight within the marching program.
Work on the 2023 program began in August, with a 1 p.m. to 8 p.m. Monday through Friday schedule. The Ridgeline Regiment is expected to present its first show for competition at the Cavalcade of Bands competition in the Tri-Cities Oct. 7.
---