Things to watch: Turnovers, line of scrimmage will determine winner between EWU-UC Davis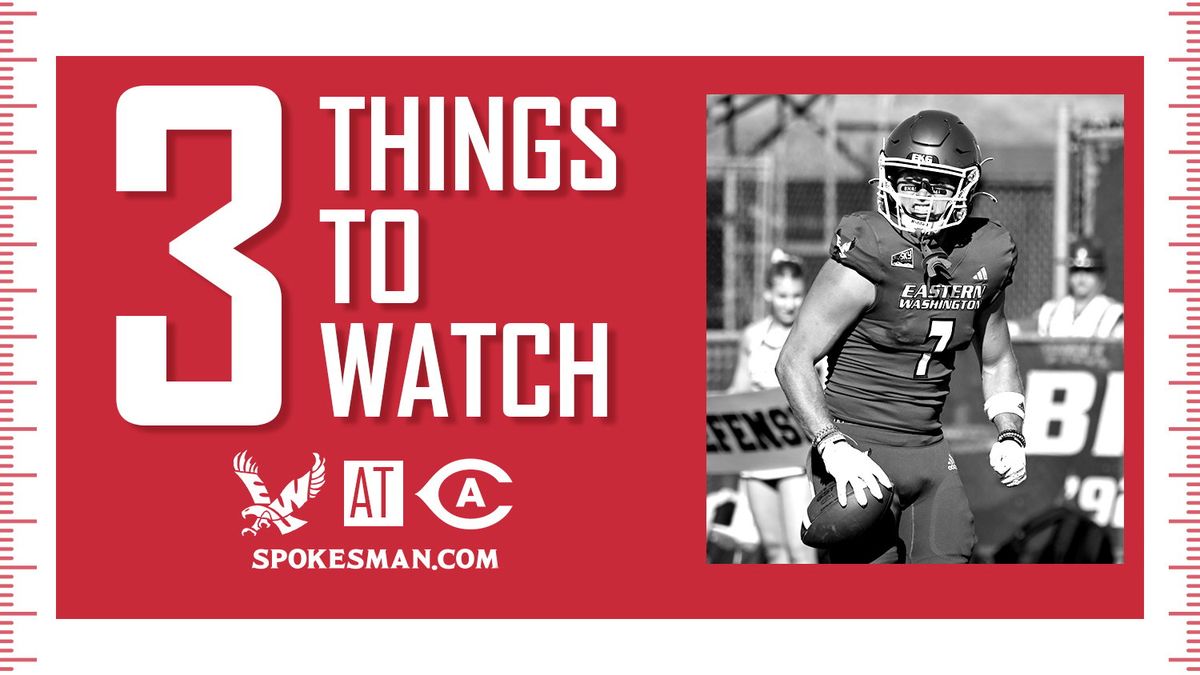 With nonconference play behind them, the Eastern Washington Eagles are headed to California this weekend to open Big Sky Conference play against No. 15 UC Davis.
The Aggies (2-1) have never beaten the Eagles (1-2) in the 10-game series' history, and the Eagles would like to keep it that way for another year.
In last week's 40-29 victory over Southeastern Louisiana, EWU's offense finally showed its firepower, and through three games the Eagles rank second in the Big Sky in passing (284.3 yards per game).
Their performance against Southeastern Louisiana boosted their overall offensive output to 411.7 yards per game, about 25 yards per game better than their final average in 2022.
"We weren't a juggernaut last year on offense, either," EWU coach Aaron Best said on Tuesday. "We were sub-400 yards per game, and that's not what we're used to."
Best said that the team has found its footing on both sides of the ball – but he also cautioned that three games is a small sample size.
Now Eastern will play its next eight games against opponents it knows far better than its previous three as the Eagles aim to build a playoff-worthy resume.
Here are three things to keep an eye on Saturday night when the Eagles play the Aggies:
Who wins the turnover battle? The Eagles have four turnovers through three games, something they have overcome, aside from a costly overtime interception against Fresno State. But they've generated just two, which Best said isn't enough. "For three weeks we haven't been on the plus side of (turnovers)," he said. "We've more than been in all three ball games for a long period of time. That tells you we're on the cusp of being a pretty good team, being able to hold our own without (winning) the turnover margin." The Aggies have been a bit more turnover prone, throwing four interceptions and losing two fumbles this season. Eastern's last road win came at Cal Poly last season, and turnovers were significant: The Eagles committed three, but the Mustangs gave the ball back five times.
Can the Eagles control the line of scrimmage? Best talked about the importance of playing well on first down, specifically along the line of scrimmage. Eastern will be without junior starting defensive tackle Matthew Brown, who didn't play last week and is no longer on the depth chart. The Eagles like to rotate players at that position and will need to be effective in holding the line without Brown, one of their leaders. Teams have run on the Eagles: They are averaging 207 rushing yards allowed this year. But that's 82 fewer per game than last season. Through four games, EWU's passing defense ranks fourth in the Big Sky (183.3 yards allowed per game). Davis' offense hasn't been dominant this year, but it has three top playmakers in running back Lan Larison, quarterback Miles Hastings and wide receiver Trent Tompkins. Keeping those star players in check will be made easier if the Aggies can't push around the Eagles up front.
Can the Eagles win special teams? The Eagles have returned five punts this year and will face a UC Davis team that has the second-lowest net punting average in the Big Sky (33.5), suggesting the Eagles will get some opportunities to run back a few more. Junior Michael Wortham was given the chance to return punts last week, which is one more way EWU can get him involved. This could be the week he – or junior Efton Chism III – finally breaks one. Coverage was an issue for the Eagles on the opening kickoff last week, which the Lions returned into Eagles territory. Eastern's touchback rate (6 out of 15) is below the median in the Big Sky. Winning special teams usually means winning field position, and on the road it would be particularly crucial – and rewarding – for Eastern to set up its offense with short fields and to make the Aggies' offense go a little bit farther.
---