Nine Mile Falls School Board incumbent who points to experience and collaboration faces challenger calling for transparency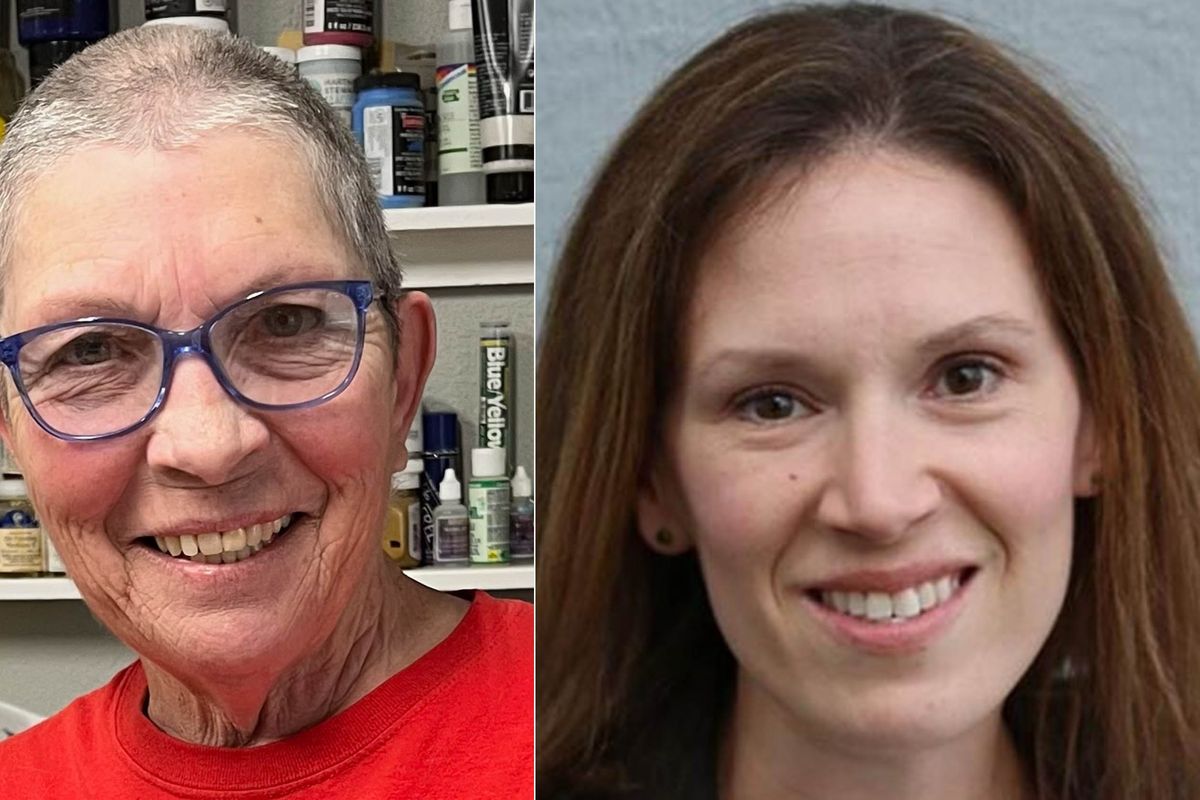 The candidates vying for Position 3 on the Nine Mile Falls School Board agree there are pressing issues facing the district, but disagree starkly on what those issues are.
Incumbent Kirsten Foose, a mother of four children who was appointed to the position in March 2022, is facing a challenge from Winnie Schlittenhart, a great -grandmother who believes state and federal governments should be less involved with public education.
Foose, the vice president of quality and risk management at CHAS Health, said her fiduciary and administrative experience has benefited her greatly over the last year and a half. She said she views the board position as a chance to give back to her community and the district where her four children attend school. She said evening board meetings were the perfect opportunity for her to get involved as a mother who works full time.
"I'm kind of hardwired that way," Foose said. "I have to be doing something that benefits the folks around me in my community. I thought about what skills I have to offer and where they would fit in well, and the school board seemed like a great place."
Foose, 45, said she plans to continue working with parents, community members and other board members toward meeting the budgetary needs of the district, as well as the educational and social needs of each student. She identified upkeep of district facilities, bolstering educational opportunities outside of the classroom and supporting students struggling to return to school after the pandemic as some of her top priorities for the district.
Schlittenhart, 70, is also a second-time candidate for the Nine Mile Falls Board. She said she decided to run a write-in campaign for a seat on the board in the August 2021 general election, and again this year, after becoming concerned over what she sees as a lack of parental control over public schools.
Prior to moving to Nine Mile Falls in 2018, Schlittenhart served as a Republican precinct committeeman in Auburn, Washington, where she raised her two daughters. Schlittenhart, now retired, said she and her husband owned a construction company and fell in love with the Spokane region after being contracted for a five-month long project in the area.
Schlittenhart said she is running for the position on behalf of parents in the district who may not be able to, and to pass on the wisdom she's gathered in her lifetime to younger generations. She believes her experience – helping run the construction company; as a parent, grandparent and great-grandparent; and as an owner of her own hair salon in her home in Auburn – ha s prepared her to take on the responsibilities of a school board member.
Schlittenhart said she intends to be transparent and take input from the community if elected, which are traits she said are lacking in current board members. She has grown increasingly concerned over governmental influence on education in recent years, which she said sprouted from COVID-era restrictions.
"It's called fascism," Schlittenhart said.
Foose was appointed to the school board by a unanimous vote of the board last year to fill the vacancy left by longtime board member Bill McBride after some controversy over the initial application period for the position. She unsuccessfully ran for a seat on the board in 2019, taking third in the August primary by just nine votes.
The district began quietly accepting applications for the position after Superintendent Jeff Baerwall received a resignation letter from McBride on Feb. 2, 2022, as he told The Spokesman-Review. The application process had closed, without much public notice, by the time McBride publicly announced his retirement at a Feb. 22 board meeting. After receiving complaints from several community members, the board extended the deadline, and three candidates, including Foose, applied.
Foose said while the district has rebounded academically, some students are still struggling socially, which is an issue she's heard firsthand from high school students who have served as student representatives on the district's board. She noted that many current high school students did not attend middle school in person and missed out on some social development.
"It is such an important time socially: to learn how to be in big groups, be responsible for how you order your academics and make friends and kind of just move about those social relationships," Foose said. "I'm pleased to see the structures that we put in place to quickly identify where there might be individual students who are needing additional support and then, of course, offering strategies and direct support to those kiddos."
Meeting the educational needs of each individual student also means tailoring courses and extracurriculars, and attracting top talent to the district to teach those courses, Foose said. She would like expanded options to support students in their interests outside of the classroom like skilled trades, technology or the arts, as well as expanded offerings for students looking to get a leg up on their studies.
Foose said she is prepared to face the challenges that may arise as the district grows in the coming years, which includes ensuring facilities are properly maintained and operable.
Several facilities bond measures have failed at the ballot box in previous years, but Foose said it's likely the district will need to pass one to address issues with the buildings or develop new facilities. Foose said she supports the bond as she believes proper facilities are another vital part of meeting the needs of students in the district.
"I believe so much in providing the best-quality education in our community," Foose said. "It's an open door to all future opportunities for those kids and we want every child to reach their highest potential. That ability to tailor choices and opportunities to each kid is really important to me and so I thought I could be a good voice for academic quality."
When asked if she would support a facilities bond measure, Schlittenhart said she was not familiar enough with the financial aspects of the district. She said she would have to wait and see what needed done, and where the district's budget stood, after being elected.
Schlittenhart said the board was unreceptive when she and some parents of students in the district came to the board with concerns about following guidelines from the Center for Disease Control and Prevention or about restrictions like mask mandates.
"The board does not respond to the people at all," Schlittenhart said. "They have ceded their authority to nongovernmental agencies, or positions that the people don't vote for. It didn't matter what information you gave, they would not do anything."
Foose was not a member of the school board during the COVID-19 pandemic and said she was not in a position to discuss how decisions around restrictions and conversations with the community went during that time.
Schlittenhart's concerns also extend into the curriculum at the schools, where she believes students are being taught to feel bad about their race if they are white, view each other as stereotypes and question their gender and sexuality. She could not provide evidence of that occurring in the Nine Mile Falls School District, but said she has "heard stories, personally, from parents of kids in the schools."
Foose said she has not seen any evidence that critical race theory is being used in the Nine Mile Falls School District in her capacity as a board member, nor has she seen any evidence of it as a parent who reviews the course materials for her four children who attend schools in the district.
"I am not concerned about our approach to the current, unfortunate political climate," Foose said. "I think that we take very seriously meeting the individual academic potential of each kiddo, and that's our driving force. So, I have not ever seen anything that would make me pause there."
Schlittenhart also claimed, falsely, that the Legislature has gone so far that schools can now allow students to access gender-affirming care without parental consent, referencing a measure Gov. Jay Inslee signed into law in May aimed at protecting transgender minors from their estranged parents.
The measure allows licensed shelters and host homes to notify the state's child services department in lieu of a parent in cases where a minor has reported parental neglect or abuse and left home in order to pursue gender-affirming care. The bill is aimed at getting vulnerable youth off the streets, and does not dictate if care can be provided. It also does not apply to schools like those in the Nine Mile Falls School District.
"I see in our future, we will remove all federal control over school and bring it back to the community level, because that's where it should be," Schlittenhart said. "A parent should be able to dictate what it is as far as the kind of curriculum you use, the kind of information you give their kids. I am a God -fearing Christian; I do not believe that God would create a human being the wrong sex."
As for concerns about how the schools are approaching conversations around gender or sexuality, Foose said the district does not teach students to think a certain way. She noted that the district is constitutionally obligated to provide equal access to schooling and said the district takes students as they are.
"Again, the public schools' mission is to make sure that kids are able to come to school, will be engaged, do their best, and get the kind of education that supports a great future, for themselves, for their communities, for their future families if they so choose," Foose said. "We guide and support each individual student, regardless of anything."
The students' mental health is being negatively affected by what she believes they are taught in the schools, Schlittenhart said, citing the decadeslong rise in suicide rates among teens and young adults in the U.S. She does not believe additional resources need to be directed toward services to support those students, and that changing the curriculum should address those issues.
"I think that the kids have been socially and emotionally affected," Schlittenhart said. "And what I think needs to happen is that we need to return to the education, and allow the kids time to heal from what has been done to them through the curriculum and the mentalities that they've chosen to put forward instead of education."
As for the impending growth of the district, Schlittenhart said she believes growth is a good thing, and is prepared to serve those new families, with their input.
"I want to connect with parents," Schlittenhart said. "I want them to know I don't have to know your kids to love your kids, they're a part of our community. If you look around Nine Mile Falls, there are quite a number of kids that are not equipped for life, that don't have the skills. That's not right, no one should be left behind. This should be so much like a military, we don't want to leave our kids behind."
Foose encouraged parents and community members who would like to get more involved or share concerns about the schools, including the curriculum, to contact their representatives on the board. She said parents can join regular engagement meetings held with board members and the superintendent, a schedule of which can be found on the district's website. Parents can request course materials and lesson plans if they want to learn more about the curriculum being taught in Nine Mile Falls, Foose said.
"It's not secret," Foose said. "And we do really try our best, because we're elected officials, to represent the people that have elected us. We tend to be a conservative community, and I think our values are reflected in our decision-making."
Editor's note: The article was changed on Oct. 6, 2023 to correct Foose's age.
---