Standout male ballet dancer from Deer Park enters intensive training for professional career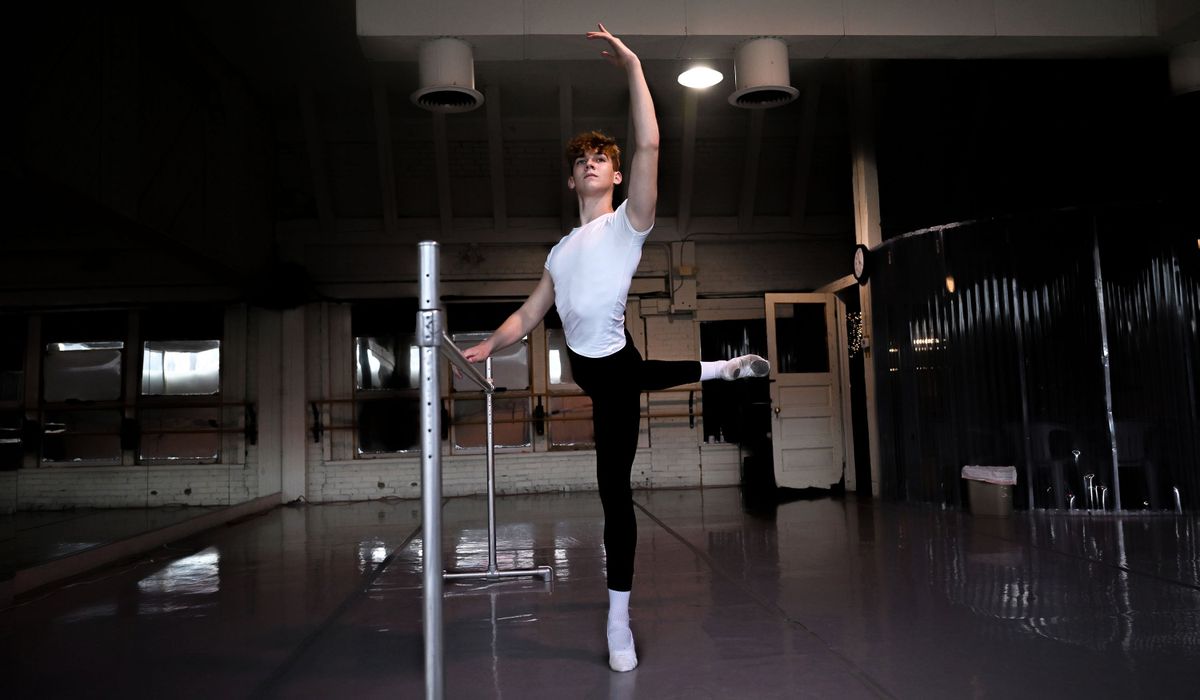 An older sister dragged Eli Waunch to his first ballet class at age 9.
His two brothers also were talked into going to the session, so that the girls in a Deer Park program could dance with male partners.
"I was not for ballet at first; I was kind of doing it to please my sister," said Waunch, a home-schooled high school junior. "When I was younger, I thought ballet was for girls, and I didn't want to wear tights. My sister still convinced me."
Soon, Waunch followed his sister to classes at Spokane's Ballet Arts Academy. The other brothers bowed out.
Waunch, now 16, has turned to ballet with intensity, practicing an average 11 hours a week with more intensive training. He'll take a bigger leap in 2024 to study at a year-round ballet school, while finishing up his high school senior year online. He hopes to be a professional dancer.
Waunch has three top dance schools on his dream list. Two require an upcoming audition process: the Royal Ballet School in London and the Houston Ballet Academy. He's already accepted at the Rock School for Dance Education in Philadelphia, if he chooses that.
Seven years ago, he was a reluctant dancer. The brothers were allowed to wear black soccer shorts and white T-shirts.
That first ballet class was at Deer Park Home Link, a parent-partnership site for home-schoolers aligned with the public school district. Home Link students do a majority of studies at home but come to the site for certain classes such as pottery, math or dance. For a ballet class recital there, he and his brothers did a dance portraying monkeys.
"We watched him in the recital and said, 'He can actually point his toes, we should look into this,' " said his mother, Christy Waunch.
When starting at the Spokane studio, Waunch still wasn't sure he'd stay. But he soon began standing out – other than by being often the only boy on the dance floor. Instructors saw a raw talent in him by age 10, said studio owner Mimi Ewers, his main teacher since 2017.
"There are certain characteristics of body and personality that are perceived immediately," Ewers said. "We have a clinic eye, and we can see it even though it's just raw talent. But when you see certain things that you know are already there, it's just a matter of time and training."
Another turning point for Waunch came when the Spokane studio offered a class led by a male teacher, and other boys signed up. Waunch thinks he was around 11. That instructor has since moved away, but he planted a seed. Before the boys' classes, he showed them videos of male professional ballet dancers in performances.
"That's what inspired me to stay with it," Waunch said. "That hooked me. I really didn't know because I wasn't watching ballets then, so I didn't know what it looked like to be a professional dancer."
He also liked that ballet was something he was good at and could do as his own pursuit, without competing against his brothers or friends.
At age 13, he received a full scholarship to attend the Pittsburgh Ballet Theater's five-week summer intensive training, but then the COVID pandemic shut that opportunity down, he said.
He then got another chance to do a summer intensive ballet school at 14, which sharpened his focus.
"I went to Next Generation Ballet in Tampa, Florida. I was on full scholarship, tuition, room and board. During that time I was able to dance with other boys and have boy dance classes and male teachers, and that's when I really got serious. Coming back from that was when I was really invested in ballet."
His most recent two summers in intensive ballet were at the Rock School for Dance Education, which is why he has a year-round training option waiting for him there.
"He has an open slot; they love him," Christy Waunch said.
She said that first year of sending him to Florida was tough, but he traveled on the airplane with a friend of hers. She knew it was coming.
"When Eli took his first class here, Mimi said, 'You're going to need to be willing to send him away at the age of 14,' and I said, 'No way.' She saw the potential in him at the beginning.
"He's been pretty much the only boy here at Ballet Arts. There was one other boy who was his peer for a while, and then there was a season that we had four. One graduated out and one left. Then, his buddy that was with him for several years stopped last year and he's doing football.
"The boys, as soon as class is over, they challenge each other, 'I'll do a leap, then you do a leap.' "
Her son agreed that the friendly competitiveness among male dancers helps fuel him.
Waunch mostly does the driving now for classes and training, and he helps pay for gasoline and ballet equipment by doing work in computer coding from home – in addition to his studies. He sometimes drives into Spokane with his mom, who is a studio manager.
The family moved to Deer Park in 2005 when she and her husband Jeromy Waunch, a pastor, started a church. Their eldest is Abigail. The other brothers are Jeremiah and Isaac. His sister continued ballet through her junior high school year and is no longer dancing.
Today, Eli Waunch also is taking Running Start classes at Spokane Falls Community College around ballet sessions, while traveling every other weekend with his mom to Edmonds, Washington, for more intensive ballet lessons.
Those Olympic Ballet School sessions started a few weeks ago, so he can have a regular male instructor and widen his training. He's started a GoFundMe to cover some of those traveling expenses.
"It's a dream," he said. "I want to be a professional dancer."
---