'We belong': No. 21 Washington State shows worth to Power 5, TV networks in win over No. 14 Oregon State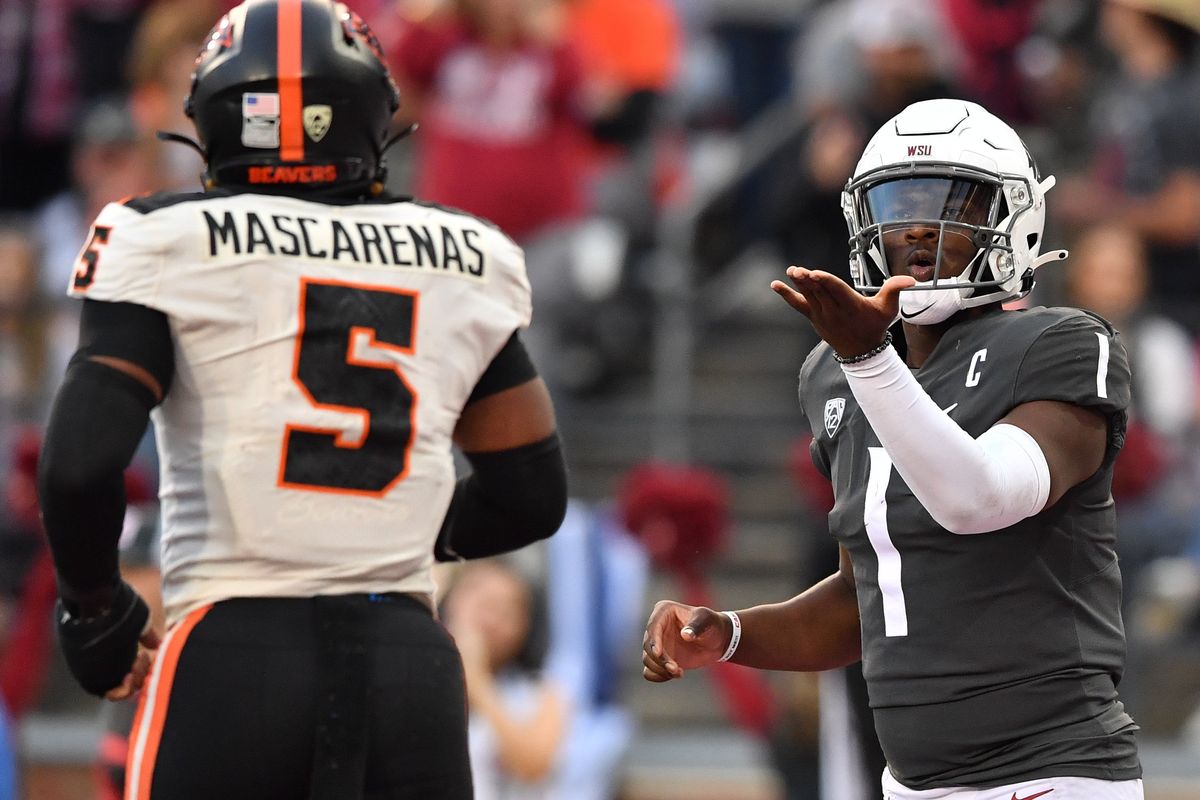 PULLMAN – Television networks will rue the day they cannot show the country the performance Washington State put on display on Saturday evening. In their 38-35 win over No. 14 Oregon State, the Cougars showed a lot. They proved a lot.
What the Cougars illustrated, though, is this: If the Pac-12 does crumble into something unrecognizable and teams like Washington State lose this national spotlight, the TV networks responsible for this mess will miss out on the plays the Cougars made in this victory. They'll regret robbing viewers across the nation of Cameron Ward and Josh Kelly, of Jaden Hicks and Ron Stone Jr.
"I thought Cam was phenomenal," Washington State head coach Jake Dickert said. "I thought offensively, we kept the gas down the whole game. I think Cam deserves to be mentioned with the best quarterbacks in the country, period. I think he continues to show that and I think nationally, we undervalue him and what he's doing."
Who would want to miss wideout Kelly diving to the ground, hauling in a one-handed catch inches from the turf? Who would want to miss Kelly making a similar catch later in the game, this time for a touchdown? What audience wouldn't want to watch Ward scramble around, elude tacklers, then throw across his body to find Kelly for another score?
Few quarterbacks are capable of these passes. Even fewer receivers are capable of these catches. No matter which game you watched Saturday, Ohio State/Notre Dame or Florida State/Clemson, the Cougars showed a level of artistry on par with the teams that will fare better from this conference realignment.
Will that make a difference? In this matchup of the final Pac-12 teams, did the Cougars do something to shift their position? Maybe not. Let's try a quick exercise, though.
Let's say someone turns on this game and the uniforms are blank. The players are nameless and the stadium bears no logos. They watch Ward dart around the pocket and lace a touchdown pass. They watch Kelly pin a touchdown catch against his body. They watch Ward unfurl a perfect pass downfield to Kyle Williams for a 63-yard touchdown reception on the second play from scrimmage.
Is it power conference football? Is it appointment television, the kind viewers would go out of the way to turn on? The answer might be a resounding yes.
"Yeah, you know," Ward said . "It's smooth."
On Saturday morning, Dickert flipped on his TV and caught one part of College GameDay, which went to South Bend, Indiana, for Notre Dame's game against Ohio State. One of the hosts, Lee Corso, was talking about this game when he called it the "No One Wants Us Bowl." Dickert seemed to mishear it as the "No One Watches Bowl," but in either case, he felt strongly about it. He felt disrespected.
"I don't really understand that," Dickert said. "What's the merit, once again? Because the facts say people watch the Cougs, and the people watch the Cougs more than every team that's left over in the Big 12. Coach Corso is at the point now where they just give him the sheet and he reads off of it, and they try to make a joke, but it didn't even make sense.
"It's well-documented what ESPN has done to try to get our league to where it's at. I would love to have a conversation with coach Corso about the value that he sees in breaking up the premier West Coast conference. And I'd also love to have a conversation with coach Corso about how he thinks student-athletes and mental health and flying them all over the country is a positive thing. I'm open to those conversations, because I'm fact-based on everything that we do."
For as much as Dickert and the Cougars want to narrow their focus and prevent wins like these from becoming outsized victories, they realize they're accomplishing something much more meaningful than beating the country's No. 14 team in prime time. They're aware of what they're doing on a national scale, and they realize that the more they win games of this stature, they build a case for themselves.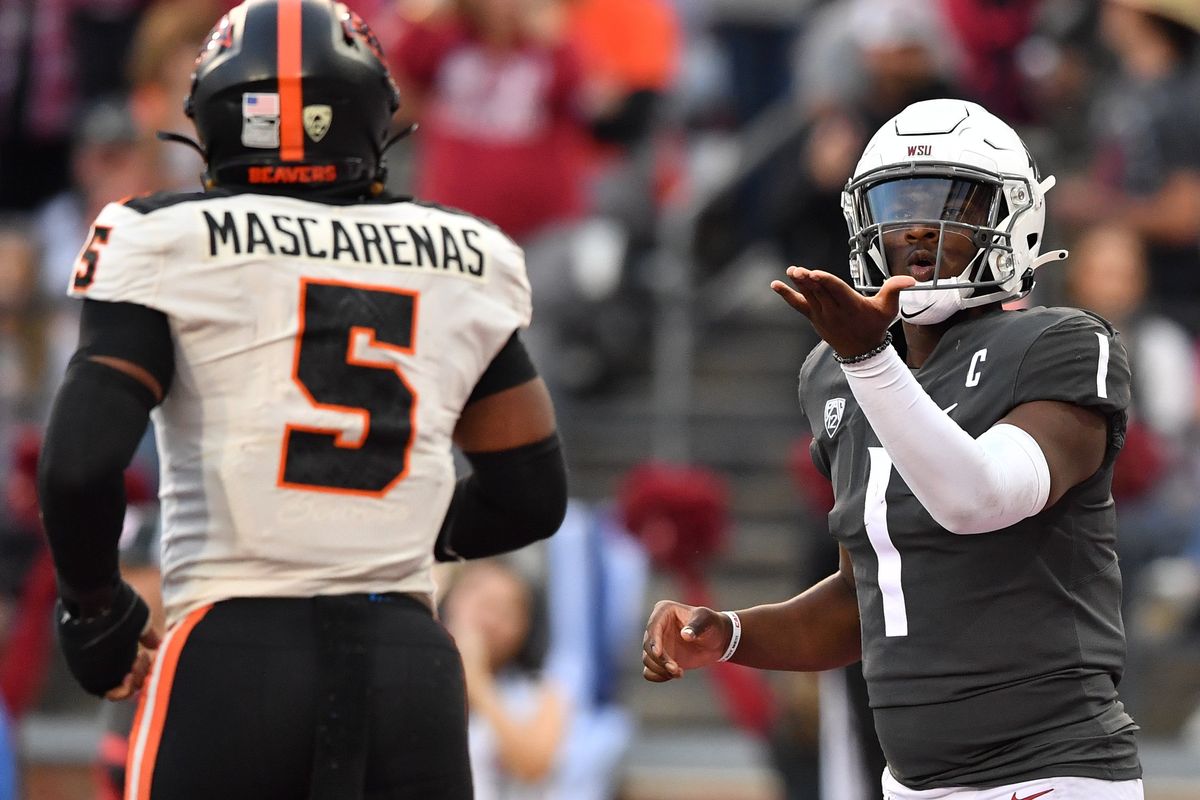 On Saturday, they did so by producing plays that belong on such a stage. Midway through the third quarter, the Cougars faced a fourth-and-10 inside their 30, so they dialed up a fake punt from Nick Haberer, who placed a perfect pass in the chest of tight end Billy Riviere III for a first down, prolonging a drive that ended in a touchdown.
On the first play of the second quarter, Kelly caught a short pass, made one man miss, raced upfield, veered into a crowd of defenders, then unleashed a spin move that ran three Beavers right into each other, paving the way for Kelly to score and push the hosts' lead to two scores.
Ohio State receivers are capable of something similar. Washington State's are, too.
In leaving the Cougars behind, networks like ESPN and Fox – the company that broadcast this game – seem to have decided these players were not worth showing to a nationwide audience. They seem to have decided it makes more sense financially to keep games like Michigan's 31-7 romp over Rutgers on the TV sets than it does to show viewers the Cougars' narrow win over the Beavers
.
"I saw a tweet again today," Dickert said. "We've got zero five-stars, zero four-stars. We've got zero. But we're greater than the sum of our parts, because of our connection and how we play and the buy-in that they have to their job. I think it speaks volumes for 18- to 23-year-old young men to buy into that. It's not easy."
Nothing the Cougars did was easy, but they made it look that way, which they've made their trick this season. To open the season, WSU dismantled Colorado State, which two weeks later gave nationally ranked Colorado an overtime game. The Cougars followed by upsetting nationally ranked Wisconsin, beating the first nonconference Power Five team to visit Pullman in a quarter century. Then they took down these Beavers.
In these games, if someone used CGI to edit Alabama jerseys over Washington State's, viewers might feel compelled to watch another of the Cougars' games. The TV networks have decided WSU is not worth that kind of effort, though, and with victories like these, Washington State is making its point.
"I'll say it again," Dickert said. "We belong."
---