Dave Boling: Seattle taps into 12th man, Seahawks teams of old in win over Panthers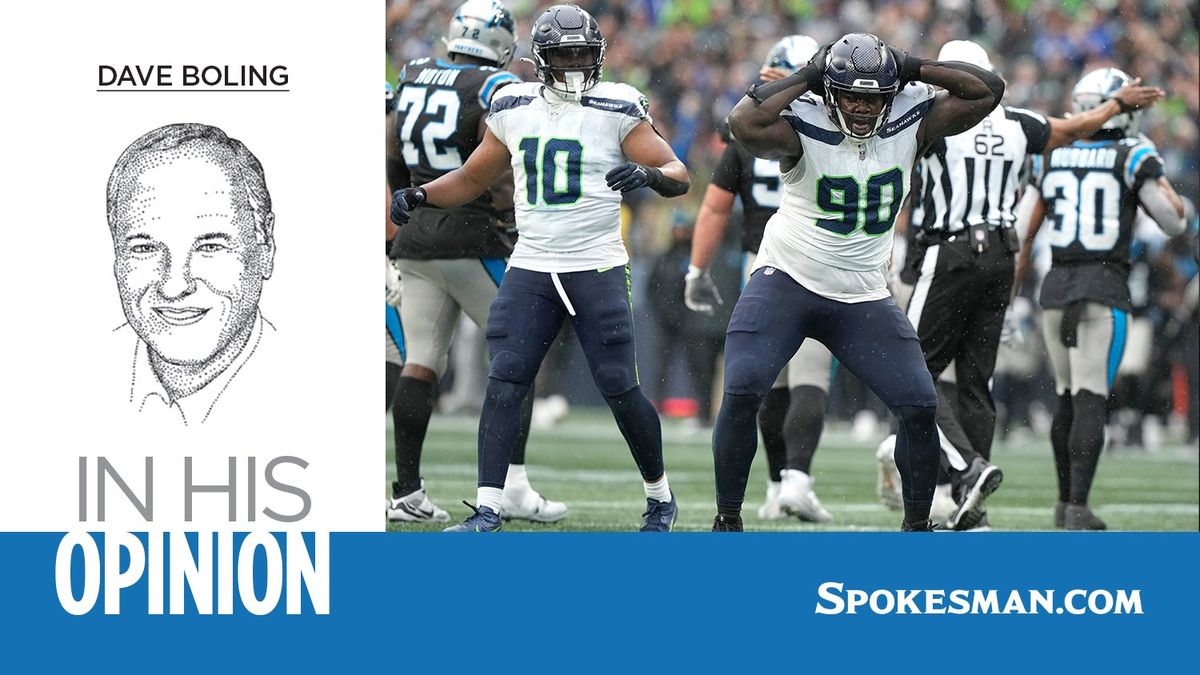 SEATTLE – Finally, after they had gone a period of time without displaying these characteristics, the Seahawks won a game at home on the strength of their swag and attitude, their tough running, their hard-thumping defense, and a Lumen Field crowd that was as sonically menacing as it had been in years gone by.
It was a statement game, a game that revived an identity that had been lost, making this a triumph of nostalgia.
That special component, which deepened the emotion, was that the game was played in front of a couple dozen players who returned to celebrate the 10th anniversary of their Super Bowl 48 season of success.
"It's a twinge in your heart far more powerful than memory alone," said Mad Men's Don Draper about nostalgia. "It takes us to a place we ache to go again."
The quote could have come from coach Pete Carroll, talking about the return of so many of his championship players. "I didn't know it would feel so emotional, connecting with the guys, because they love the recollection of the that we spent together."
Don't neglect the power of Legion of Boom great Kam Chancellor on the sidelines, who gave fist bumps and bro-hugs to several of the secondary players before the game, or sack-masters Cliff Avril and Michael Bennett who have spent time with Seahawks during practices.
Defensive tackle Jarran Reed surely played his best game as a Seahawk (8 tackles, 1.5 sacks, 3 quarterback hits). After one of his sacks, he stood and replicated Bennett's patented hip swivel and lascivious thrust. Obviously, Reed was showing respect to his predecessors.
The result of it all was 37-27 defeat of the Carolina Panthers. It felt like a bigger win because the noise of the crowd triggered flashbacks of home dominance in past years. Sunday, more than 68,000 vociferous fans had their amplifiers cranked up to 12, disrupting the Panther offense, resulting in nine pre-snap penalties.
The crowd worked up to a peak in the fourth quarter, causing three false starts and an illegal shift penalty.
By rewarding the faithful with a win, the Seahawks reinforced their efforts, which could lead to a reversal of a curious shortcoming in recent seasons, when home-field advantage had evaporated. Over the past two seasons and the first game of this campaign, the Hawks had been 7-10 at home. Teams eyeing postseason success can't have losing records at home.
Rookie first-round pick Devon Witherspoon showed why he was taken with the fifth overall pick. Having been slowed in camp with injury, Witherspoon led the team with 11 tackles and two passes defensed.
Richard Sherman-esque at times, Witherspoon blankets receivers and delivers big hits in run support, and then holds his arms up to the masses, inviting their adoration.
To my eyes, the player of the game was second-year running back Kenneth Walker III, who rushed for 97 yards and two touchdowns, while also making three catches for 59 yards.
Walker creates more thrills per yard than even some of the great backs. Football wisdom calls for backs to make one cut and turn upfield, and advises against "dancing" in the hole. Forget that, Walker's acrobatic moves are the stuff of Cirque du Soleil routines. On one play, Walker came face-to-face with Panther cornerback Troy Hill until a jump-cut by Walker left Hill falling to the ground five yards away from the speeding back.
This guy has a stunning future ahead of him. But there's a quality about Walker that has gone unexplored: He's a young man of character and compassion.
During his rookie season last year, I noticed that Walker would make a little side-trip on his way into the post-game locker room every home game. He would always give a hug and share some words with a member of the security staff in a wheelchair and a prosthetic on one leg.
Looking for a new angle after Walker had another big game on Sunday, I asked the security man about their relationship.
"He always comes over and gives me a hug," said Doug Willson of Edmonds, who had his left foot removed in 2020, having been plagued with Charcot foot. Willson said he started offering Walker positive thoughts before games, and a relationship sprouted.
"He's an extraordinary man," Willson said of Walker. "What we see of him running and everything on the field, that's only a fraction of what his soul is like."
Walker said that he used to see Willson when he would come back in from pregame warmups. "I wanted to get to know him, and we've built a relationship."
The instinct toward thoughtfulness, Walker said, was a product of his parents' behavior. "When I was younger, I'd see my dad or mom give money to people in need, or people who were not as fortunate as us. They taught me to be respectful and humble, and that's something I always live by."
This, Seahawks fans, is a man deserving of those cheers. Even more than you were giving Sunday.
---