Firefighters still haven't said what caused the Gray and Oregon Road fires. Why do the investigations take so long?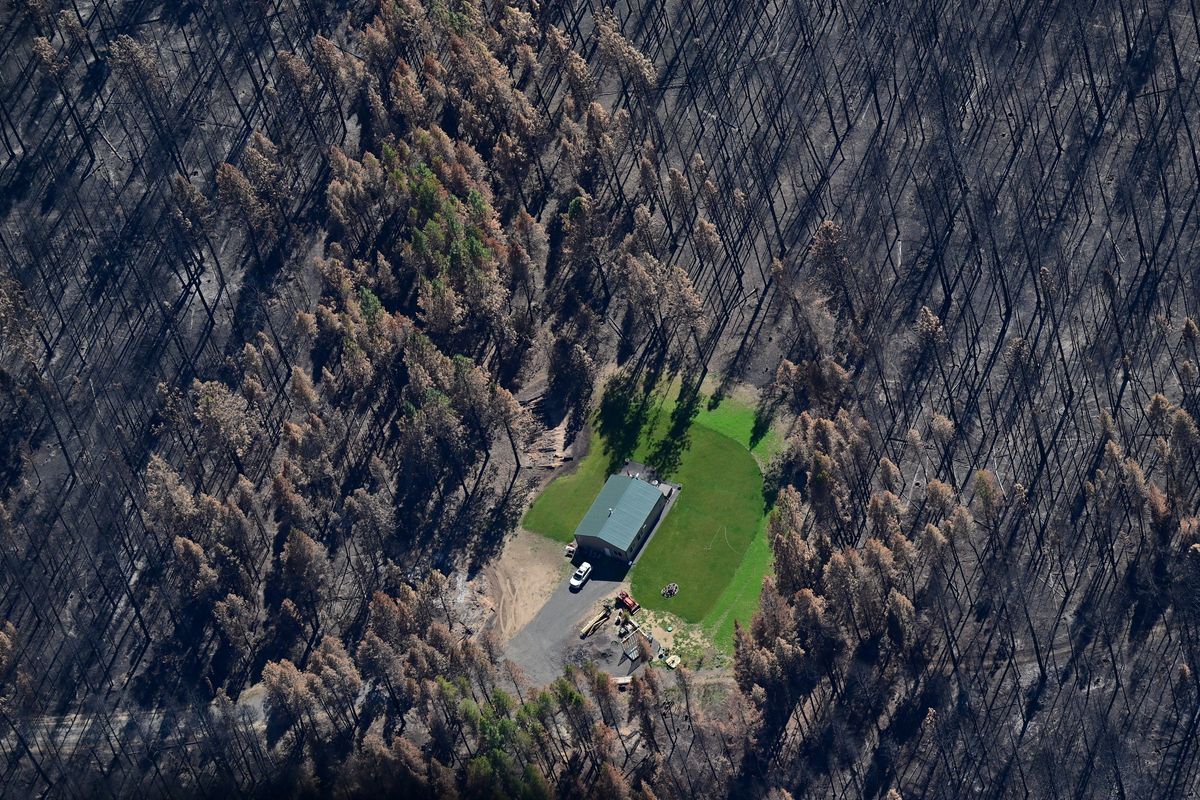 Skip Bellinger thinks he knows how the Oregon Road fire started.
Bellinger, whose Oregon Road home miraculously survived the blaze, theorizes that some irresponsible person lit up a slash pile on Aug. 18 and the flames grew from there. But he emphasizes that his hypothesis is based on nothing more than rumors and anecdotal evidence.
"We really don't know," he said.
Marla Motteshard, Bellinger's next-door neighbor, knows roughly where the fire began. She watched the 50-foot flames push toward her house, which, somehow, remains standing.
"It started over there," she said, pointing in the general direction of the Oregon-Frideger intersection.
Motteshard doesn't know any more than Bellinger about what got the fire going, though.
"Everyone you talk to says something different," she said.
A month after the Oregon Road and Gray fires began, their causes remain a public mystery. The Washington Department of Natural Resources, the investigating agency, hasn't shared any information about who or what sparked them.
The Oregon Road fire near Elk, and the Gray fire on the West Plains, both began on Aug. 18 and burned more than 10,000 acres each. They destroyed 366 homes and rank among the worst natural disasters in Washington history.
It's possible to piece together some basic information about the fires' origins.
For example, there wasn't any lightning on Aug. 18, so the fires were human-caused. The Gray fire broke out in the wheat-covered hills west of Medical Lake.
The DNR has acknowledged that the Oregon Road fire started in someone's backyard.
Those facts are obvious to anyone who was near the fires when they started. But local and state agencies haven't released additional information, and the DNR probably won't be providing answers anytime soon.
Thomas Kyle-Milward, a DNR spokesman, said big wildfire investigations take months.
Kyle-Milward said a lack of manpower is part of the reason why investigations take so long. The DNR has three full-time investigators and 70 employees who sometimes conduct investigations. Those staffers have to work through more than 1,000 fire investigations a year, Kyle-Milward said.
In addition to staffing limitations, the DNR wants to make sure its final reports are thorough and scientific.
"It's not a situation where we're trying to be difficult or not meet the demands of the public for information," Kyle-Milward said. "For something of this scale, results will be found."
How wildfire investigations work
The DNR didn't make any of its investigators available for an interview, but former Spokane Valley Fire Department investigator Rick Freier said he doesn't expect a final report on the Gray and Oregon Road fires for several months.
Freier said every good investigator shows up to a scene free of bias.
It's important to tune out all the hearsay and follow the scientific method, he said. An investigator has to take in the evidence, ask questions, form a hypothesis and test that hypothesis before arriving at a conclusion.
The first step of any investigation is figuring out where the fire started.
"With a large scene, that can take a lot of time," Freier said.
Sometimes determining the origin is easy. Other times investigators have to rely on burn patterns, not unlike how detectives study blood spatter at a murder scene or tire marks at a crash site.
Freier said the DNR likely has pinpointed the ignition points of the Gray and Oregon Road fires. Once that task is complete, investigators look for "competent ignition sources." For a house fire, that could be a malfunctioning toaster; for a wildfire, it could be sparks from a powerline or freight train.
Interviews often play an important role in wildfire investigations, too, and they can be incredibly time consuming.
"I used to hate going to apartment complex fires because it was information overload," Freier said. "There were so many people that wanted to tell me a story."
All sorts of obstacles can slow down investigators.
Kyle-Milward said some people don't let investigators on their property, which forces the DNR to get search warrants.
Freier said investigators sometimes have to send evidence to faraway labs for analysis.
John Allison, a Spokane attorney with an extensive background in wildfire litigation, said investigators mailed strands of powerline for microscopic analysis when they were looking into the cause of the Babb Road fire.
That burn, which devastated the town of Malden, Washington, in Whitman County in 2020, began after a tree branch fell on an Avista powerline, according to the investigation. It took the DNR seven months to complete its Babb Road fire investigation. Allison is one of several attorneys seeking damages from Avista for Malden families who lost their homes.
Avista, a publicly traded company, told the Securities and Exchange Commission on Aug. 21 that it "has commenced an investigation and thus far has found no indication that its facilities were involved in the ignition of the Gray Fire."
Freier commended the DNR for withholding information about the fires' causes until their investigations are finished. Fire investigators have to be certain how a fire started before they share their determination with the public, he said, because falsely accusing people can ruin lives.
"It's the right thing to do," Freier said.
Wildfire litigation
DNR investigators aren't the only ones trying to learn what sparked the Oregon Road and Gray fires.
Allison, who is representing 20 families affected by the Gray fire, said numerous lawyers and insurance companies are "trying to get to the bottom of what happened and why."
"We're in the middle of our own investigation," he said.
In a letter to those affected by the fire, Allison's team wrote that their preliminary investigation showed the fire "may have involved electrical lines and other equipment."
Lawsuits will start flying soon, and the DNR's reports will play a key role in the litigation.
People who lost their homes won't be the only ones suing. Firefighting agencies could seek compensation for the cost of fighting the fires. Insurance companies likely will want millions of dollars in damages.
The fate of the individuals or companies who started the fires will depend on a host of factors.
Freier said an individual or company's intent is critical. The legal system will treat an arsonist differently than someone who carelessly tossed a cigarette butt.
If someone starts a fire accidentally, the severity of their negligence matters.
The penalties could be worse if they did something especially egregious.
Many wildfires lead to enormous settlements. For instance, Pacific Gas and Electric has agreed to pay billions of dollars to victims in recent years after the California Department of Forestry and Fire found it started multiple catastrophic burns.
Local wildfires have produced big settlements, too.
The Taylor Bridge fire, which destroyed 61 homes near Cle Elum, Washington, in 2012, ended with a $60 million settlement. Investigators determined that construction crews started the fire while working on a Washington State Department of Transportation bridge project.
Victims of the 1991 "Firestorm" that destroyed more than 100 Spokane County homes received $11.3 million from Washington Water Power – now Avista – and Inland Power. The plaintiffs' lawyers in 1997 shared information about the settlement with the public.
Allison said that wildfire lawsuits rarely go to trial, and the parties usually settle out of court. Settlement terms tend to be kept under wraps.
"That's what the paying party gets, is confidentiality," Allison said. "In the mediation, there's usually not an admission of liability."
Confidential settlements occurred following the 2008 Valley View fire, which destroyed 11 Spokane County homes.
Fire investigators said that burn began after Dr. Tracy Berg allowed her son's 16-year-old friend to start a fire in a hollowed-out stump on her neighbor's property, in violation of a burn ban. The boy didn't douse the fire properly and the smoldering stump sparked the blaze days later.
More than a dozen people and companies sued Berg in Spokane County Superior Court, but the cases were dismissed. KXLY in 2012 reported that Berg and the plaintiffs quietly reached a settlement, but most of the terms weren't reported. Only the state of Washington revealed its settlement payout: $36,000.
Avista told The Spokesman-Review on Friday that it was part of the settlement with Berg and her insurance company, but couldn't say how much it received.
As slow as fire investigations may seem, fire lawsuits are far slower. Allison said the "Firestorm" litigation demonstrates how long it can take for the lawsuits to reach a conclusion.
In 1991, Allison covered "Firestorm" as a local TV reporter. He went to law school a few years later and graduated in 1996. The case was ongoing when Allison became an attorney and he worked on the litigation personally.
Litigation for the Oregon Road and Gray fires will likely take several years. Allison said the Babb Road fire lawsuit is set for trial in May, four years after the fire happened.
Allison said it's important for investigators not to dawdle.
"Evidence can grow stale, witnesses can disappear," he said. "It's not always the best course to sit back and wait."
---