Longtime Medical Lake resident, pillar of the community Carl Grub remembered at memorial Saturday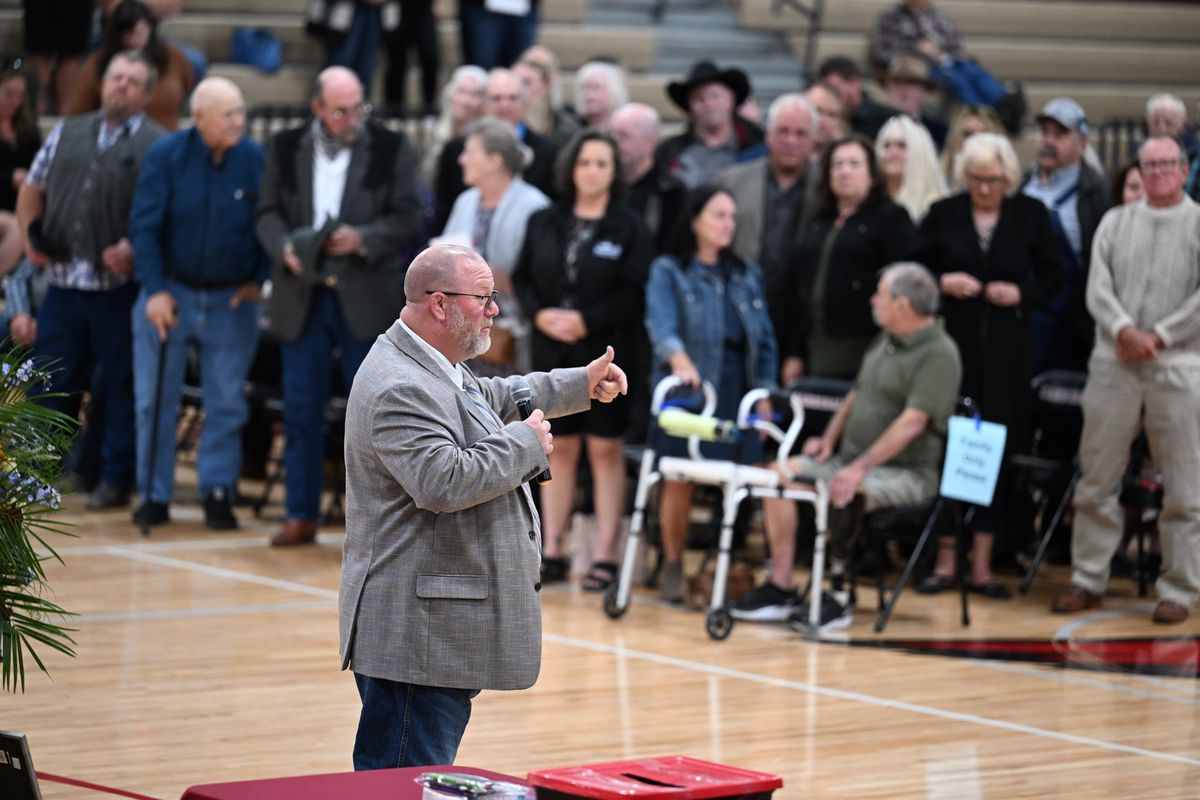 Carl Grub was a fixture of the Medical Lake community who spread the joy he had as a cowboy and cattleman to future generations.
His death in the Gray fire last month, where reports indicate the 86-year-old crashed his truck and was overtaken by flames near Waterfront Park, has been tough on his extended family.
Grub was the only person to die in the fire that consumed 244 homes in an area his family has called home since the late 1800s.
A few hundred people gathered Saturday in the Medical Lake High School gymnasium to celebrate and share memories of Grub. Those who took the microphone described Grub as quiet, caring, hard working and straightforward.
"When it comes to family and when it comes to community, there's not a more humble, kind man that I've ever met," said Stephanie Atwood, Grub's friend the past 25 years.
Rick Perleberg, chairman of the board of directors and president of Jensen Memorial Youth Ranch which Grub co-founded, said Grub's handshake on a business deal was as "good as gold."
"He was a man of his word," Perleberg said. "Sadly, I think he's among the last of the men that can be trusted at his word."
Grub was the second oldest of seven boys. When his parents died suddenly, Grub stepped up to help raise his five younger brothers, said his nephew, Michael Grub.
From the time Michael Grub's father, Craig Grub, was about 10 years old, Grub was the head of the family.
"Carl made a deliberate decision to stay in Medical Lake and raise these boys," Michael Grub said.
Grub was a cowboy and a cattleman at heart, but those passions didn't always pay the bills.
He put in a full career in the Air National Guard and worked in real estate.
Slowly, he bought and sold property until he built up large land holdings around Medical Lake, Michael Grub said.
Having raised five of his siblings, Grub never had kids of his own, instead preferring to mentor other people's children through the Jensen Memorial Youth Ranch.
The ranch provided a place for city kids or those without means to learn about agriculture and raise livestock themselves, usually as part of the Future Farmers of America or 4-H.
"The world wasn't about him. The world was about what can he do for other people and how can he help other people in need," Michael Grub said.
Grub's impact on the community was evident at Saturday's celebration of life.
Perleberg asked people who raised an animal at the youth ranch, received financial support from Grub or who shared a meal with Grub in which he covered the bill to stand Saturday.
Over 100 people stood.
"It's our responsibility to carry on Carl's legacy and pay that generosity and that spirit of love and generosity forward," Perleberg said.
Perleberg said three things stood out to him about Grub – he was a patriot, he loved agriculture and he loved children.
"He wanted to make sure that you knew where your food came from," said Perleberg, referencing Grub's love of agriculture.
Regarding children, Perleberg said you could see a sparkle in Grub's eye when he saw children working with animals on the ranch.
Grub met the love of his life, Lila Reno, in the early 2000s.
"They were two peas in a pod," Michael Grub said. "That was his soulmate and best friend."
After a decade of love, Reno died from cancer in 2010.
Grub continued his work mentoring youths and spending time with friends. In his mid-80s, he still put in a full day's work most days.
"Eighty-six is really old for a cowboy," Michael Grub said. "He was cowboy tough."
Grub went off the side of the road in his truck as the Gray fire swept through Medical Lake.
According to maps provided by wildfire officials, the westernmost point of the fire appears to be at the youth ranch, several miles from the spot where Grub's body was found. Winds were strong on Aug. 18, blowing hard from the southwest and pushing the wildfire across dry fields of wheat, scrubland and then into the pines and homes of Medical Lake.
The best his family can understand, Grub was driving through thick smoke and hit a tree near the park that provides lake access for the public.
"He just barely got out of the truck," Michael Grub said. "The truck burned, burned, burned."
Grub's cause and manner of death have yet to be determined by the Spokane County Medical Examiner's Office.
His death was shocking for the entire Grub family, Michael Grub said.
In the aftermath, the Grub family has focused on keeping Carl's legacy alive by making the Jensen Memorial Youth Ranch sustainable.
"Everything Carl lived for was for that memorial youth ranch," Michael Grub said. "This is the enduring legacy … hopefully, for generations of kids to come."
Donations to the Jensen Memorial Youth Ranch can be made via GoFundMe or PayPal.
---