A Grip on Sports: As the Seahawks wake the echoes, the Mariners are just a shadow of their best self as they head home A GRIP ON SPORTS • Huh. It's not just college football teams that like to wake up the echoes of the past and shake down the thunder from the sky. Turns out, the Seahawks were able to day that Sunday as well, courtesy of their one-time champions on the sidelines. Too bad the Mariners don't have the same pedigree to lean on.
•••••••
• The formula that was once so familiar we took it for granted resurfaced at Lumen Field yesterday, though it's been so long it took a while to recognize it.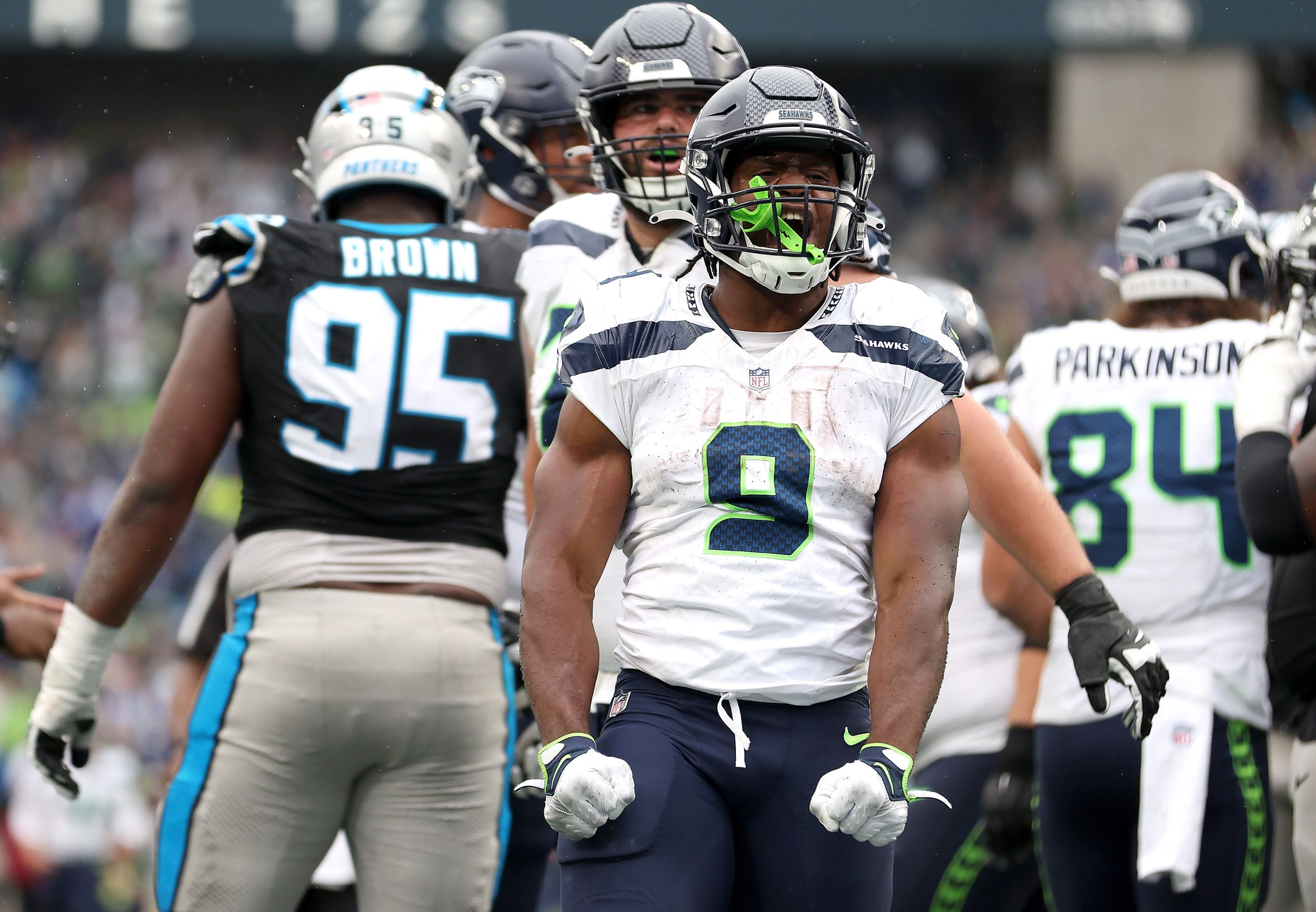 A lock-down run defense. Pressure up front. At least one cornerback making plays. A running game that kept the pressure off an offensive line in need of help. And a quarterback running around making plays – and riding good karma to a two-point conversion.
Was it 2013 all over again? Nope. But the 2023 Seahawks were good enough to get to 2-1 on the season, even if the winless Carolina Panthers – and veteran backup quarterback Andy Dalton made it difficult in the 37-27 victory.
If first-round draft pick Devon Witherspoon isn't Richard Sherman, he showed his potential. If Kenneth Walker III is not Marshawn Lynch, he showed once again he is himself and, besides, backup Zach Chabonnet can take care of the running-over-people duties. And we all knew Geno Smith isn't Russell Wilson already but he's more than enough for the Seahawks these days.
Which also means this team isn't in the same stratosphere as the Super Bowl champions feted at halftime. But that didn't matter to the faithful who filled the stands. And destroyed the Panthers' eardrums. They were in 2013 form as well, which had to waken some echoes for the champions back for their 10-year reunion.
It also, finally, helped put Carolina to sleep, causing an unheard-of eight false start penalties, including at least two when Dalton was just walking up, trying to adjust a play. We say finally because the Panthers actually led at halftime. And were within striking distance until Smith's throwback – not just because it went across the field but also due to its homage to a similar play from 2013 – two-point conversion put the Hawks out of reach.
The good vibes and the former players won't always be on the sidelines, however. Not even next Monday night in New Jersey. The foundation of winning has to be more than that.
Health is one factor – and that's not going Seattle's way.
So is a solid-to-great run defense, something that has been in play more this season than last. No one expects the 2013 version of the Hawks. But the Sept. 24th version was pretty good too.
• Too bad the late-September version of the Mariners isn't the August one. Or even the July one. The M's picked a bad week to quit winning. Everything was right there for this year's group three days ago. Now only one thing is. And they'll have to wrest it out of the hated Astros' hands.
Two unexpected occurrences made it so. A sweep over the weekend by Texas, which is only unexpected in that the odds seemed to indicate Seattle would win one game this season in Arlington. But more surprising were the Astros being swept by the 102-loss Royals. In Houston. How does that happen?
Both did and there is nothing that can be done now. All that matters is what's ahead. The defending World Series champions are in Seattle tonight, holding a half-game lead on the M's for the final wild-card spot. They will have Justin Verlander on the mound. The Mariners counter with Luis Castillo. It's a playoff game in all but name.
It also kicks off a seven-game homestand to finish the regular season. Seattle must take two of three from Houston and hope. One hope? That Texas either sweeps the hapless Angels in L.A., solidifying their hold on first place, or collapses in Anaheim. The former would mean they might take it easy on Seattle during the final four contests, allowing the M's to hold off Houston. The latter? The last series would decide the West.
What will happen? We begin to find out tonight.
•••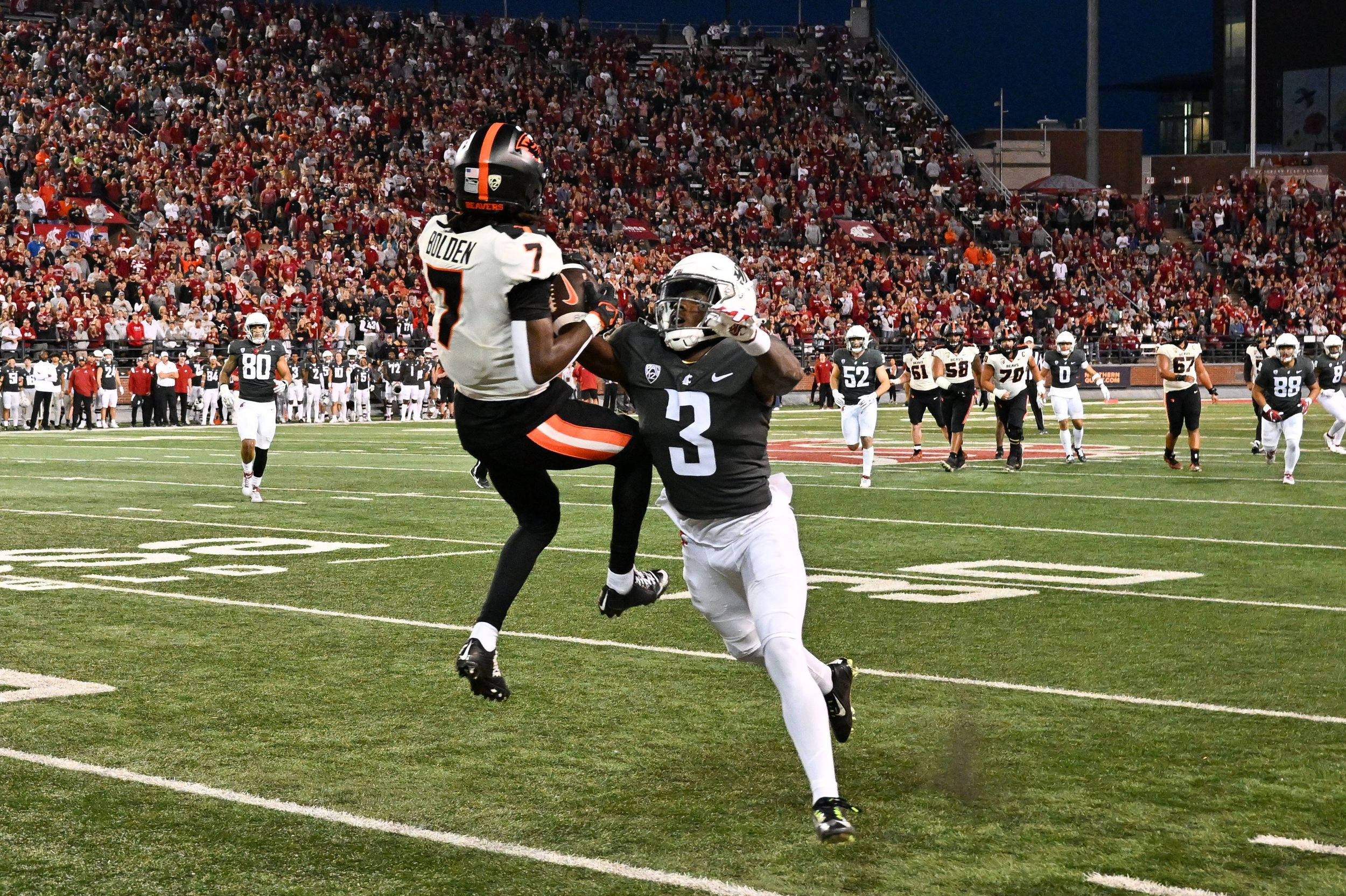 WSU: Yes, the offense, led by Cam Ward, has been special. Getting a lot of attention. But Greg Woods decided to write an ode to the defense in today's rewind of Saturday's game. Appropriate. … Speaking of Ward, Jacob Thorpe sent a love letter to all those college football folks outside the Northwest. His subject? The Washington State quarterback is among the nation's best and deserves their respect. … Sundays are poll days. Greg tells us the Cougars moved up to 16th nationally as the Pac-12 put four teams into the Top 10 for the first time. Alas, with Colorado and UCLA – Wazzu's next opponent, Oct. 7 – dropping out, there are no longer eight conference teams ranked. … Did you see Gardner Minshew step out of the end zone accidentally yesterday? It was about all he did wrong in leading the Colts to victory. He leads off the S-R's look at local players in the NFL. … Elsewhere in the Pac-12 and the nation, Jon Wilner shares on the Mercury News site his A.P. ballot and explains why he ranks WSU ahead of USC. … Wilner also has a rewind of the weekend in the S-R. … John Canzano has his thoughts on the Cougars and Beavers. … Don't sleep on 10th-ranked Utah. They are doing Utah things. But they need Cam Rising to return. And to find a healthy running back. … Troy Taylor is doing some different things with Stanford's lineups. When you're not good, you might as well think outside the box. … California has so many things to worry about, Justin Wilcox can't pinpoint the most important. At least publicly. … Washington, ranked seventh, is hitting on most cylinders. Enough in fact, the Huskies are nearly impossible to stop. … Colorado wasn't exposed Saturday. The Buffs' issues were always there. Oregon just happened to be the first solid team that played them. The Ducks, ranked ninth, have a chance to be real good too. … Oregon State dropped to 19th and came out of the weekend with some questions. … USC dropped three spots after the Trojans' lackluster showing in Tempe. … Arizona State is taking the position it had something to do with it. And celebrating that. … Arizona has an actual victory to celebrate. … In basketball news, official practices start this week, including at Colorado. …Former BYU women's coach Jeff Judkins is helping at his alma mater Utah. But he didn't want to leave the Cougars.
EWU and Idaho: Around the Big Sky, we can pass along the game story from Ogden after Weber State's 40-0 drubbing at the hands of Montana State on Saturday.
Chiefs: Spokane's first weekend of WHL play was near-perfect, capped by Sunday's 4-1 win at Everett behind Hayden Paupanekis' two goals. Dave Nichols has the coverage.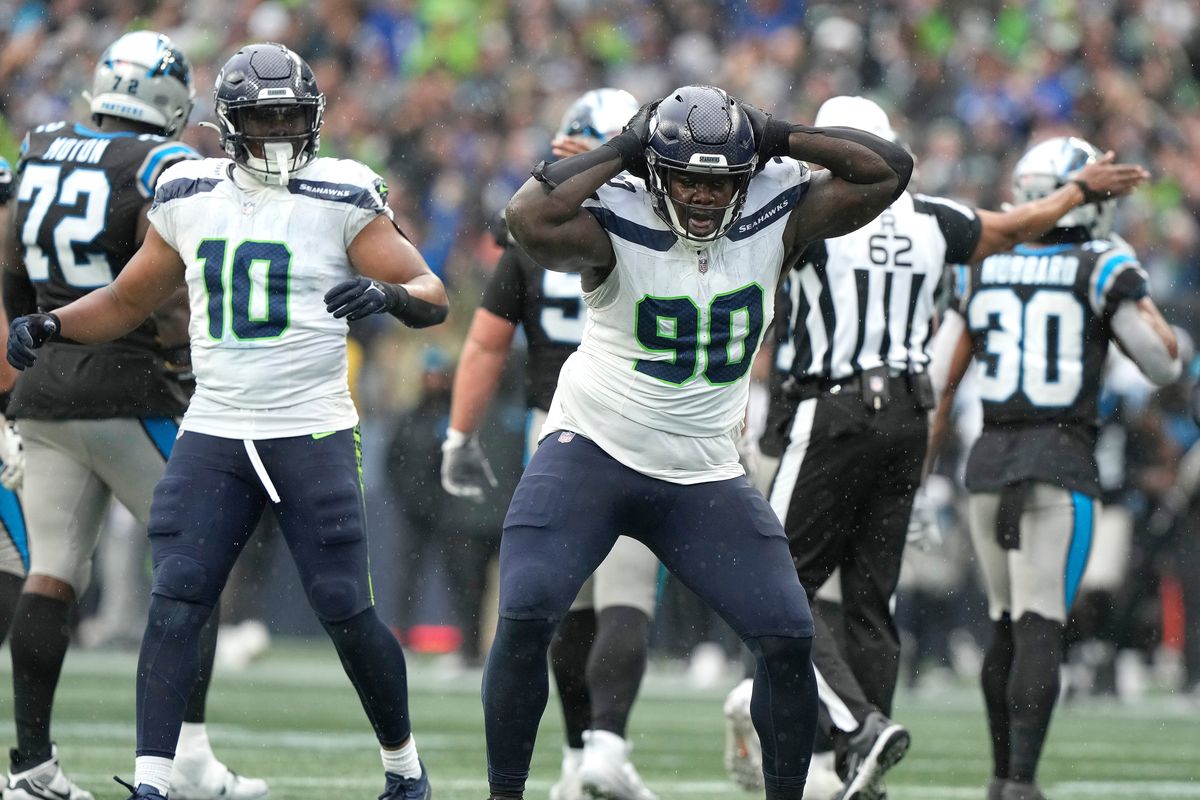 Seahawks: Dave Boling does two things with his column this morning. He celebrates the throwback nature of the Hawks' win and he lets us know what type of person Walker is. The latter? One that will be easy to root for every year. … The Hawks' second half was the type of 30 minutes Pete Carroll wants to see played for an entire game. … Jake Bobo scored his first touchdown. … There are always grades. And things to learn. … How many Seattle players will be out this week? One who will play is Jamal Adams.
Mariners: Bryan Woo didn't throw well. Again. What will the M's do? Our suggestion is simple. The playoffs have started. Put him in the pen. Piece together the final seven games any way you can.
Kraken: There is not much time for an NHL team to get ready for the season. There are reasons for that.
•••    
• Some other random thoughts. … It would have been ironic of the Irish had dropped to No. 10 in the polls. After all, that's the same number of players Notre Dame had on the field as Ohio State scored the winning touchdown Saturday. … The best story we read this weekend was in the Washington Post, John Feinstein's report from Dartmouth after Buddy Teevens' death. … It's quite possible today will be the last one in 2023 in which the mercury will rise to the 70s. And then we are going to have a La Nina winter. Chances are it will be dryer than normal. My back would be fine with that. Moving snow never makes it happy. Until later …
---